From Anti-Semite to Bridge Builder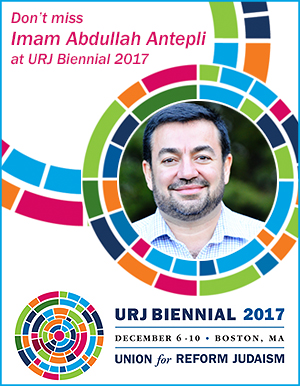 Imam Abdullah Antepli is Duke University's Muslim chaplain and senior fellow on Jewish Muslim Relations at the Shalom Hartman Institute in Jerusalem. I sat down with the Turkish-born cleric to hear the story of his remarkable odyssey from anti-Semite to passionate Jewish-Muslim bridge builder.
ReformJudaism.org: When did you first become aware of Jews and Judaism?
In the 1980s, when I was eight or nine years old, I watched on television an Israeli soldier breaking the arm of a Palestinian stone thrower. That image was my initial introduction to Jews, Judaism, and Zionism.
At age 12, at a book fair, I was given a children's version of The Protocols of the Elders of Zion, which juxtaposed pictures of Palestinian casualties with a verse from the Torah commanding Joshua to kill the Canaanites, their women and children, their cattle, destroy their homes, uproot their trees. I next received translations of Henry Ford's The International Jew and Hitler's Mein Kampf.
Did your parents know you were reading these books?
My atheist parents loved the way I was learning about this evil religion and people. They gave me additional anti-Semitic literature to read.
You refer to yourself as "a recovering anti-Semite." Why "recovering"?
If hate is pushed into your head early in life, it requires a life-long struggle to rid yourself of that poison.
When did you start questioning what you'd been fed about Jews and Judaism?
At age 16, I became fascinated with religion and went to a special madrasah, an Islamic divinity school, though I never expected to become an imam. For me, it was all about loving God and feeling incredible joy in engaging with the rituals and practices of Islam, such as stopping to pray five times a day.
Attending an apolitical madrasah, studying mainstream Islamic theology, and reading original Koranic texts made it difficult for me to reconcile the Islam I was learning with the hateful version I had swallowed. Still, in the mornings I would study and in the afternoons, I would join protestors in burning the Israeli flag.
The black and white picture I had of Jews and Judaism eventually shattered, especially after I learned that Muhammad had two Jewish wives, one who converted to Islam after their marriage, and one who remained Jewish and died as a Jew. That means Muhammad had Jewish in-laws, relatives, neighbors. He had amazing relationships with them. Early in the development of Islam, Jewish contributions and influences were undeniable, as was Islam's influence on Judaism.
How did you first get involved in Jewish-Muslim dialogue?
I did my graduate studies at Hartford Seminary in Connecticut, where I met Dr. Yehezkel Landau, who had spent 22 years in Israel working on Israeli-Palestinian peace. He became my mentor and friend. Yehezkel and Rabbi David Teva, the Jewish chaplain at Wesleyan University, took very seriously my desire to recover from anti-Semitism. The pinnacle came when Rabbi Teva and I co-led a student travel seminar to Istanbul and Jerusalem to foster healthier co-existence and conversation on the Wesleyan campus.
In Israel, I met my soulmate and brother, Yossi Klein Halevy, a recovering former Jewish Defense League activist. Yossi wrote about his journey toward an understanding of Islam and Christianity in his book, At the Entrance to the Garden of Eden.
After reading the book, I told Yossi I wanted to replicate the kind of journey he took toward Islam and Muslims – in my case, toward Judaism and Jews. By then, improving Muslim-Jewish relations had become the central calling of my personal and professional life.
Yossi invited me to an international theology conference at the Shalom Hartman Institute (SHI) in Jerusalem, where he was a senior fellow. The organizers had no problem bringing in top Christian scholars, but failed to attract a single Muslim. I would be the first.
SHI was the answer to my prayers. Whatever success I had achieved in recovering from anti-Semitism, I wanted to scale-up and model in Muslim communities. I realized that dream four years ago, when Yossi and I launched SHI's Muslim Leadership Initiative, which to date has taught 79 young American Muslim leaders about Judaism, Zionism, and Israel.
Have you experienced any Muslim opposition to your association with SHI?
Yes. But all the criticism and hardship only confirmed the problem that we have identified and the need to tackle it. The voice from Sinai is calling us to take up this challenge.
Imam Abdullah Antepli will be a featured speaker at the Union for Reform Judaism's 2017 Biennial in Boston, December 6-10, 2017.