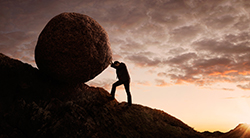 Rabbi Bonnheim shows a particular, timely insight in her reference to the "Israelites' anxiety about their new reality." When we think of Parashat B'shalach, our first images often turn to the miracle at the Sea of Reeds, an explosion of rapturous song and joyful dance, and the celebration of the new-found state of freedom.
But not here.
This journey, with its dangling carrot of collective redemption, presents itself in alternating forms of paralytic panic, fear of the abyss, relentless struggle, and loss of control. A leave-taking moment, indeed.
Let's not forget that Exodus 13:17 is just the very beginning of this narrative. What is its purpose? Why then do they lift their voices in song only when that moment finally arrives?
"Finally on the brink of potential freedom they were also on the brink of potential death, as the walls of water seemed to close in all around them through the night. … it is possible that the people were singing" (Rabbi Steven Pik-Nathan, "The Singing of the Oppressed").
Eit hazamir higi-ah, "The time of singing has come" (Shir HaShirim 2:12). Let the depth of our collective song and our unified voice give rise to the rallying cry against hatred, bigotry and injustice.
The poet, storyteller, and psychoanalyst, Clarissa Pinkola Estes writes:
"Ours is not the task of fixing the entire world all at once, but of stretching out to mend the part of the world that is within our reach. Any small, calm thing that one soul can do to help another soul, to assist some portion of this poor suffering world, will help immensely. It is not given to us to know which acts or by whom, will cause the critical mass to tip toward an enduring good."
May we move past the unknown with renewed faith, courage, and strength through meaningful action at every turn. And may we be held within Shechinah's comforting presence every precious moment and every powerful song along the way.
Cantor Jacqueline Rawiszer has served Congregation of Reform Judaism (CRJ) in Orlando, FL since 2002. She is the vice president of member relations and external partnerships for the American Conference of Cantors (ACC).