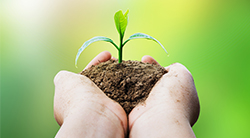 At Mount Sinai God was pleased to hear the vast multitude of diverse Israelites say in one united voice: "All that the Eternal has spoken we will do!" (Exodus 19:8) and God wanted additional assurance that they would follow through on this commitment. God told them: "I require worthy guarantors that you will observe Torah." And the people of Israel replied: "Sovereign of the Universe, our ancestors will be our guarantors." God was unimpressed. "Your guarantors need guarantors themselves, for they have not been without fault," said Adonai. And so they responded: "Our prophets will guarantee it." God retorted: "I have found fault with them also." Thus the people offered this pledge: "Let our children be our guarantors." And with a smile God concurred: "These are excellent guarantors, because of them I will give it to you" (Shir HaShirim Rabbah 1:4). The b'rit, "covenant," advances and Torah is revealed.
This midrash recognizes Sinai is not God's first rodeo with humanity. Yes, God admired how Abraham negotiated to protect the innocent, as well as the reconciliations of Jacob and Esau, and Joseph with his brothers. God has also been disappointed at times with our ancestors and all too often God has witnessed people committing horrific acts toward the stranger, and close friends and family alike. All this and more is known to God at Sinai and God hesitates.
Yet God is aware that within each and every person is a soul that is pure. (See the morning prayer: Elohai, n'shamah shenatata bi t'horah hi, "My God, the soul You have given me is pure.") This wholesomeness is particularly profound within children. God is reassured when presented with the Israelites' children as guarantors. The unadulterated goodness that resides with children is that powerful, that true. 
God is also comforted by the Israelites' open-hearted awareness and awe of their own children's possibility. Their children inspire them and even God to strive towards their fullest potential. Our tradition remains ever optimistic that we can and we will fulfill the promise within us.
May it be so for us today as we continue the endeavor of embracing our Torah and creating a world worthy for our children and for all of us.
Rabbi Maurice A. Salth is a rabbi at Central Synagogue in New York, NY.