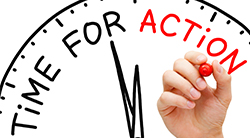 Translated into English, the meaning of Parashat Mishpatim is "Laws," but I would suggest we also refer to this Torah portion with the word rachmanut, "compassion." The laws set forth in Parashat Mishpatim give us clear guidance as to our treatment of the segments of society to which we do not belong — the slave, the poor, the widow, the orphan. It point isn't only that we should remember that we were once strangers in a strange land, for that only calls for empathy — an understanding of the other.
We might be able to feel the pain of those seeking a loan (Exodus 22:24), the donkey of an enemy burdened by a too-heavy load (Exodus 23:5), the most vulnerable among us- the widow and the orphan (Exodus 22:21), but that merely leads those feeling empathy to take on the pain, the fear, the feelings of helplessness of those for whom we are empathizing. Unless those feelings lead to action, we have done nothing to help those and, in fact, may be damaging ourselves in the process. 
Psychological research suggests that feelings of empathy with no attached action tend to lead to negative feelings in an individual, while compassion can lead to more positive. When we empathize with others, we are feeling one's pain. Neuroscientist Dr. Tania Singer says: "if we feel compassion for someone else's suffering, we do not necessarily feel with their pain but we feel concern — a feeling of love and warmth — and we can develop a strong motivation to help the other."1
Torah reminds us that while we should recall that we were once strangers in Egypt, the reminder of prior pain is only the beginning. We must take the pain in our history and use it to motivate us to action:
to not only feel empathy for, but also work to protect the vulnerable,
to not only to feel the pain, but also work to fix the pain in the world around us,
to speak up for the voiceless,
and to channel our empathy into compassion.
1. Tania Singer, "Feeling Others' Pain: Transforming Empathy Into Compassion," Cognitive Neuroscience Society, June 24, 2013
Rabbi Matt Zerwekh is the spiritual leader at Temple B'nai Israel in Kalamazoo MI.