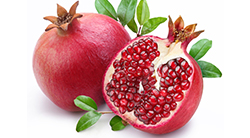 Rabbi Bonnheim's insightful words hint at the many ways we enter God's presence. T'tzaveh also contains a detailed description of the clothing to be donned by the first priests as they enter God's presence. One such detail is "On [the robe's] hem make pomegranates … all around the hem, with bells of gold between them all around" (Exodus 28:33). We might imagine the jingling of those bells as an announcement of the priest's intention to come into God's royal presence.
Another reading of the bells and pomegranates found on the hem of the priest's robe is offered in Beit Yaakov, a Chassidic commentary by Rabbi Yaacov Leiner eloquently explained by Aviva Zornberg in her Exodus reflection, The Particulars of Rapture.1 Rabbi Leiner uses the contrast in volume of these two shapes — the bell's hollowness and the pomegranate's fullness — to describe different spiritual states. To encounter a transcendent God, the priest empties himself, but to live his human life of mitzvah, he always returns to the fullness of his individuality, just as the pomegranate is full of seeds.
Our capacity to have earnest connections with one another is urgent at this moment, and our tradition teaches that God's presence can be encountered in such moments of true connection. If we are to be a realm of priests (Exodus 19:6), then this portion contains a blueprint for how each of us can draw close to God, in prayer and in human relationship. It challenges us to empty ourselves, only temporarily, so we can transcend our preconceived notions and see the godliness of others. We always return to the seeds of individuality we hold dear. But perhaps those moments of transcendence will continue to ring in our ears, changing us for the better.
1. Avivah Gottlieb Zornberg, The Particulars of Rapture (NY: Schocken Books, 2001), pp. 378-81, 525)
Rabbi Katie Bauman is associate rabbi at Temple Israel in Memphis, TN.