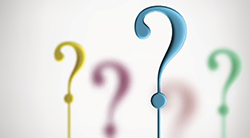 Rabbi Bonnheim is absolutely right — one of the lessons of Parashat Ki Tisa is that we need concrete reminders of our fundamental ideas. In large part, that's what organized religion does best — it offers us a more manageable way to engage with ineffable concepts. But, while we're embracing these symbols, we also have to remember the flip side of this observation, which is that these symbols — whether they be physical, ritual, textual, or other — exist for us, not for God. We need them; God doesn't. And, that means that as beautiful and powerful as they are, they aren't, themselves, ultimately true. They aren't truth; they're a tool that we use to get to truth.
And, that's just as true for our religious symbols, and our religion, today.
Rabbi Levi Yitzhak of Berdichev, the Kedushat Levi, teaches that the Sh'ma can be read as a reminder of this balance between ultimate truth and limited, human encapsulations of that truth (Kedushat Levi, Parashat Va-et'chanan). Adonai Eloheinu, Adonai Echad is a progression. We start with Adonai, God's "true name," representing ultimate, and ultimately unknowable, divinity. To grasp it, we turn it into Eloheinu, "our God." That is, we make a more limited, knowable, particularistic version of God, because we need that. But, if we can get back to Adonai, back to that pure, essential divinity, then we have a chance of Echad, of achieving real unity and true holiness. The universal necessarily becomes the particular, but our ultimate goal is to reach out to the original, purer truth.
In his essay "Religion in a Free Society," Rabbi Abraham Joshua Heschel teaches that "Religion has suffered from the tendency to become an end in itself. … Religion is not for religion's sake, but for God's sake." The practices and icons of our people are sacred, because they can point us towards true holiness. Let's never forget that ultimate, sacred goal.
Rabbi Jason Rosenberg is the rabbi at Congregation Beth Am in Tampa, FL.