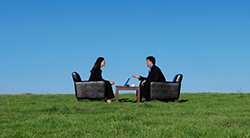 Rabbi Bonnheim teaches how in Parashat Vayak'heil/P'kudei the process of building the Mishkan (Tabernacle) serves as a model for building Jewish community. One small part of the Mishkan suggests what kind of community we should create.
In Exodus 37:9, we learn that the cherubim on the kaporet (ark-cover) of the Mishkan "had their wings spread out above, shielding the cover [kaporet] with their wings. They faced each other ..." The Hebrew verb describing how the wings were covering the kaporet is soch'chim, suggesting that their wings joined to make a sukkah.
Jews have long speculated on the significance of the cherubims' wings touching and faces turning toward one another, creating a wonderful variety of ideas. The cherubim represent the love of a married couple; or the friendship of two study partners who each offer Torah interpretations and are ready to learn from one another; or the relationship of peace and solidarity between religious leaders and lay leaders; or the bond between different groups within the Jewish people who turn toward one another in mutual respect and cooperation.
In each of these interpretations, the cherubim represent the peaceful relationship that we should strive for in Jewish community — a peace built not from continuous agreement, but from facing one another across differences. As any married couple knows, shalom bayit (peace within the household) results not from spouses always "seeing eye to eye" with one another, but rather from the hard work of confronting one another lovingly and peacefully resolving every disagreement. And likewise with Torah scholars, religious and lay leaders, and diverse groups, there will always be many opinions. The question is whether we will nevertheless cover ourselves with a sukkah of peace, always looking into one another's face and seeing the common humanity, spark of divinity, and wisdom that inspire mutual respect and love.
Rabbi Linda Bertenthal serves as rabbi at Congregation Beth David in San Luis Obispo, CA.