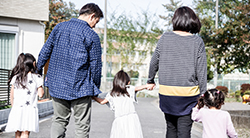 I'm a middle child. I'm middle aged. My teaching style offers conservative challenges to liberals and liberal challenges to conservatives to bring them toward the middle. The middle is where it's at. The middle takes the wisdom from this side and the wisdom from that side to forge some sort of pragmatic approach. The middle is concerned with making headway, making progress to help the most people. The middle doesn't get sucked in to the drama of ideologues.
In other words, the middle is boring. Oy, the middle is so boring. No one wants to be in the middle because it is too practical, and offers the measured conversation of people making progress and working together. We live in an age where we prefer placards and protests and posts to scare the daylights out of people: You must join our fringe position! The other side will kill us all!
In his commentary to Parashat Tzav, Rabbi Sussman gave us a lovely tour of the meaning of the middle of the Torah. Let me point out problems from the fringe. Many people read the Torah starting with God creating the universe out of nothing: "In the beginning." And then they quit. How foolish, they think, to read some book that doesn't even acknowledge evolution. There are others who point to the other side of the Torah where Moses goes up to Mt. Nebo, dies after 120 years, and then is buried… by God. As if that doesn't put them off, they remember that Moses wrote these words about his own death himself. Foolishness, they cry, and then close the book.
Pity. This type of reader will miss all that is in the middle. There we find our ancestors behaving well, behaving badly, behaving like people. There we find faithful faith and jaundiced skepticism. We find law and we find grace. We find Divine miracles and human effort. There is so much in the middle that the fringes obscure. There is so much to Torah if we are willing to put aside our predetermined position and reach toward the middle. The edges make for more provocative pronouncements but the truth is in the middle. The middle is where it's at.
Rabbi Larry Freedman is the rabbi at Temple Beth Jacob of Newburgh, NY. He serves as a chaplain in the NY Air National Guard with a rank of major and has worked at URJ summer camps including five years at Crane Lake Camp.