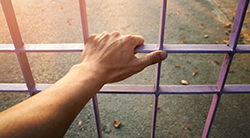 One Friday afternoon this past winter, as hate crimes and threats against mosques and Jewish community centers around the country began to rise, I joined a large line of people outside the Islamic Society of Boston Cultural Center. We were there to form a chain of peace around the mosque to demonstrate our resolve that worshippers be able gather in peace, free from hate and disturbance. As Muslim women, men, teens, and children, most of them people of color, streamed into the mosque, many of the people forming the chain of peace were white Jews. Bucking all stereotypes, worshippers and chain-of-peace members warmly greeted one another. "Shalom Aleichem! Salaam Aleikum!" we said.
Rabbi Sussman's discussion of Hermann Cohen raises our awareness of the tension between the national and the humanist, between the specific God of Israel and the universal God of ethics. This tension is one that has animated my own Jewish learning and seeking, especially while in rabbinical school. What did it mean to want to serve the good of humanity and the planet, yet pray to God in language that was specifically Jewish? How could I be widely inclusive and yet also protect the inherent integrity of tradition?
Today, as a rabbi engaged in interfaith social justice activism, the realities of the world smooth over the tension. In essence, I have made some kind of (at least temporary) peace between these poles because the work on the ground is more compelling than the theory: As a Jew, I daven with our ancient liturgy and observe our holidays. I connect with God through metaphors and myths of our people. But also as a Jew, especially in these trying times, I do my best show up when there is injustice against any people. I try to act in God's image – to be slow to anger, merciful, full of compassion and truth, whether in front of my local mosque or in my pulpit.
Rabbi Shoshana Meira Friedman is the assistant rabbi at Temple Sinai of Brookline, Massachusetts. Learn more at www.rabbishoshana.com.