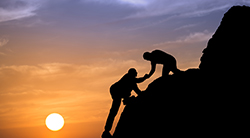 As a native Philadelphian who has traded places with Rabbi Sussman (he's in Philly and I'm in his native Maryland), I can well understand wanting to write about our beloved Liberty Bell for B'har/B'chukotai. However, the verse inscribed on that iconic symbol of freedom is but one of many maxims woven throughout these portions that promote the establishment of a just society.
For example, in considering how to respond when our neighbor is on the verge of economic disaster, Leviticus 25:35 teaches: "If your kin, being in straits, come under your authority, and are held by you as though resident aliens, let them live by your side." We are forbidden from charging them "accrued interest" when they need to borrow money or food. Here, in what seems on the surface to be a lesson on various forms of biblical interest, there is relevant Torah for our times.
The Hebrew phrase that The Torah: A Modern Commentary (rev. ed.) translates as "come under your authority" is u'matah yado imach. A more literal translation might be "[your neighbor's] hand becomes shaky beside you." Rabbi Samson Raphael Hirsch1 points out that the Hebrew verb mot (mem-vav-tet) is used throughout the Torah as an idiom for tottering, being about to fall, in connection with the leg. Only here do we see the idiom of hands becoming shaky.
What is learned from this singular usage of an idiom for the impending collapse of our neighbor? We have an opportunity to strengthen our neighbors whose hands are becoming shaky by allowing them to find protection and support next to us — and the mitzvah is to do so before their leg becomes shaky. That is, our obligation is to try and prevent our neighbor's further fall into poverty — and it is easier to help them up before the condition worsens. In our families, communities, country and world our mitzvah is to provide a safety net for the vulnerable.
Hirsch Commentary on the Torah, vol. 4 (Judaica Press, 1996), p. 764
Rabbi Craig Axler is the rabbi of Temple Isaiah in Fulton, MD.