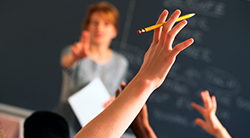 Rabbi Saperstein's interpretation of Va-et'chanan speaks to me. The wisdom of Torah is captured in this bittersweet snapshot: After spending his entire adult life cajoling a stubborn people across the wilderness, Moses now gazes upon the Promised Land. It's a heartbreaking symbol of the human condition — a man, at the end of his life, sitting at the edge of the land of his dreams. There's so much we want, so much we strive for, and we never quite get to the place of our heart's desires.
Still, that is not the whole story. As he accepts that his death is forthcoming, Moses gathers his entire community and speaks to them, reminding them of their shared history, sharing words of love and blessing and connection with the Eternal.  These words, the remainder of the Book of Deuteronomy, ensure that Moses' life was not in vain.
Moshe Rabbeinu, Moses our teacher, instructs us how to live with the awareness that we will never fully attain our desires. Perhaps more importantly, Moses also teaches us how to die. By sharing his wisdom, Moses sees his finite life as an individual thread in the great tapestry of human existence. This is a quintessentially Jewish view of death, as Abraham Joshua Heschel writes, "There is a vast continuum preceding individual existence, and it is a legitimate surmise to assume that there is a continuum follow­ing individual existence. Human living is always being under way, and death is not the final destination."1 The Israelites took Moses' words to heart. They fulfilled his potential by entering the Land of Israel, and preserving the wisdom he taught.
We cannot escape the human condition; we, too, will only gaze upon the Promised Land of our dreams. We, too, will die. Every time we confer love and blessing, every time we convey timeless values, we bring to fruition the promise of those who came before us, and set an example for those who will follow. Then, like Moses, we ensure that our individual life and our eventual death are filled with abundant purpose.
1. Abraham Joshua Heschel, "Death as Homecoming," Moral Grandeur and Spiritual Audacity (The Noonday Press: 1996), p. 367
Rabbi Ruth A. Zlotnick is the senior rabbi at Temple Beth Am in Seattle, WA.