You are here
RJ Insider's Guide to Israel Travel Summer 2013
Learn why Tishah B'Av stands as a day to reflect on the suffering that occurs in our world.
Here are home rituals to observe Shabbat: candle lighting, and blessings over wine and challah.
Dubbed "the Torah pass" by the founding rabbi of our congregation, our rabbi has continued this emotional ritual.
Find out what was hidden under the chocolates Uncle George had packed in the summer of 1937.
 The Jewish Sabbath is a time set apart to focus on what really matters: gratitude for our lives and our communities, and for the growth of the spirit. 
At sundown on Friday, the Shabbat candles are lit before the blessing is recited. Here are the words and a recording to hear them sung!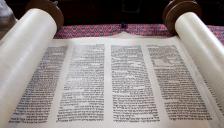 Moses spoke to the heads of the Israelite tribes, saying: "This is what the Eternal has commanded: If a householder makes a vow to the Eternal or takes an oath imposing an obligation on himself, he shall not break his pledge; he must carry out all that has crossed his lips." - Numbers 30:2-3
Want to explore Reform Judaism but have no in-person opportunities to study? This class is for you! Register now.
Learn why the newest FBI annual Hate Crime Statistics Report is especially frightening,
Learn why one congregation has joined 170 others to help refugee families resettle in their area.
One of the defining questions of Jewish peoplehood in our time is: "Who is a Jew?" 
Search URJ.org and the other Reform websites:
WRJ Shop MRC
The artwork on this note card was created by 5768 WRJ Art Calendar artist Césan d'Ornellas Levine.
$7.50/pack
April showers bring May flowers; prepare with a WRJ umbrella—now on sale!
$18 $12