Sign Up to Receive "Ten Minutes of Torah"
Sign up to receive a one-page e-mail each day on a topic of Jewish interest. It only takes 10 minutes a day to get started on a lifelong journey. Spend 10 minutes a day — and before you know it you'll have completed 100 hours of Torah study!
Here are 10 ways Jewish Israelis wIll celebrate Yom HaAtzmaut, beginning Monday evening, May 1.
Dubbed "the Torah pass" by the founding rabbi of our congregation, our rabbi has continued this emotional ritual.
Find out what was hidden under the chocolates Uncle George had packed in the summer of 1937.
 The Jewish Sabbath is a time set apart to focus on what really matters: gratitude for our lives and our communities, and for the growth of the spirit. 
At sundown on Friday, the Shabbat candles are lit before the blessing is recited. Here are the words and a recording to hear them sung!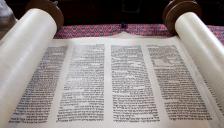 The Eternal One spoke to Moses, saying: "Speak to the Israelite people thus: When a woman at childbirth bears a male, she shall be impure seven days; she shall be impure as at the time of her condition of menstrual separation." - Leviticus 12:1-2
The Eternal One spoke to Moses, saying: "This shall be the ritual for a leper at the time of being purified ." - Leviticus 14:1-2
Want to explore Reform Judaism but have no in-person opportunities to study? This class is for you! Register now.
Learn why the newest FBI annual Hate Crime Statistics Report is especially frightening,
Learn why one congregation has joined 170 others to help refugee families resettle in their area.
One of the defining questions of Jewish peoplehood in our time is: "Who is a Jew?" 
Search URJ.org and the other Reform websites:
WRJ Shop MRC
The artwork on this note card was created by 5768 WRJ Art Calendar artist Césan d'Ornellas Levine.
$7.50/pack
April showers bring May flowers; prepare with a WRJ umbrella—now on sale!
$18 $12