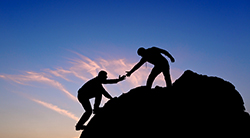 In Parashat Mishpatim, we find the Israelites in the midst of the Revelation at Sinai, experiencing the communal wonder and intensity of their encounter with God. Mishpatim, which means "laws," dives into the details. The Revelations in Mishpatim are among the words Moses writes down on stone when he and Aaron ascend the mountain. Scholars call these laws the Book of the Covenant or Sefer HaB'rit. It's the Torah's first pass at the legal details that govern Jewish living.
Laws that Lead Us to Act with Compassion
Translated into English, the meaning of Parashat Mishpatim is "Laws," but I would suggest we also refer to this Torah portion with the word rachmanut, "compassion." The laws set forth in Parashat Mishpatim give us clear guidance as to our treatment of the segments of society to which we do not belong — the slave, the poor, the widow, the orphan. It point isn't only that we should remember that we were once strangers in a strange land, for that only calls for empathy — an understanding of the other.