Image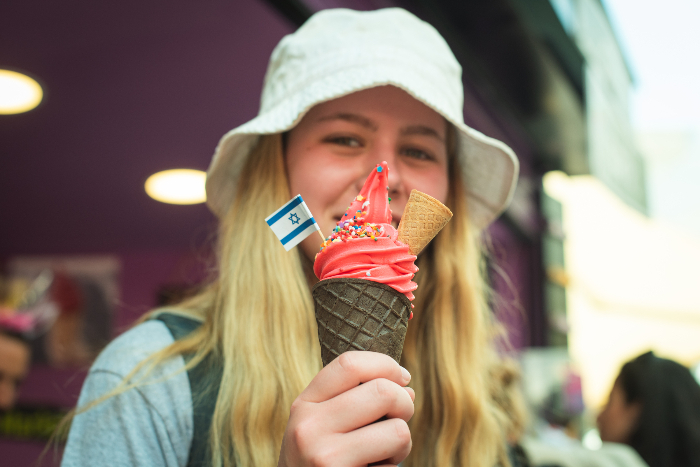 Missing Eretz Yisrael? These sweet treats will help transport you, without ever having to hop on a plane.
Baklava: This sweet pastry is sold in both Jewish and Arab markets, and comes in a multitude of varieties.
  
Chocolate Babka: This babka is so easy, baking it almost feels like cheating. Says Chef Michael Solomonov, "I have a hard time not eating it as it comes out of the oven."
  
Chocolate Balls: These creamy, crunchy chocolate balls are easy to make and fun to eat. Coat them in coconut, sprinkles, or both!
 
Homemade Bamba: The staff of a Reform Jewish summer camp teaches you how to make a delicious version of this poppable, Israeli snack right in your home.
   
Israeli Birthday Cake: Every birthday deserves a great cake. This iconic, cocoa-based, richly iced cake fits the bill.
  
Israeli Chocolate Spread: Chocolate spread permeates Israeli meals and is even packed in army supply kits.
 
Kichlach: These popular cookies are found in many of the packages prepared by parents for their children serving in the Israeli military.
  
Poppy Seed Cake with Blueberries and Labneh: The earthy fruitiness of poppy seeds makes them shine in recipes both sweet and savory.
  
Techina Cookies

: 

Techina (tahini) is a staple found in most Israeli kitchens.
  
Turkish Coffee Ice Cream: The perfect balance of bitter and sweet, this ice cream uses Turkish-style coffee and a bit of cardamom to add Arabic flavor.
If you like to cook, eat, and talk about food, sign up to receive The Jewish Dish, ReformJudaism.org's monthly, year-round email full of recipes, fun food facts, holiday tidbits, and more – all with a Jewish twist.