Image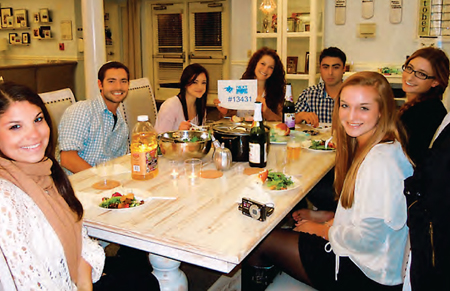 There may be more funding available for your on-campus Jewish program than you think:
Men of Reform Judaism's Reform on Campus (ROC) Grants: You can apply for up to $500 for a single Reform event, such as a camp-style Shabbat and dinner, or up to $750 for a series of events, such as a cultural celebration. For 2013-14, the Men of Reform Judaism (MRJ) awarded 44 grants totaling nearly $20,000, according to Steven Portnoy, MRJ secretary and chair of the Reform on Campus Committee. For more information: facebook.com/reformoncampus, @reformoncampus (Twitter)
NEXT: A Division of Birthright Israel Foundation: If you've been on a Taglit-Birthright Israel trip, check out these three program funding opportunities. NEXT Shabbat enables you to host a Shabbat for your friends, providing up to $224 for food and a free "Shabbox" including candles, "Shabbat essentials" cards, a challah cover, a kiddush cup, and a CD. NEXT will also help you celebrate holidays such as Passover and Rosh Hashanah by providing resources and a microgrant to help cover the cost of food for guests. Additionally, Natan/NEXT Grants for Social Entrepreneurs offers up to $10,000 to help fund a project that brings Jews in your area together for cultural, educational, service, and community-building experiences. For info: birthrightisraelnext.org, facebook.com/NextBirthrightIsrael, alumni@birthrightisraelnext.org.
Hillel's Campus-Engagement Initiative: Hillel trains and provides financial assistance to engagement interns who build relationships with Jewish peers at 50+ campuses, creating meaningful Jewish experiences and vibrant Jewish life. Stipends vary depending upon the Hillel.
At the University of Southern California, engagement intern Ricardo Gorinstein created a Krav Maga program for students to learn Israeli self-defense tactics. Another intern, Jared Fleitman, started a campus chapter of TAMID Israel Investment Group, which focuses on Israeli start-up companies.
Ask Big Questions: In partnership with the Einhorn Family Charitable Trust and Hillel International, this initiative seeks to change the world by sparking conversations that invite people of all religious traditions, cultures, races, ethnicities, genders, sexual orientations, and personal/political beliefs to talk and reflect together on such universal and formative topics as "What could we sacrifice to change the world?" and "For whom are we responsible?" Ask Big Questions conversations aim to create community and inspire action.
Alternative Break with Hillel: If you are interested in addressing poverty, illiteracy, and/or natural disasters in the context of social responsibility and Jewish values, many Hillels offer short-term service opportunities ranging from volunteering in Israel to building houses with Habitat for Humanity. Costs vary by Hillel and are subsidized by Hillel International.
Jewish Federation Projects: The next time you need general project funding, contact your local Jewish federation to see if they can help. When I arrived at the University of Arizona in 2009, I became enthusiastic about the Homer Davis Project, which helps financially struggling families at Homer Davis Elementary School. Jewish and non-Jewish college students would collect and distribute school supplies to Homer Davis students, as well as raise money for the school through food drives and bake sales. The Jewish Federation of Southern Arizona signed on, providing us with $500 worth of donated school supplies, and we organized a series of events involving hundreds of UA students. The university's Religious Council subsequently adopted the project: Hillel and other U. of Arizona students arranged food packages for Homer Davis students who wouldn't have received school meals during Rodeo Break (a Tucson tradition-based school holiday during which most students attend the Tucson Rodeo parade or other rodeo activities).
So, no matter where your interests lie, be sure to seek out funding to create a better Jewish community on your campus.