Image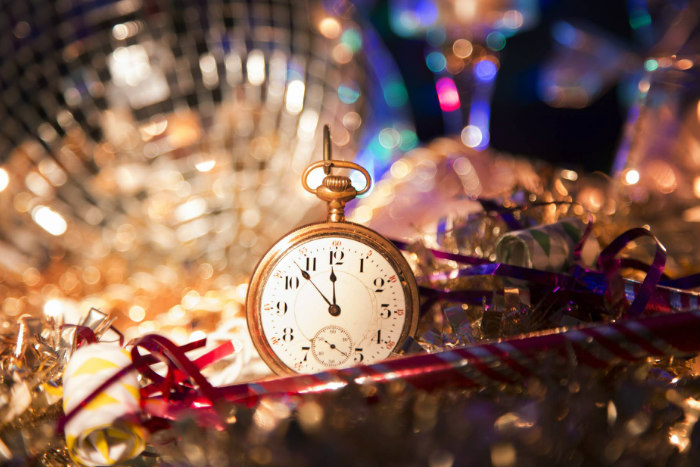 Superstitious folks eat all kinds of specific foods to ring in the secular New Year, hoping the items they consume – all of which are said to represent various forms of success in the year to come – will positively impact their days ahead.
Whether or not you believe in such superstitions, it can be fun to put your own spin on them! Close out the year by putting a Jewish twist on some of these traditional New Year's foods.
1. In the American South, greens are said to represent money and financial success.
Tina Wasserman's Arugula Salad with Dates and Chevre was created with created the Ugandan Jewish community in mind, as it incorporates ingredients indigenous to the area where the country's Abayudaya Jews reside. Come February, it's also an excellent recipe for celebrating Tu BiSh'vat! Make a small bowl of it as a side, or go for the green with a giant salad entrée. Also try: Persian Spinach and Pine Nut Kuku, also by Tina Wasserman                            
2. In Italy, China, and Brazil, the shape of beans - especially lentils - is also said to symbolize coins.
This recipe for Curried Lentils and Vegetables combines tomatoes and seven aromatic spices indicative of New Delhi origins. Chef Tina Wasserman explains that in the 17th through 19th centuries, British, Dutch, and Portuguese traders sailing the Spice Route made mandatory stops in the Moluccas, Sri Lanka, and the Malabar Coast for spices that were the basis of many of the region's curry spice blends. Also try: Baked Beans by Irene Garber.
3. In many Asian cultures, shiny fish scales represent coins, too - because they resemble them.
This recipe for Greek Psari Pagnaki, originally made with shrimp, has been adapted for Jewish dietary laws that prohibit eating shellfish. Chef Tina Wasserman writes, "The bright colors and flavors of this dish incorporate fish indigenous to the waters around Greece" – in this case, either branzino filets or tuna steak. It also involves ouzo, brandy, and lots of bold tomato flavor. Also try: Israeli Fish Kebabs in Yellow Tahini Yogurt Sauce by Orly Ziv.
4. Ring-shaped cakes represent coming full-circle in Mexico, Poland, Hungary, and the Netherlands​.
Use the same filling you use for hamantaschen hamantaschenאֹזֶן הָמָןTriangle-shaped pastries commonly filled with apricot jam or poppyseed spread (or other fillings) and eaten on Purim; the shape represents Haman's hat or ears in this recipe for Almond Poppy Seed Pound Cake, created by Chef Tina Wasserman. The recipe calls for canned almond and canned poppy seed filling, but it also tastes delicious with combos like apricot/almond and prune/poppy seed combinations. Also try: Fresh Apple Cake by Tina Wasserman.
5. Ancient Greeks believed figs were a symbol of fertility.
Rabbi Phyllis Sommer's Tu BiSh'vat recipe for Date-Fig Bars (also a Tu BiSh'vat recipe) is adapted from the King Arthur Flour Cookie Companion's recipe for Bakery Date Squares. The original called for only dates and had a variant filling recipe using figs and orange juice; this version mixes dates and figs. Also try: Fresh Figs with Goat Cheese and Honey by Tina Wasserman.
6. In Greece, the seeds of pomegranates represent abundance and prosperity.
This famous Persiann dish, Chicken Fesenjan with Walnuts and Pomegranate Syrup, is considered a festive dish served for important occasions. Tina Wasserman explains that Persian Jews often served this dish to their extended families, requiring significant amounts of walnuts – which were very costly at the time. If you're not a fan of chicken, the sauce from this dish also tastes great atop lamb or meatballs. Also try: Eggplant Baladi by Orly Ziv.
7. In Japan, long noodles represent long life.
Lokshen kugel means "noodle pudding" in YiddishYiddishיִידִישׁJudeo-German language combining old German and Hebrew spoken by the Jews of Eastern Europe. Also known as "Jewish." , and it originated in Eastern Europe, where the Jewish community spoke that language. This item falls into the category of "grandma's dishes," and Tina Wasserman's recipe for Deluxe Noodle Kugel is made with extra-wide egg noodles, oranges, pineapple, walnuts, and more. Also try: Chicken Soup by Ellen Tilman.  
What's on your menu this New Year's Eve? If you like to cook, eat, and talk about food, sign up for The Jewish Dish, our monthly food email for recipes, fun food facts, holiday tidbits, and more - all with a Jewish twist. Yum!