Image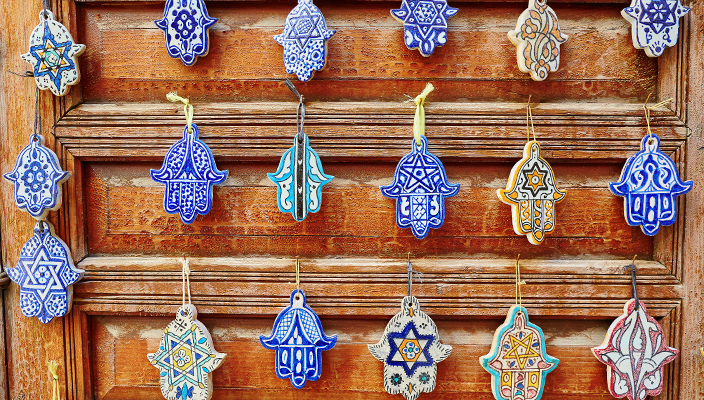 Whether you're interested in conversion, studying with your partner, or just want to learn more about Judaism, taking an Introduction to Judaism course can be a transformative experience. If you've already signed up for an Introduction to Judaism course, congratulations on advancing your Jewish learning.
Here are nine ways to jumpstart your learning before the course begins.
1. Explore local synagogues.
Find a few synagogues near you, browse their websites, and ask to subscribe to their weekly or monthly newsletters. You may be able to make a weekday appointment with a member of the clergy or the executive director/temple administrator to learn about the congregation. Attending a worship service or community program is another way to learn about the congregation. Lastly, many congregations host open house events for prospective members, especially during the summer months, and you'd be welcome to attend, even if you're not considering membership at this time.
2. Attend Shabbat services.
One of the best things about Shabbat services is that you can begin attending at any time. You do not need to belong to a congregation to experience Shabbat. A Friday evening worship service is an ideal "starter" service. Before you go, read about what to expect at a Shabbat service and how to celebrate Shabbat in your own home.
3. Watch Shabbat services via livestream.
If  you're nervous about attending a service for the first time or don't live near a congregation, consider watching a service that's being livestreamed by one of the many Reform communities that broadcast their services.
4. Browse in a Judaica store.
If you live in a major U.S. or Canadian metro area, there is likely a Judaica store nearby. Plan a visit, taking time to browse the items, some of which may not be familiar to you. If there are no Judaica stores near you, there are a lot of online Judaica stores to explore.
5. Listen to our podcasts.  
Wholly Jewish: Jews of Color share their experiences, insights, and how their identities enrich and create a more vibrant Jewish community. Subscribe on Apple Podcasts or Android.
Stories We Tell: Judaism has a deep and rich storytelling tradition, passing down stories from one generation to the next. To carry on that tradition, Stories We Tell shares a new story every Thursday. No matter when you listen, each episode offers much to reflect upon and discuss with the people in your life. Subscribe on Apple Podcasts or Android.
On the Other Hand: 10 Minutes of Torah: Tune in weekly to hear Rabbi Rick Jacobs, president of the Union for Reform Judaism, offer divrei Torah (insights into the weekly Torah portion) that offer insights into Jewish thought and how it can influence our contemporary lives. Subscribe on Apple Podcasts and Android.
6. Explore ReformJudaism.org.
The ReformJudaism.org website offers an array of content that addresses all facets of Reform Jewish life from holidays and worship to Israel, social justice, Torah, and more, including . traditions and innovations of Reform Judaism.
No matter how much or how little you know about Judaism, you'll find articles and blog posts that answer your questions and reflect the engaging, inclusive, and welcoming aspects of the Reform tradition. Browse the glossary of Jewish words and terms, some of which will be covered in your Introduction to Judaism course. Peruse the BimBam channel on YouTube, which will spark connections to Judaism through digital storytelling and fun, memorable videos for people of all ages and backgrounds.
7. Check out some of our favorite books.
There are so many terrific books that introduce different aspects of Judaism. These are some of our favorites:
8. Start learning the Hebrew alphabet.
Learning the basics of Hebrew isn't as hard as it might seem. Aleph Isn't Tough: An Introduction to Hebrew for Adults is designed for adult learners who have little or no Hebrew knowledge. The volume introduces two or three Hebrew letters at a time, teaches how to decode words, and gives readers a slow, steady immersion into Hebrew vocabulary for participation in Jewish life.
9. Read and listen to stories of Jews-by-choice.
Watch this video storytelling project that highlights the experiences of six converts at Congregation Beth Am of Los Altos Hills, CA, consider some of the many ReformJudaism.org blog posts that reflect on the process of becoming a Jew, or read "Frequently Asked Questions About Choosing Judaism." Each of these stories and experiences will teach and inspire you, as well as inform your thinking.
For more information or if you have questions, email us.
Chris Harrison is the writer and editor for Audacious Hospitality at the Union for Reform Judaism and a fellow in the 2018 JewV'Nation Fellowship's Jews of Color Leadership Cohort. A graduate of Miami University in Oxford, OH, he holds a degree in creative writing and film studies.
Rabbi Julie Zupan serves as the director of learning and engagement for Audacious Hospitality at the Union for Reform Judaism, where her work focuses on supporting interfaith couples and individuals exploring Judaism. She was ordained by the Hebrew Union College-Jewish Institute of Religion in 1999 and is a member of Temple Sinai of Sharon, MA.