Image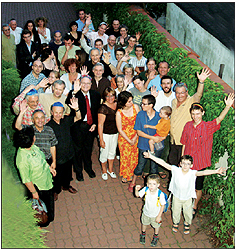 Did you ever imagine that you might one day serve as rabbi in Warsaw?
Actually, for years I had entertained the fantasy of serving in Poland, the land of my family's roots. In the mid-1970s, my grandparents told me in Yiddish about their memories of Galicia, and only then did I learn that this region in East Central Europe (currently divided between Poland and Ukraine) had been an accepting and tolerant society in the late 19th and early 20th centuries.
Did you visit the country?
Yes, in 1975, after speaking with my grandparents, I toured what was then Communist Poland. I encountered an incredibly corrupt bureaucratic society with very little access to anything Jewish-but I also tapped into the nurturing broth which had once sustained a Jewish society numbering 3.5 million people. In a Warsaw dairy restaurant, artists sitting at tables argued and yelled at each other in a way that reminded me of Jewish intellectuals, like I. B. Singer, who used to exchange heated ideas at the Garden Cafeteria in Manhattan. I saw villages that looked as if Chagall had painted them. I walked along some of the streets my grandfather had described and felt this strange, haunting affinity…and it stayed with me. In the 1980s I found myself devouring every word about Solidarity, the trade union that helped bring down Communist rule, knowing quite a few Jews were in that movement. I'll never forget the thrill in 1991 when as a rabbinic student at HUC-JIR in Jerusalem I watched Solidarity's leader Lech Walesa walk into the King David Hotel during his first visit to Israel.
Then, in 2006, I read in the CCAR Bulletin that Beit Warszawa (BW), the Progressive congregation in Warsaw, was looking for a rabbi, and I immediately contacted the congregation's major benefactor, Severyn Ashkenazy, a Polish-born Jew who divides his time between Warsaw and Los Angeles. We met for breakfast in LA, and he introduced me to his close friend, the famous folksinger and actor Theodore Bikel. Bikel has been a major, passionate supporter of BW, performing benefit concerts for the congregation both in Poland and in North America. Had he disapproved of me, my chances of becoming BW's rabbi might have ended there and then. Though I did more listening than talking, Bikel understood how deeply I cared about Polish Jewry and encouraged me to apply. Then I spent a week at BW and fell in love with the people. While leading services I felt this incredible completion of a circuit. Here I was, on this ancestral ground, with fifty people wanting to be part of it, singing their hearts out at Friday night services.
I was also impressed with the urban sophistication of the Polish people and the fact that much of Jewish Polish culture is sustained devotedly by non-Jews. Janusz Makuch, for example, founded the semi-clandestine Krakow Festival of Jewish Culture in 1988 during the Communist period; when democracy was restored in Poland, the festival developed rapidly and now entertains more than 20,000 visitors each year. Joachim Russek created Bayit Chadash in Krakow, a major center for Jewish cultural, artistic, and literary activities. Most actors in the Warsaw Yiddish Theater and a majority of musicians in Poland's klezmer groups are not Jewish. Hundreds of non-Jewish students in half a dozen universities in Poland are studying Hebrew and Yiddish, speaking fluent Hebrew, and traveling to Israel.
There is also extensive dialogue between Jews and Christians here. I've now participated in eight or nine such dialogues, most recently with the Archbishop of Lublin, a strong friend of the Jewish community.
Most American Jews don't think of Poland as a "nurturing broth." They see a place where Jews died, not lived.
Even I bought into that way of thinking before I lived here. Part of me expected that every Pole would be a raging anti-Semite or pogromnik-even though my great-uncle Adam and his wife Minna were saved by Polish farmers and the largest number of righteous gentiles honored by Yad Vashem for rescuing Jews are Poles-as many as 6,000 of them!
Why has it been so difficult to change these negative perceptions?
All too often Jews' perceptions are reinforced by the places they visit and talk about. If all they do in Poland is take in the Warsaw Ghetto memorial and the museum at Auschwitz, they naturally come away with a very different attitude than they would have had they interacted with young, vibrant Jews at Beit Warszawa on Shabbat and saw thousands of non-Jewish Poles dancing in the streets to klezmer music at a Jewish music festival. In my opinion, the March of the Living, a Jewish travel program whose singular message is "Poland is Death, Israel is Life," reinforces this negative message. I prefer the theme, "Experience a new chapter in the history of Polish Jewry"-and await the 2010 opening of the Museum of the History of Polish Jews in Warsaw, which, in emphasizing the rich civilization Polish Jews created over the course of almost 1,000 years, should be a critical catalyst for changing attitudes and perceptions.
What challenges have you encountered in Poland?
First, it was very difficult for me to learn Polish. You cannot get by on simple Polish; here, simple Polish is bad Polish. Also, I didn't expect the degree of woundedness I found in Poland, among Jews and non-Jews alike.
Woundedness?
Poles bear a lot of pain from the war and five decades of Communist rule. The result is a level of distrust and suspicion that's sometimes hard to overcome. In personal interactions this can get compounded because unlike North American congregants, who do not hesitate to come to you very directly when they have a complaint, Poles may appear to accept what you're doing when they really do not. I suspect that this too is a protective mechanism going back to totalitarian times when people couldn't freely express their true feelings or opinions. I've tried to build levels of trust, but it's not always easy to overcome such an entrenched habit that permeates Polish society.
Can you tell us more about BW?
We are a young congregation-the oldest member of our board is thirty-eight-serving about 250 people in Warsaw, and our ranks keep growing; last year alone fifty mostly young adults joined us through our Introduction to Judaism course. We offer parent workshops, study retreats, and a religious school that is now educating more than twenty children. Beyond Warsaw, we have satellite communities-in Krakow, Lublin, Chelm, Czestochowa, and Zielona Gora-Lubsko-where we hold Shabbatons, conferences, lectures, youth programming, and text study through the arts, involving 2,000 people throughout Poland.
What is bringing so many young people to BW?
Interestingly, the majority of our members did not learn of their Jewish ancestry until they were adults. Some discovered in their twenties or thirties-or even later-that at least one of their parents was Jewish, or that their real grandparents were Jews who left their parents in the care of non-Jews before fleeing Poland, being deported to a ghetto or concentration camp, or joining the underground during the Nazi occupation. Others learned the truth at a younger age. When she was twelve years old, one of our congregants asked her father why he became so agitated during television reports relating to Israel and he responded, "Of course I'm concerned about Israel, I'm Jewish." One man in our congregation related the following story: "I was twenty-three years old the day my brother came home telling anti-Semitic jokes, which so irritated my mother, she turned to him and said: 'I can't take this anymore, this is intolerable. You must know: I'm Jewish, my mother is Jewish, and therefore you are Jewish.'" The man (not his brother) is now an active member of BW.
Sometimes, young people come to us merely pretending to be interested in Judaism. Only when they reach a level of trust and confidence among the other people in the congregation do they reveal their Jewish ancestry.
How does BW help those who wish to become Jews?
We offer a ten-month Introduction to Judaism course, and those interested in converting also need to study Hebrew, participate actively for a year in Jewish ritual and educational life at Beit Warszawa, be approved by the European Progressive Beit Din (rabbinic court) based in London, undergo circumcision (for males), and immerse themselves in a mikveh. Last year we converted four adults and two children; this year seven adults and four children; and next year we anticipate ten to twelve more.
Tell us about Shabbat at BW.
Our Friday nights begin at six o'clock with a guest lecture, a discussion about a Jewish prayer, or an "Ask the Rabbi" session. Then comes our fifty-minute service, all in Hebrew, except for Polish or English introductions. We begin with a niggun-a wordless melody sometimes accompanied by guitar, sometimes a cappella-and sing the liturgy throughout, moving into deeper levels of kavanah (mindfulness) as we go. After the service and a motzi we offer a catered dinner done with grace and style-a very important social anchor for a community of people who for the most part did not grow up experiencing Shabbat.
Are you optimistic about the future of Progressive Judaism in Poland?
Oh, yes. Reform Jewry in Poland is growing. An independent Progressive community in Krakow is evolving into a full-fledged congregation. There is a small Progressive community in Slupsk in northwest Poland. Other communities, such as Lublin-Chelm, Zielona Gora-Lubsko, Czestochowa, and Bytom, are in various earlier stages of development. We have also worked with people in the Gdansk area; Jews in Bielsko Biala have expressed interest in joining us; and we hope soon to begin a community in Wroclaw.
Remember, too, that we Reform Jews have a long history in Poland. Reform congregations in Warsaw, for example, go back to the 1820s. The Great Synagogue of Warsaw, inaugurated in 1878 as part of the merger of two Progressive congregations, became a center of Jewish religious reform, and one of its rabbis, Mojzesz Schorr, served in the Polish senate. Other Progressive leaders were also influential on the state level.
In the 21st century, we face different challenges. First, we continue to advocate for a pluralistic Jewish community where people can find their own comfort level along the Jewish spectrum, be it secular or religious, Orthodox or Progressive. A religious monopoly is an impediment to reviving Poland's Jewish community. Unfortunately, the official Jewish community in Poland, the Gmina (Federation of Religious Associations), recognizes only Orthodox synagogues.
Second, we try to teach people here to understand the need to take responsibility for their Jewish institutions, including assuming leadership roles and paying dues to cover synagogue costs. Such things are difficult in a society in which "Big Brother" controlled everything for so long. But we are making great strides by attracting well-educated, modern, and fully-integrated young Jews into our congregations. In ten or fifteen years, I believe Progressive Judaism will be the dominant Jewish force in Poland.
SUPPORT BEIT WARSZAWA
To attend services at Beit Warszawa or other Progressive communities in Poland, call +48 (22) 215-4326 or e- mail j.cudak@beit.org.pl.
To donate books/Judaica, establish a pen pal relationship, adopt Beit Warszawa as a sister congregation (as has Congregation Sha'ar Zahav of San Francisco), and more, call +48 22 885-2638 or e-mail m.urbaniak@beit.org.pl.
To join the mailing list and learn more visit www.beit.org.pl.
For information on the 1,200 Progressive congregations in 42 countries on six continents, contact the World Union for Progressive Judaism.