Image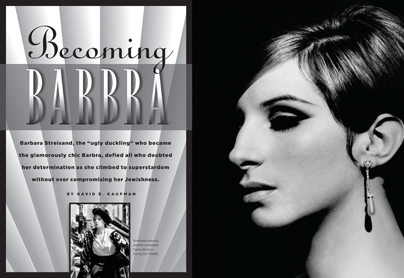 To pursue her dream of becoming an actress, Barbara Streisand moved from Brooklyn to Manhattan in January 1959 after graduating from high school. She took acting lessons and auditioned for theatrical parts. But, "with her strange looks, personality, and clothes," says biographer James Spada, "few people would give her a hearing….Most of the people she went to told her to change herself—fix her nose, discard the outlandish outfits, subdue her Brooklyn accent." She met with rejection after rejection. Even her mother thought she wasn't beautiful enough to make it in show business.
But that only made her more resolute.
Then, in the summer of 1960, friends convinced her to enter a singing competition at the Lion, a gay bar in Greenwich Village. She won handily and was soon performing at the more upscale Blue Angel. There she was discovered by Arthur Laurents, who was about to direct a musical version of Jerome Weid­man's I Can Get It for You Wholesale. He arranged her audition for a small part, and she made her Broadway debut in 1962.
A year later she released two records, The Barbra Streisand Album and The Second Barbra Streisand Album; both went gold. At age 21 she landed a starring role in a Broadway show, playing Fanny Brice in Funny Girl. From 1964 to 1967 she recorded and released nine more albums, of which seven went gold. She won Grammys three years in a row (1963-1965). Her television special, My Name Is Barbra (1965), won five Emmys. And then in 1968 she won an Oscar for best actress (in a tie with Katherine Hepburn) for her performance in the screen version of Funny Girl—thus completing the grand slam of entertainment awards at the remarkably young age of 26.
---
Defying the odds, Streisand achieved all this success, and more to follow, explicitly and unapologetically, as a Jew. In her roles she embodied Jewish characters. Film historian Lester Friedman suggests that "Streisand's name and nose in their unaltered state represents a turning point in the cinematic portrayal of Jews, one that shows Jewishness as something to be proud of, to exploit, and to celebrate." For Strei­sand, it is the equivalent of Sandy Koufax's decision not to pitch on Yom Kippur, the touchstone of her reputation for ethnic loyalty and enduring Jewish identity.
Streisand not only became a star despite her lack of conventional female beauty, and despite "looking Jewish"; she ultimately turned her looks to her advantage. As essayist Pete Hamill writes, "Instead of hurting her, Barbra Streisand's nose was now part of her beauty, turning her into an exotic. The looks and the voice made her an original." In just a few years and through sheer force of will—aided by makeup, hairstyling, and high fashion—Streisand transformed herself, in her words, from "Brooklyn's ugly duckling" to "Broadway's beautiful swan."
And in the process of making ugly beautiful, Barbra Strei­sand made Jewish beauty more culturally acceptable. In the 1960s and 70s, ethnic-looking film stars became far more common, including these Jewish actors and actresses: Richard Benjamin, Richard Dreyfuss, Tovah Feldshuh, Elliott Gould (who was married to Streisand), Dustin Hoffman, Madeline Kahn, Carol Kane, Lainie Kazan, Bette Midler, and Gene Wilder. Collectively, these and other stars represented the arrival of recognizable Jews in Hollywood, and hence heralded a greater acceptability of Jewishness in American culture.
In October 1977 Streisand made it onto the cover of Playboy, accompanied by the text: "What's a nice Jewish girl like me doing on the cover of Playboy?" The presence of the label "Jewish" on the cover, writes theater historian Henry Bial, "suggests, on the one hand, that Streisand [had] become a sex symbol in spite of her Jewishness; on the other hand…that Streisand's Jewishness somehow [was] contribut[ing] to her sex appeal."
---
But how did Barbra Streisand convince us that she was beautiful after all?
In a provocative study of Jewish ethnicity and American show business, ­Henry Bial surmises that "Funny Girl demonstrates that the woman who looks Jewish can gain acceptance not by erasing, hiding, or avoiding her Jewish looks but by acting Jewish."
She did so at the start of her career by establishing a reputation as the "­kookie kid from Brooklyn." In her television appearances in 1961 on Mike Wallace's PM East and the David Susskind Show, she cultivated an image as a colorful and controversial character. Once she said to David Susskind, who had previously rejected her for a job, "I scare you, don't I? I'm so far out I'm in." She may have threatened Susskind because he, like Mike Wallace, was an assimilated Jew. Strei­sand's ethnically identifiable looks, accent, and attitude announced: Here is a new kind of Jewish celebrity. But while her blatant ethnicity unsettled Susskind and Wallace, she was good for ratings, so they kept inviting her back.
Also emblematic of the "Jewish Big Mouth" was Streisand's character in Funny Girl. Feminist writer Letty Cottin Pogrebin notes: "While the Princess demands her privileges, the Big Mouth demands her rights….She lets everyone, especially the men in her life, know who she is and what she thinks. If she wants something, she goes for it. A nonconformist, she won't play her assigned role-either as a Jew or as a woman." Pogrebin adds that "The progenitor of the Jewish Big Mouth character was none other than 13-year-old Anne Frank." Notably, Streisand announced that she would become a stage actress at age 14 on the night she saw her first Broadway play—The Diary of Anne Frank.
In Yentl (1983), her most explicitly Jewish film (and her first as producer, director, and star), Streisand explored the links, overlaps, and echoes between her own life and a fictional character; between "authentic" Judaism and play-acted Jewishness; and between the ambiguities of ethnicity and the ambiguities of gender. Adapted from Isaac Bashevis Singer's short story "Yentl the Yeshiva Boy," Yentl proved that Streisand's Jewishness was both a role and the reality beneath the mask.
---
Barbra Streisand not only became a symbolic figure for many American Jews, but also for many gay men, women (though not necessarily feminists), and liberals.
"The underground [read: gay] bar scene fostered a sense of self and a sense of humor that readily warmed to Streisand: The kooky outsider finally found a place where her persona was appreciated and applauded…" (The Encyclopedia of Jewish Women in America). Although gay men had idolized female performers before, most notably Judy Garland, their worship of Streisand reached a new height with the 1996 opening of a museum/store devoted to all things Barbra. Located in the predominantly gay Castro neighborhood of San Francisco, its creator, Ken Joachim, claimed that he "felt inspired by the notion that his life, especially his oppression as a gay man, was 'very parallel' to Streisand's."
Streisand's liberal political philosophy also attracted a loyal following: "She champions environmental projects and is a dedicated Democratic fundraiser; she raised so much money for Bill Clinton's 1992 election campaign that she was invited to attend the inauguration. She later spearheaded a boycott of Colorado ski resorts when that state passed Proposition 2 to deny gay men and lesbians any legal recourse against even the most blatant homophobia….Speaking at Harvard University's J.F.K. School of Government in 1995, she explained her philosophy: 'I know that I can speak more eloquently through my work than through any speech I might give. So, as an artist, I've chosen to make films about subjects and social issues I care about, whether it's dealing with the inequality of women in Yentl, or producing a film about Colonel Grethe Cammermeyer, who was discharged from the army for telling the truth about her sexuality'" (The Encyclopedia of Jewish Women in America).
---
Almost from the start of her career, Barbra Streisand was subject to harsh criticism. To this day she is denigrated nearly as often as she is celebrated.
A 1971 Mad magazine parody depicts Streisand as a money-grubbing, self-aggrandizing, power-mad harridan-here again the "too Jewish" perception being hurled at her by other Jews. And anti-Streisandism came to South Park, co-created by Jewish writer/animator Matt Stone, in the 12th episode of the first season (1998), in which Streisand is depicted as a power-mad villain transformed into a rampaging Godzilla-like monster that destroys the town. Before emerging as a monster, Streisand appears as a demented, horribly ugly woman-in a sense, a reversal of her self-invention as a beauty, as if she were a false idol.
Saturday Night Live spoofed Streisand's adoring fans. On the fictional talk show Coffee Talk, Mike Myers, in drag, played host Linda Richman, a stereotypical New York Jew who worshipped Streisand as "the best entertainer in the history of show business."
Streisand's Jewish celebrity reached a cultural high watermark in 1996, when New York's Jewish Museum mounted the exhibit Too Jewish? Challenging Traditional Identities showcasing works by contemporary Jewish artists on subjects of Jewishness that were for the most part confrontational and often embarrassing. An image of Streisand took center stage. As both the embodiment of "too Jewish" and its transcendence, Streisand was the perfect symbol for the museum's newfound examination of overt Jewishness.
Foreshadowing a reality to come, artist Rhonda Lieberman's exhibition essay, "Jewish Barbie," described an imaginary Jewish version of the Barbie doll based on Streisand: "As a young diva, Jewish Barbie looks to Barbra as a beaconness of Jewish glamour in a world hostile to multitalented strong women who should be worshipped." Lieberman's fantasy became a reality in 2010, when Mattel introduced the "Barbie (Pink Label Collection) Barbra Streisand Doll."
That "kooky kid" from Brooklyn became the quintessential Hollywood Jew and the very embodiment of Jewish women's empowerment.
David E. Kaufman is Associate Professor in Religion and holder of the Florence and Robert Kaufman Chair in Jewish Studies at Hofstra University. This article was adapted from Jewhooing the Sixties: American Celebrity and Jewish Identity-Sandy Koufax, Lenny Bruce, Bob Dylan, and Barbra Streisand (Brandeis, 2012).