Image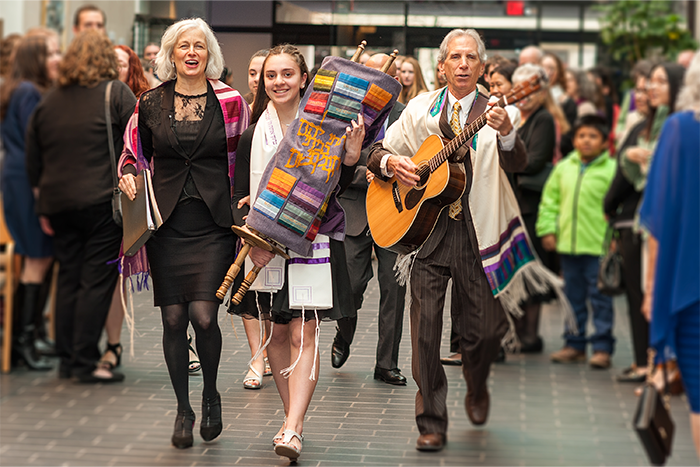 1. What do bar and bat mitzvah mean?
Bar mitzvah means "Son of the Commandment." Bat mitzvah means "Daughter of the Commandment." B'nai mitzvah is the plural, meaning "Children of the Commandment" and would apply to more than one boy or a number of boys and girls as a group. B'not Mitzvah (Daughters of the Commandment) refers only to girls.
2. So you don't really go to a bar mitzvah or a bat mitzvah?
That's right. The term applies to a person, not an event. And, students don't really "get bar/bat mitzvahed" and rabbis and cantors don't "bar/bat mitzvah" a student. The boys become a bar mitzvah and the girls become a bat mitzvah.
3. At what age does this happen for these boys and girls?
In Reform synaagogues, most boys and girls become bat or bar mitzvah around their 13th birthday. Different synagogues have different requirements as to whether a service can take place before the child's 13th birthday or not.
4. Where does the service take place?
Usually, it's in the sanctuary of the synagogue and the child participates on the bimah, the area from which the service is conducted (it's never called a "stage"), along with the rabbi and cantor. There are some synagogues in which students share their service with another student-either a brother or sister or a student who is not related to them.
5. When does the service take place?
Most b'nai mitzvah services are conducted on Shabbat morning (Saturday morning). Some congregations schedule them for Friday evening and some for Saturday evening. In addition, b'nai mitzvah services can occur on Rosh Chodesh-the first day of the Hebrew month. By the way, some people remember girls only having the chance to become "Bas Mitzvah" on Friday evenings at Conservative congregations a number of years ago. That is not necessarily the case anymore and most Reform congregations don't differentiate between when boys and girls can have their services.
6. What do they do in the services?
It depends on the requirements and customs of each congregation. You can usually count on the student reading and/or chanting Hebrew from the Torah scroll and from the prayer book, and possibly reading some prayers in English. At some synagogues, students may also deliver speeches that they have written about the Torah portion assigned for that weekend or the haftarah portion (a selection from one of the books of the prophets in the Hebrew Bible). There are also synagogues at which students will speak about their Hebrew names, thank all those who have helped them to reach their special day, or talk about special projects they did that benefited other people.
7. Does anyone else participate in b'nai mitzvah services other than the 13-year-old and the clergy?
Yes. There are opportunities for family members and friends to recite the Torah blessings in Hebrew, to pass the Torah, to open and close the Ark in which the Torah scrolls are kept, to deliver a speech about the student, and to be involved with the removing of the ornaments and replacing of the ornaments on the Torah scroll. Honors vary from congregation to congregation.
8. Can non-Jews participate in b'nai mitzvah services?
Most Reform congregations would welcome the participation of non-Jewish family members or friends. Because of the content of certain prayers or the meaning of certain customs, there may be some exceptions that are determined by the rabbi and the Ritual Committee of the synagogue. For example, passing the Torah as a symbol of Jewish heritage and continuity may involve only Jewish family members. In many Reform synagogues, non-Jews can come up to the bimah along with their Jewish partners and be involved in most of the service.
9. How long are b'nai mitzvah services?
Again, that can vary depending on the customs of the congregation. Generally, you can expect about an hour-and-a-half to two hours.
10. Will I understand what's going on with all of that Hebrew being used?
We believe in service experiences that are meaningful to a variety of people on a variety of levels. Our prayer books contain Hebrew and English. Sometimes, programs are provided that explain what is happening in the service, and some rabbis will briefly describe to the congregation what is going to happen next in the service. Usually, while the Torah and haftarah portions are being chanted or read, you can follow along with the English translation.
11. What should I wear?
The best people to ask are the parents of the bat mitzvah or bar mitzvah. They should be familiar with what is customary at their synagogue. If you are being given an honor in the service, the answer may be different than if you are just sitting in the congregation.
12. When do I get to eat?
Most services are followed by a Kiddush, which is the Hebrew word for "sanctification." It usually refers to the prayer said over the wine, a symbol of joy in Judaism. In this context, it could mean having a sip of wine and a piece of challah (Shabbat bread) after the service, or it could be a light lunch. Some families have luncheons after b'nai mitzvah services and some have evening parties.
13. Speaking of parties, what's more important?
The truth is that Judaism has a long history of celebrations following religious events. There are those who say that, if it were not for the service, there would be no party. Becoming a bar mitzvah or bat mitzvah is a once-in-a-lifetime experience and represents a symbolic acceptance of a child into the adult Jewish community. It is a time of beginning a new stage in one's Jewish life and was never intended to be a permanent or temporary end to education or involvement. Each synagogue and each family can set the tone for this occasion, and the results are best when they agree on what is more important.
14. What if I missed my chance when I was 13?
Many synagogues have "adult b'nai mitzvah" programs, courses, and classes. You are really never too old and it is never too late to experience becoming bat or bar mitzvah, although it may take on a different meaning for you as an adult.