Image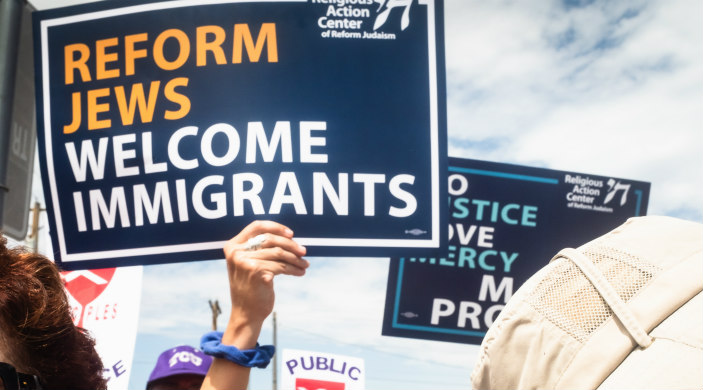 The Hebrew root shin-mem-resh (Sh-M-R), used in Leviticus for the temporary "holding cell" where the blasphemer is incarcerated until God renders a verdict, means both to guard and to protect. Incarceration may serve to protect society from an individual, but society must also protect the individual being incarcerated.
The Torah's teachings on confinement further guide our belief in the responsibility of our immigration system to care for migrants. What is outlined above fortifies our belief that holding a person in custody demands oversight and accountability to ensure an acceptable standard of care.
The words of the Mi Shebeirach can be said on behalf of those who are ill or hurt. Many migrants are currently detained in detention centers across the United States with little access to proper health care or hygiene products, facing the threat of COVID-19, and subjected in many cases to systemic neglect and abuse. During this Sukkot and as we act to secure a more just immigration system, let us say the Mi Shebeirach, a prayer for healing.
Hebrew Text
Transliteration
Mi shebeirach imoteinu
M'kor habrachah laavoteinu
El na, r'fa na lah.
El na, r'fa na lo.
Translation
May the one who blessed our ancestors, Abraham, Isaac and Jacob, Sarah, Rebecca, Rachel and Leah, bless and heal those who are ill [names]. May the Blessed Holy One be filled with compassion for their health to be restored and their strength to be revived. May God swiftly send them a complete renewal of body and spirit, and let us say, Amen.