Image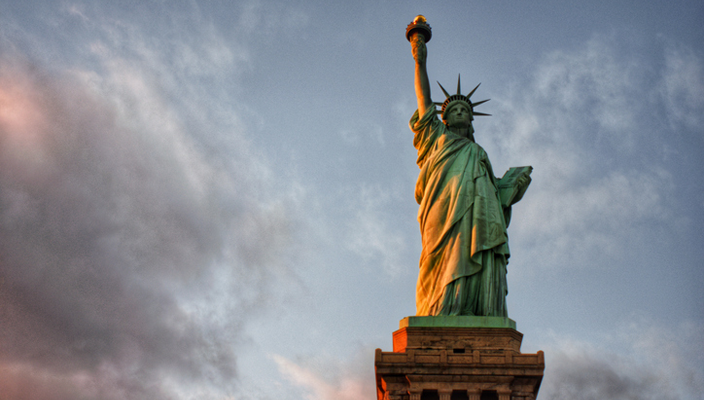 Sing with Liberty: Psalm of Protest 15
Sing with Liberty,
For the Mother of Exiles weeps at our sunset gates,
Weeps for her battered proclamation
Twisted to shut our sea-washed shores
To the innocent
Fleeing violence and deprivation.
Sing with Liberty,
For we too were once among the tired and the poor,
Our parents and grandparents
Were the huddled masses
Journeying to a land where they could breathe free.
Sing with Liberty,
Sing with Emma,
Sing with the generations,
The wretched refuse
Washed upon our teeming shores,
Who built this nation,
Who hold us accountable to defend our legacy.
Sing with Liberty,
For from her beacon-hand
Still glows a world-wide welcome,
Flickering now,
But not yet extinguished.
And we will continue to sing with Liberty
The song of freedom,
Beckoning the homeless,
The tempest-tost,
To the lamp at our golden door.
© 2019 Alden Solovy and tobendlight.com
Alden Solovy is a liturgist, poet, and teacher. His teaching spans from Hebrew Union College-Jewish Institute of Religion in Jerusalem to Limmud UK and synagogues throughout the U.S. Before making aliyah to Israel in 2012, Alden was a member of Beth Emet-The Free Synagogue, Evanston, IL, and a regular participant in worship at B'nai Jeshoshua Beth Elohim, Deerfield, IL. He's the author of Jewish Prayers of Hope and Healing. His writing also appears in several CCAR Press books, including two anthologies of his work, This Grateful Heart: Psalms and Prayers for a New Day, and his latest book, This Joyous Soul: A New Voice for Ancient Yearnings.