Image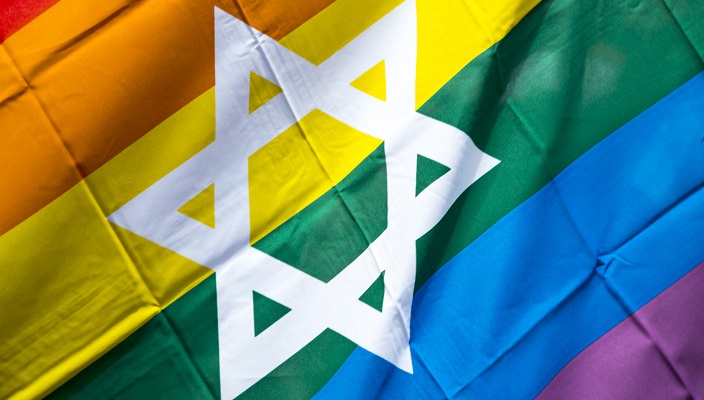 The COVID-19 pandemic has significantly impacted how Jewish communities across North America engage with one another, and so many folks have taken on this unique challenge in incredible ways. With Pride Month fast approaching, we are presented with yet another question: How can we observe this important month without the parades, festivals, and congregational activities we've grown so used to over the years?
Here are a few suggestions for ways you and your family can celebrate and learn in ways that are fun, safe, and spiritually enriching.
1. Learn and teach about the LGBTQ+ community and the many intersectional identities it includes.
A major part of celebrating Pride involves learning about those who paved the way for LGBTQ+ equality, the leaders continuing this work today, and our vision for an equitable and inclusive future.
This month, take the time to learn more about LGBTQ+ history, ranging from Marsha P. Johnson and Silvia Rivera at the Stonewall Riots to the life and death of Harvey Milk and beyond. Read about the numerous ways many queer and trans figures – including many Jews, People of Color, and people with disabilities –have helped change the world. Teach yourself and your family about how the Reform Jewish Movement has championed for LGBTQ+ rights throughout the past century, the ways many Jews encompass the LGBTQ+ spectrum, and consider how we can further this mission now.
This might even be a great discussion to have at your family's Shabbat dinner table this month!
2. Listen to LGBTQ+ Jewish voices.
Last year, the Union for Reform Judaism (URJ) launched  Wholly Jewish: a podcast where Jews from many different walks of life share their experiences, perspectives, and the ways in which their identities contribute to the Jewish community. Last year's inaugural season focused on the voices and experiences of Jews of Color (including queer Jews of Color), and this year, listeners will get to hear from Jewish LGBTQ+ leaders as they discuss the ways they engage with Judaism, queerness, and the ways their intersecting identities make them "wholly Jewish."
3. Teach your kids about LGBTQ+ families.
"I need [my kids] to know that our Jewish communities will not be whole until we fully recognize, value, and incorporate people of all backgrounds within our midst," one Jewish mom writes.
There are a variety of LGBTQ+- multiracial and multicultural affirming children's books and videos for parents choose from in order to broach this topic with your kids; check out Jewish-American LGBTQ+ activist Lindz Amer's "Queer Kid Stuff," for a start. Further, if you're designing a homeschool curriculum for your child, consider interweaving LGBTQ+ history and culture in their studies. 
4. Bake a rainbow challah.
All this time spent at home has led many of us to experiment in the kitchen, including baking challah and desserts. Why not add some colors from the variety of Pride flags to your baking experiments?
Jan Rood-Ojalvo shares her recipe for beautiful, easy-to-make rainbow challah to add to your Pride Shabbat dinners all month long. This recipe is also a fun way to include kids in the kitchen and teach them a fun way to make this staple of Jewish food; plus, you can alter the recipe to include most colors from other Pride flags.
If you're looking for more rainbow-themed foods for almost any meal of the day, Food Network Canada has some fabulous recipes for you and your family to try out, as well.
5. Host a Virtual Pride Shabbat.
Many Reform congregations dedicate at least one Shabbat during Pride Month for a special Pride Shabbat; you and your family can do the same from the safety of your own home and/or over videoconferencing.
If one of your friends or family members openly identifies as LGBTQ+, consider privately inviting them before the session to share a thought, feeling, or prayer they may have related to queer Jewish identity. You can even read from Mishkan Ga'Avah, a recently-released collection of LGBTQ+ prayers, poems, liturgy, and rituals that can serve as an affirming and enriching addition to your Shabbat celebrations during Pride or year-round.
Keep in mind, though, that not everyone in the LGBTQ+ community is "out," or some folks may be selective about with whom they out themselves. Whether out or not, LGBTQ+ Jews exist in nearly all of our Jewish communities, so ensure that your spaces – digital and physical – are inclusive, affirming, and deeply value every LGBTQ+ Jew who wishes to share their full identity.
6. Take action to protect LGBTQ+ people from discrimination.
Most states do not have laws protecting LGBTQ+ people from discrimination, and sexual orientation and gender identity are not explicitly protected classes under federal civil rights law, leaving the LGBTQ+ community vulnerable to discrimination in housing, education, credit, and public accommodations. For People of Color who are LGBTQ+, these effects can be even more dehumanizing and life threatening.
The House of Representatives passed the Equality Act in 2019; now it is up to the Senate to act. Use the Religious Action Center of Reform Judaism's easy action alert tool to urge your Senators to co-sponsor the Equality Act (S. 788).
7. Digitally display your Pride.
Now that videoconferencing has become the norm for work, school, and Jewish life, you might be looking for ways to make it a little more exciting and personal. Pride is the perfect time to display your colors proudly or affirm your solidarity with the LGBTQ+ community during your meetings, classes, or online Shabbat services!
One way to do this is by changing your virtual background on Zoom, Skype, or Microsoft Teams to something that represents Pride to you (e.g. the Pride flag of your choice, a photo of a past Pride event, etc.). And because Pride is all about proudly showing who we are (and affirming the identities of others), this is also a great time to start sharing your pronouns; try editing your videoconferencing username to include your pronouns next to your name.
How will you celebrate Pride Month during this time of physical distancing? Let us know on Facebook, Twitter, or Instagram!