Image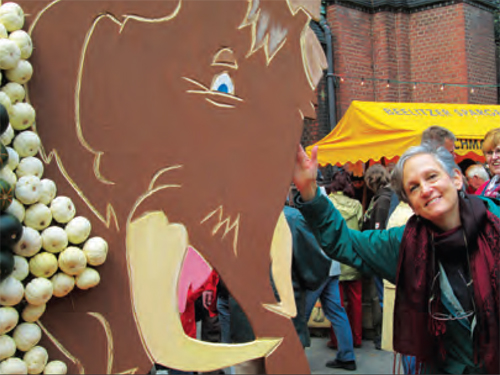 I have begun a year-long sabbatical in Berlin, one of the places on Earth I never imagined I would live.
I am the child of Jews who fled Germany in the 1930s. Growing up hearing about my family's experiences, all of my associations with the German nation, language, people, and culture became enmeshed with the Holocaust. Even though thousands of Jews—including members of my own family—had once thrived and prospered in Germany, and many considered themselves proud Germans, it had never occurred to me to regard even the most positive elements of German culture—poets, philosophers, and classical composers I loved—as belonging to my heritage.
Last September, 2012, my husband, Rabbi Reuven Firestone, and I were invited to Berlin to teach rabbinical and cantorial students at Potsdam University and Geiger College, the first liberal Jewish seminary in Germany since the Holocaust. Just decades after the near total destruction of Jewish life in Germany, I was being offered an opportunity to make a small contribution to the revitalization of Jewish life there. I said yes.
August 30, 2012: We arrive at our rental apartment in Charlottenburg. The old Berlin neighborhood, dotted with European cafes, restaurants, and all sorts of shops, strikes me as an older version of New York City's Upper West Side. It is also lined with charming historic apartment buildings generally three but up to five stories tall—the absence of elevators an apparent trade-off for the charm. We lug heavy bags up 80+ steps.
September 1: We experience our first Shabbat morning in Berlin at the Oranienburger Strasse Synagogue. After services, during the announcements, we learn that Rabbi Daniel Alter, 53—the first rabbi ordained at Geiger College in 2006—was badly beaten up just days before our arrival. He was returning home with his six-year-old daughter when four German men  of Arab descent approached him and asked if he was Jewish. After he answered "yes," one of the men punched him in the face and kicked him, shattering his cheekbone. The men threatened to kill Daniel's daughter but, thank goodness, did not touch her. Daniel's wife reports that he is recovering well from surgery to repair his jaw and cheekbone, and their daughter seems to be coping well. Later that afternoon, a Kippah Walk will take place to support Daniel and the right of Jews and other minorities to live openly in Germany. We decide to go.
Beginning our march, we feel disappointed by the tiny turnout: only 70 Jews wearing kippot. I ask myself, What makes this a demonstration of support? I'd imagined crowds of Jews being joined by Christians and Muslims, speeches, and our dispensing white kippot to passersby, inviting them to join us. Instead, we Jews are just walking, undramatically, down the street, accompanied by journalists and a police escort.
As we stroll, I converse with Chaim, a tall man with a thick beard, a big warm smile—and a large build. Hmmm. A new possibility dawns on me.
"Chaim, do you normally wear a kippah in public in Berlin?"
"Never," he answers. "I always take off my kippah before I go outside, or I'll wear a hat over it."
This is what is significant about our gathering, I realize. In Berlin, even a large man such as Chaim feels hehas to be circumspect about publicly acknowledging his being Jewish.
Later we will discover that this view is common among Jews in Berlin, even though Hasidic and other Orthodox Jews do walk around the city in identifiably Jewish garb. While verbal harassment and physical attacks against Jews are rare here, they do occasionally occur. Our friends' discomfort in wearing kippot in public reflects this awareness.
September 2: We learn that another demonstration took place in support of religious tolerance, in Schoeneberg, where Daniel Alter's family lives. This one was attended by 1,500 people, and Daniel spoke briefly to the crowd. "My cheekbone was broken," he said, "but these guys did not break my will to stand up for dialogue between religions."
September 16: On the first night of Rosh Hashanah, we are among eight people invited to dinner at the home of Daniel Stein Kokin, a professor of Jewish history at a university outside Berlin, and his wife Nizan, a Geiger rabbinical student. People around the table differ in their views of anti-Semitism in Germany. One guest is adamant that, below the surface, anti-Semitism is a reality that will take a very long time to change. He is actively seeking employment outside the country. Daniel feels differently. "Every couple of months or so," he says, "something happens, like the attack on Daniel Alter, that jolts Nizan and me…but then, that event dies down and life goes back to normal. Maybe we're naive, but for the most part, we are really comfortable living here."
Later in the evening, I learn that the German public radio station equivalent of National Public Radio—Rundfunk Berlin-Brandenburg or RBB—hosts a bi-weekly Friday evening program, "Das Wort zum Schabbat," "The Word of Shabbat," which airs talks about the weekly Torah portion. This is the kind of programming I would welcome back in the U.S.!
September 17: The second night of Rosh Hashanah, we attend services at the Pestalozzi Strasse Synagogue, the main Reform synagogue in Berlin. It has a rich history. Originally opened as a private Orthodox synagogue in 1912, it became Reform a few years later under the auspices of the Berlin Jewish community. It was set afire on Kristallnacht, November 9, 1938, but the fire department quickly extinguished the blaze out of concern for surrounding apartment buildings. With the interior only slightly damaged, in 1945 it became the first synagogue in Berlin to hold worship services after the war.
The synagogue community soon committed itself to the preservation of the prewar German Reform style of liturgy, an influence that can be seen today in the congregation's liturgy, music, and even the clergy's robes and hats. Almost entirely in Hebrew, the liturgy is more traditional than what we generally associate with Reform. The rabbi and cantor wear flowing black robes, and the black bishop-style hat crowning the cantor's head is far more dramatic than anything I've ever seen in a North American Reform temple. The music is old world German Reform—not what I am used to, but beautiful and moving. An organ and choir in the balcony fill the sanctuary with the grand compositions and rich harmonies of the 19th-century German Reform composer Louis Lewandowsky.
I am dismayed to find that the Pestalozzi Strasse Synagogue has also remained mired in some non-egalitarian customs of the past. Women are not counted in a minyan. They are also not permitted to lead services, read Torah, or recite Kiddush. And there is separate seating for men and women.
Ironically, we later learn, a significant number of Reform synagogues throughout Germany are not egalitarian, while some Conservative synagogues, like the Oranienburger Strasse Synagogue, are. The non-egalitarianism in the Pestalozzi Strasse Synagogue is the result of the congregation's continuing commitment to offer a living example of pre-war German Reform practice. And all the other non-egalitarian Reform synagogues are trying to address the needs of immigrants in their communities who, in rediscovering their religious roots, often equate authentic Jewish practice with traditional customs. The majority of Jews in Germany now are of Russian and East European descent, tens of thousands having immigrated from the Former Soviet Union and other points east after the Berlin Wall came down in 1989. Meanwhile, a growing number of Jews, including the clergy associated with Geiger College, are slowly introducing these communities to more contemporary Reform theology, liturgy, and practice.
Germany is now the fastest growing Jewish community in the world. Some 120,000 Jews are formally registered with the Jewish community in Germany, but the actual number, which includes thousands of Israelis, may be closer to 250,000—roughly half the number of Jews who lived in the country before World War II.
It is easy to see what attracts Jews from around the world to Berlin. The city boasts a cutting-edge contemporary music and art scene, spectacular classical music and art, expanding business opportunities, progressive politics, a cosmopolitan multi-ethnic flavor, and relatively low rents, though they are rising rapidly. Another plus is the ease of getting around Berlin—an extensive system of buses and trains gets you anywhere you want to go, and you can bike through the city on dedicated bike lanes that are often physically separated from automobile traffic on main streets in ways I've never experienced in the U.S. Most people we know don't even consider owning a car.
October 8: On Simchat Torah, crowds of people, especially adults cradling young children in their arms and on their shoulders, sing and dance with Torah scrolls around the bimah in the center of the crowded Oranienburger Synagogue. This demonstration of Jewish rebirth in Berlin takes my breath away.
November 24: We have come to call the egalitarian, Masorti (name of the Conservative movement internationally) Oranienburger Street Synagogue "our synagogue" in Berlin.
In Europe, synagogue architecture tends to reflect the Jews' two different sets of experiences. Many synagogues built during times of actual or feared persecution were positioned to attract little notice—the Pestalozzi, for example, built in 1912, a time of renewed caution prompted by the 1890s Dreyfus Affair in France (among other events), occupies a courtyard not visible to passersby on the street. At times of Jewish confidence, new synagogue buildings tended to face the street and be decorated with Hebrew inscriptions and Stars of David, as if to celebrate the Jews' standing in society. An example is the Oranienburger, also known as the New Synagogue, built in 1866 with a seating capacity of 3,200, reflecting hopes for Jewish emancipation and renewal during a period of liberal optimism. The synagogue's striking Moorish architecture, with its three onion-shaped domes decorated in gold, visible from many parts of the city, immediately made it a Berlin landmark.
The New Synagogue quickly became an important center of Berlin's Reform community. Some of Lewandowsky's most beautiful liturgical music was written especially for its magnificent sanctuary, with its new organ and fine acoustics. On Kristallnacht the building was set afire, but saved by district police chief Wilhelm Krützfeld, who called in the fire department to put out the flames, claiming that the synagogue was under protection of the landmark law. Ultimately, however, Allied bombing raids severely damaged the building and the East German government later demolished it, leaving only its front façade standing. In the 1980s the East German government initiated efforts to restore it, and in 1995 it reopened—not as a synagogue, as most of the original sanctuary was not rebuilt, but as a museum about the his-tory of the synagogue, with classrooms and administrative offices for the Jewish community. Three years later, a group of Jews began using the small upstairs chapel that had been built as part of the exhibit for their own services. In time this group evolved into the Oranienburger Strasse Synagoge.
Today's services at Oranienburger are especially moving. Six people come up for their first aliyot to the Torah, having completed their conversion process just days before. Among them are a young man and his mother who are reconfirming their Jewish status; technically they were already Jewish, but the woman had only learned of her Jewish background as an adult, and it wasn't until her own son was a teenager that she told him of their Jewish roots. He became interested in Judaism, leading her to become interested as well. Many members of the synagogue are Jews-by-choice, often with a dramatic story of finding their way to our people and faith.
February 25: We decide to attend a Jewish Stammtisch in Berlin. This German tradition brings together an informal group of people who share a particular interest for a weekly or monthly get-together, usually around an evening meal at a designated table in a local restaurant or pub. There are a variety of Staamtisch gatherings, everything from stamp collectors and church choirs to Jewish artists and intellectuals. The Berlin Jewish Stammtisch meets monthly in the same Greek restaurant where political activists, including Jews, convened through the 1960s and 70s. Che Guevera posters and other throwbacks to those heady revolutionary days still grace the walls.
I sit next to Gerhard Baader, a retired professor of history of both medicine and the Jews in Germany. He surprises me by saying that even though SS headquarters used to be located in Berlin, "Hitler never really got Berlin." Berlin's population, he tells me, was left-leaning, even then; in the national elections that had brought Hitler to power, he'd had a poor showing in the city. With the exception of such cities as Munich, and parts of Bavaria in the south, most of the Nazis' support had come from rural areas, and from Germany's north. Alluding to the brown shirts worn by Nazi party members, "these communities," he says definitively, "were brown before Hitler, brown during Hitler, brown after Hitler, and they will always be brown." Gerhard is emphasizing that the anti-Semitism and fascist tendencies at the heart of Nazism went far deeper than a movement galvanized by Hitler's personal charisma.
March 26: My mother comes to visit us for Passover. At the second night seder she shares what has become one of my favorite pieces of family history—how in 1933, when her family had already left Germany for Switzerland, her father invited his sister and two brothers, their spouses and children to all join them for Passover. When they arrived, he told them: "You cannot see from where you are in Germany what we can see from here. You really can't go back." He and my grandmother persuaded them to leave Germany. The women and children remained with my mother's family after the holiday while my mother's uncles returned to Germany just long enough to close up their businesses and bring their most important belongings to Switzerland. I've always loved the fact that this turning point for our family took place over the holiday celebrating our ancestors' escape from Pharaoh to freedom.
My mother's two-week visit marks only her second time back in Germany since those days—and her first chance to feel what it is like now to walk in the streets, shop for food, ride on the U-Bahn, go to synagogue in a German city—in effect, to taste what it might be like to live in Germany again. Despite her initially mixed feelings about making the trip—exacerbated by some friends' and relatives' judgmental comments against it—she is impressed by the Berlin government's efforts to educate the public about the Holocaust, and moved by the vitality of Jewish life in the city, especially the number of young families at our synagogue. She's surprised by how comfortable she feels walking around our neighborhood, buying groceries, and attending seders with two different families. "I keep thinking to myself, 'Ha, ha Hitler. I'm here and you're not,'" she says more than once. "Just being here feels  like a victory. And seeing what life is like here now is satisfying in a way I didn't expect. This is certainly not the Germany Hitler envisioned."
April 25: Two questions that are taken most seriously in Berlin are how to take responsibility for the murder of six million Jews, and how to educate both residents and visitors about the Holocaust. In this effort, there are several moving memorials, a number of museums devoted to various aspects of the Shoah, and frequent exhibitions.
One of Berlin's more controversial Holocaust memorials is the institution of "Stolpersteine," German for "stumbling blocks." Stolpersteine are brass-plated cobblestones embedded into the sidewalk that one literally stumbles upon unexpectedly when walking in cities and towns throughout Germany, and in other countries as well. Memorializing individuals who were victims of Nazi persecution—not only Jews, but Roma and Sinti (often called gypsies), gays and lesbians, people with disabilities, resistance fighters, and others—they begin with the words "Hier wohnte," meaning "Here lived," and are engraved with the name, year of birth, date of deportation, and the fate of the individual, including the location and date of death. They explicitly say that the person had been murdered ("emordet") in a death camp (or, in rarer cases, the fact that s/he survived the war). Stolpersteine are placed in front of the people's last chosen residence, or, in some cases where this is not known, the last place they worked. In this way, Gunter Demnig, the artist behind the project, hopes to symbolically help these individuals return to their neighborhoods, while also prompting passersby to find out more about the people who once lived there. We know of one artist, who, as part of a special project, brought classes of middle school and high school students to make stone rubbings and then research the individual life stories behind the selected names.
Not everyone is a fan of Stolpersteine. Some say this form of remembrance is undignified, because inevitably people step on the names of those being memorialized, and over time some cobblestones become tarnished and dirty. On the other hand, the fact that people stumble upon Stolpersteine daily constitutes the power of this memorial. Stolpersteine prompt people to think about the past, ask questions, and engage in conversations they wouldn't otherwise have had.
We take part in one such conversation tonight. Under a full moon, as we bend over to read the names on four Stolpersteine in front of an apartment building, a man stops and asks what we're looking at. It turns out he is of Roma descent, and is pleased when we tell him that Roma are among those memorialized by Stolpersteine. We go on to discuss the persecution of Roma in Germany and Italy, where he is from, and shared musical traditions among Roma, Sinti, and Jews. For precisely this reason, artist Demnig refers to his Stolpersteine as "social sculpture."
Months earlier, on the anniversary of Kristallnacht, Reuven and our 19-year-old son Amir watched a man in his 70s polishing a Stolperstein in front of his home. The older gentleman patiently answered the questions of a little boy and girl from the neighborhood about what he was doing and why. Both Reuven and Amir found their exchange more moving than any Holocaust memorial service they'd ever attended.
May 17: One of the things I most enjoy about Geiger is teaching rabbinical and cantorial students from a wide range of backgrounds. Today, in my class on the Book of Esther, we are studying the part of the narrative where Haman's fantasies of power and revenge against Mordecai begin to unravel as the king orders him to lead Mordecai through the city in the royal garb Haman had assumed was intended for himself. When Haman then shares the recent events with his wife and advisers, their response is: "If Mordecai, before whom you have begun to fall, is of Jewish stock, you will not overcome him; you will fall before him to your ruin."
A student questions: "Isn't it strange that Hebrew scripture presents this exaggerated image of the powerful Jew that provided fuel for enemies of the Jewish people to use against us?"
A fascinating discussion ensues about Jewish power and powerlessness. Soon the students are trading jokes. The student from Hungary notes that the general perception in Hungary is that "all" the leaders of the Communist Revolution were Jewish. This has resulted in a popular Hungarian Jewish joke: Why was one member of the Communist leadership group not Jewish? So someone could sign papers on Shabbat. The double joke there is that the Jews who were in fact involved in the socialist movement were hardly religious.
While we laugh, the student from Russia chimes in: "We have the same joke, but with a slightly different twist: One Jew shows a photograph of the Politburo to another Jew, who comments, 'He's Jewish and he's Jewish…everyone is Jewish except this one—Lenin. Why's he here?' The first Jew answers: 'It's like in business. If you want to be successful, you need a non-Jew to be the front man.'"
Minutes later, I find myself comparing Mordecai to Kissinger, noting that a prominent Jewish figure's political influence can arouse both pride and a sense of vulnerability among Jews. A student from Germany bursts out laughing. "This is incredible, "she says. "All of us are relating this story to the political experience of Jews where we live. It speaks to every one of us, even in totally different circumstances." She is right. And it is a powerful testament to how biblical narratives can nurture meaningful Jewish self-discovery, wherever we Jews may be.
May 30: During our time here we have seen tensions within the Jewish community leadership in Berlin erupt and spill onto the pages of national German newspapers. Today's report describes a dispute that moved beyond words to physical blows. Beyond the embarrassment of airing dirty linen in public, Jews here worry about the impact of this dysfunction on their own social and political standing.
June 23: This Friday night, 200 of us celebrate "Erev Pride"—the first Jewish gathering of this kind in Berlin, timed to take place the night before Berlin's popular annual Gay Pride parade. Organized by a few Geiger students, the Erev Pride service offers a lively mix of Shlomo Carlebach, Sephardic, and contemporary melodies blended with spiritually moving teachings between the prayers, and is followed by a festive buffet-style Shabbat dinner, with joyful mingling at various tables.
A couple of days later, we join in another Jewish start-up experience:  a Sunday hike and picnic initiated by a young couple from our synagogue. More than 50 congregants show up—and they are so happy to get to know each other this way, over lunch they're already talking about when to do this again. Meanwhile there are extensive plans underway for Germany's second annual Mitzvah Day, which will take place in Berlin and 15+ other German Jewish communities. Limmud Germany, a three-day festival of Jewish learning and celebration, has also been going strong, this year excitingly engaging 400 Berliners and Jews from smaller cities and towns. This year the organizers almost had to turn people away, not having raised sufficient funding to accommodate them—a situation averted by last-minute private donations.
Several Berliner Jews have lamented to me that in Germany today it is easier to raise money for Holocaust memorials than it is for programs that foster the renewal of Jewish life. Perhaps the answer lies, in part, with more Jews traveling to Berlin and other parts of Germany, to see for themselves the reality of German society and Jewish renewal thus far.
July 18: We prepare to return to Los Angeles. Walking around our neighborhood, I'm already missing the old buildings and cobblestone streets, the bike rides along the Spree River and canals, art and music treasures, and, of course, our new friends and the synagogue community that has come to feel like home. We don't feel ready to leave…and are already talking about being back in Berlin next year, coming for Limmud and staying a month.
Now I can't imagine not living part of my life in Berlin.         
Rabbi Ruth H. Sohn is the director of the Leona Aronoff Rabbinic Mentoring Program and rabbi of the Beit Midrash at Hebrew Union College in Los Angeles.