Image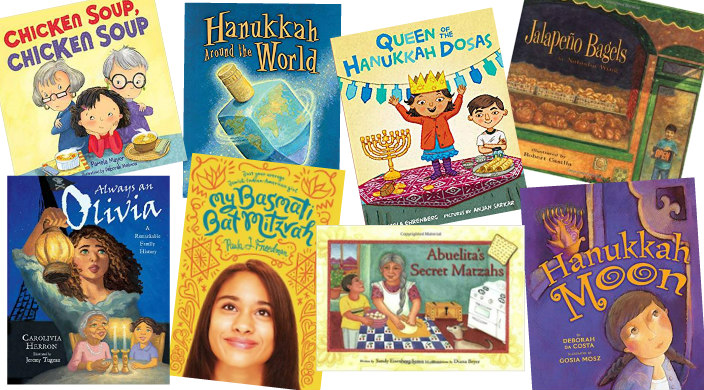 Cultural representation in literature is incredibly important, especially for kids. When Children of Color see characters that look like them in the books they read, they realize that their identities are just as valid as everybody else's – that they can be just like the heroes in their favorite stories.
For Jewish Children of Color, living with such a rich and complex background means that it is especially important for them and their white Jewish friends to read about characters with equally complex cultural backgrounds and unique stories that co-create the colorful mosaic of the Jewish experience.
Here are 11 books (and their official synopses) that are sure to bring smiles to the faces of the young Jews of Color in your life.
Age Range: 4-8 years
Abuelita's Secret Matzahs tells the fascinating and little-known story of the crypto-Jews, while illustrating the universal importance of faith for people of all religious denominations. Jacobo loves to visit his abuelita, his grandmother, especially at Easter time.
But Abuelita has a big secret. During semana santa, Holy Week, his grandmother never makes bread, only tortillas made without yeast. She never eats pork, and she lights two candles on Friday nights. But whenever Jacobo asks her questions, she answers, "Ah,mijito, my child, it is the way of our family." One day, Abuelita is finally ready to share her secret. "Sit with me on the porch. It is time to tell you the secret of our family..."
Age Range: 7-10 years 
An elderly Black grandmother passes on the story of the family's Jewish origins to her young granddaughter, Carol Olivia. As family members flee the Spanish Inquisition, are kidnapped by pirates, and eventually sail to America, one daughter in each generation is given the name Olivia, from the Hebrew Shulamit, meaning peace, to honor the Jewish part of their ancestry. Critically acclaimed author Carolivia Herron (Nappy Hair) shares this engaging, multicultural tale based on her own family's heritage. 
Age Range: 1-4 years
"It's Friday night. Bueno, great!
Let's get ready to celebrate!"
With a Ladino word introduced on each page, this multicultural board book features a Sephardic Jewish family preparing to celebrate Shabbat. They light candles, bless the wine and challah, eat their Shabbat meal and sing Shabbat songs, all in a Sephardic home.
Age Range: 6-7 years
Sophie enjoys special time spent with each of her grandmothers and eating their delicious chicken soup. Both her Jewish Bubbe and her Chinese Nai Nai have a special family recipe, and both compete for a special place in Sophie's heart. With a little creativity, Sophie helps Bubbe and Nai Nai see that love is no competition, and they are a lot more alike than different. "A little Jewish, a little Chinese – a lot like me."
5. Ezra's BIG Shabbat Question by Aviva L. Brown, illustrated by Anastasia Kanavaliuk
Age Range: 4-8 years
Ezra loves questions! Follow his adventure, which will leave your little one in stitches of laughter. Ezra spends one Shabbat asking his question to everyone he knows, from his baby sister to his rabbi. Can anyone answer his big question?
Meet Ezra, an American Jewish boy with big ideas and an even bigger family. He has a question about if he can do an action on Shabbat, the Jewish day of rest. When no one he knows is helpful, he turns to his rabbi, who both answers the question and leaves him more confused. Even if he gets his answer, will he know what to do with it?
6. Hanukkah Around the World by Tami Lehman-Wilzig, illustrated by Vicki Wehrman 
Age Range: 8-11 years 
Take a trip to Italy, Uzbekistan, Tunisia, and beyond to see how Hanukkah is celebrated around the world. Join the torch relay in Modi'in, Israel; the Ladino concert in Istanbul, Turkey; and the candle lighting on the beach in Sydney, Australia. Try the delicious and unusual recipes for fried burmelos, latkes, and precipizi that recall the miracle of the little jug of oil in the Hanukkah story. 
7. Hanukkah Moon by Deborah Da Costa, illustrated by Gosia Mosz 
Age Range: 6-10 years 
When Isobel is invited to Aunt Luisa's for Hanukkah, she's not sure what to expect. Aunt Luisa has recently arrived from Mexico. "At Aunt Luisa's you'll get to celebrate the Hanukkah Moon," Isobel's father promises. Isobel's days at Aunt Luisa's are filled with fun and surprises – a new camera, a dreidel piñata filled with sweets, and a mysterious late-night visit to welcome the luna nueva, the new moon that appears on Hanukkah. An unusual Hanukkah story with a multi-cultural focus, this title celebrates a little-known custom of the Latin-Jewish community.
8. Jalapeño Bagels by Natasha Wing, illustrated by Robert Casilla 
Age Range: 5-8 years
When Pablo's teacher asks him to bring something from his "culture" to school for International Day, he is faced with a tough decision – his mother is Mexican and his father is Jewish. Pablo's mother suggests he pick something from the bakery their family owns. On Sunday Pablo wakes up before the store opens to first help his mother make span dulce, empanadas de calabaza, and chango bars; then helps his father make bagels and challah.
Finally Pablo makes jalapeño bagels – his parent's special recipe – with both his mother and father. Pablo must decide what he will pick before the bakery opens. As he glances over the pastries and breads that he's helped make that morning, he finally decides: jalapeño bagels with cream cheese and jam. When his father asks why, Pablo answers, "Because they are a mixture of both of you. Just like me!" 
Age Range: 8-12 years 
During the fall leading up to her bat mitzvah, Tara (Hindi for "star") Feinstein has a lot more than the Torah on her mind. Between Hebrew school and study sessions with the rabbi, there doesn't seem to be enough time to hang out with her lifelong friend, Ben-O, and her best friend, Rebecca, who's getting a little too cozy with the snotty Sheila Rosenberg. Not to mention working on her robotics project with the class clown Ryan Berger or figuring out what to do with a priceless heirloom sari that she accidentally ruins.
Amid all this drama, Tara considers how to balance her Indian and Jewish identities and what it means to have a bat mitzvah while questioning her faith. 
Age Range: 4-7 years 
In this sweet and humorous picture book, "Queen of the Hanukkah Dosas", a multi-cultural family (Mom's Indian; Dad's Jewish) celebrate Hanukkah while incorporating traditional Indian food. Instead of latkes, this family celebrates Hanukkah with tasty Indian dosas.
To her brother's chagrin, little Sadie won't stop climbing on everything both at home and at the Indian grocery store, even while preparing the dosas. As the family puts the finishing touches on their holiday preparations, they accidentally get locked out of the house. Sadie and her climbing skills just may be exactly what is needed to save the day. 
11. Zack by William Bell
Age Range: Teens and young adults
Zack Lane is uncomfortable with his mixed racial origins. He knows much about his father's side, the descendants of Romanian Jews, but his mother broke all ties with her family before Zack was born. Why she did so is the "family mystery."

Zack has recently been uprooted when his parents moved from the largest city in Canada to the outskirts of a small town. Friendless, unsuccessful at school, and at the lowest point in his life, he undertakes a research project into the life of Richard Pierpoint, former African slave, soldier in the War of 1812, and the pioneer farmer who cleared the land on which Zack's house now stands. Pierpoint's story inspires Zack to go to Mississippi to look for his maternal grandfather. What he discovers shakes the foundations of all he has believed.
Many of these books, as well as other wonderful books for children, are available to your family raising Jewish children by our partners at PJ Library.
Related Posts
Image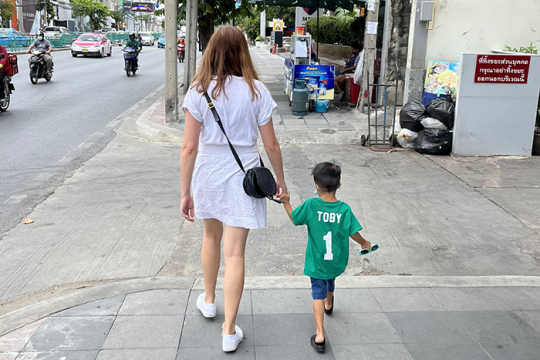 Earlier this year, on a beautiful spring day, we drove 30 minutes from our home in Philadelphia to a Thai temple and cultural center to celebrate Songkran, Thailand's Lunar New Year.
Image
As I watched my son play, my mind would drift to mothers in Israel whose toddlers were no longer able to do so. My heart broke for the parents and young children who were caught in the crossfire of the war for no reason other than being in the wrong place at the wrong time.
Image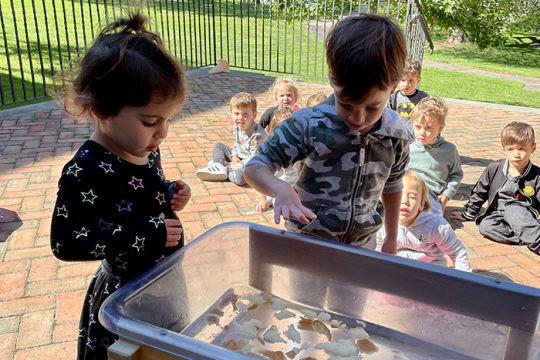 As the high holidays approach, we are reminded that there are so many meaningful Jewish moments to celebrate. Within the joy and ruach (spirit) of holidays like Rosh Hashanah, Sukkot, and Simchat Torah, lies the solemn and serious Yom Kippur. There are a myriad of ways to make Yom Kippur meaningful for young children, for whom especially, Yom Kippur is not an easy holiday to understand.