Image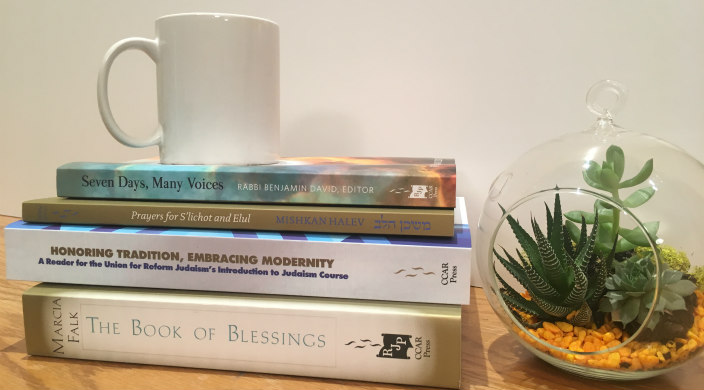 Want to expand your personal Jewish library? You've come to the right place. This year, CCAR Press – the primary publisher of the Reform Jewish community – is excited to release 11 new titles, spanning topics from liberal Zionism to civic engagement, all designed to engage, inform, and inspire.
CCAR Press provides liturgy, sacred texts, educational material, apps, and other resources to Reform Jews and the wider Jewish community. These titles and more will be available for purchase at the 2017 Union for Reform Judaism Biennial in Boston – so if you're there, stop by the CCAR Press booth to check them out!
Edited by Rabbi Janet Marder and Rabbi Sheldon Marder
This companion to Mishkan HaNefesh, the new Reform High Holiday prayer book, prepares communities for the Days of Awe with services for Erev Shabbat during the month of Elul and for Selichot. It's full of beautiful readings, poetry, meditations, commentary, and translations to ready the heart and the mind for the High Holidays.
Edited by Rabbi Benjamin David
Few stories are as compelling as the Creation story in the Book of Genesis. This collection provides a wide range of creative and inspiring ways to think about Creation, examining the story through various lenses and focuses, including midrash, biblical criticism, literature, theology, climate justice, human rights, history, and science. This diverse collection will challenge assumptions and spark ideas.
By Marcia Falk
This 20th-anniversary edition – which offers a complete liturgy in English and Hebrew for weekdays, Shabbat, and Rosh Chodesh – is a guide to all who seek an authentic and personal connection to the Divine. With new essays by foremost scholars, as well as a new author preface, Falk's visionary work is poised, once again, to help communities worldwide to shape the conversation around Jewish prayer in essential and novel ways.
Edited by Rabbi Beth Lieberman and Rabbi Hara Person
Designed for use with the Union for Judaism's Introduction to Judaism classes, this sourcebook is for readers who seek to deepen their knowledge of Judaism's wisdom, practices, beliefs, customs, people, and history. It's also available in PDF format and can be purchased in bulk at special discounts.
Edited by Rabbi Peter S. Knobel, Ph.D.
This revised and updated version of Gates of Mitzvah serves as an introduction to the Jewish lifecycle. With new essays from prominent scholars and rabbis on topics such as mitzvah, marriage, conversion, infertility, and sexuality, this is the essential resource you've been waiting for.
By Rabbi Richard N. Levy
A beautiful, poetic translation of the Book of Psalms, Songs Ascending includes insights into the translation process that illuminate the choices of the original composers, as well as the choices we face today as we try to make each psalm our own. The spiritual commentary asks us to consider how we might interpret and use the language of our tradition.
Edited by Rabbi Stanley Davids and Rabbi Lawrence Englander
Israel has quickly become one of the most polarizing forces in the North American Jewish community. In a world divided, how can we approach the subject of Zionism without widening rifts? This book attempts to frame the fragile dialogue surrounding Zionism and Israel in today's Progressive Jewish community, exploring the many lenses through which we approach Zionism – not only set apart by political differences but also by geographical diversity, religious divisiveness, socio-economic policies, gender issues, the use and abuse of power, and more.
By Rabbi Judith Schindler and Judy Seldin-Cohen
This volume is the essential and timely guide for every synagogue working for social justice in America. Based on extensive research among synagogues making an impact, Recharging Judaism shares how civic engagement can strengthen and unite us on our journey toward lasting change.
By Rabbi Melissa Buyer, RJE, with art by Mark Podwal
This companion to Mishkan HaNefesh is beautifully illustrated in full color, an exciting new machzor that contains both an evening and morning service to be used in children's and family services during the High Holidays. It also contains full transliteration, a song section, and inspiring alternative readings.
By Rabbi Richard Sarason, Ph.D.
This long-awaited collection of essays serves as a commentary on the Mishkan T'filah prayer book. Drawing on Dr. Sarason's deep knowledge of liturgy, these essays teach about Mishkan T'filah specifically, and about prayer in general.
Edited by Rabbi Dana Evan Kaplan
Reform Judaism is constantly evolving as we continue to seek a faith that is in harmony with our beliefs and experiences. This volume offers readers a thought-provoking collection of essays by rabbis, cantors, and other scholars who differ, sometimes passionately, on religious practice, experience, and belief. Its goal is to situate Judaism in a contemporary context.
Related Posts
Image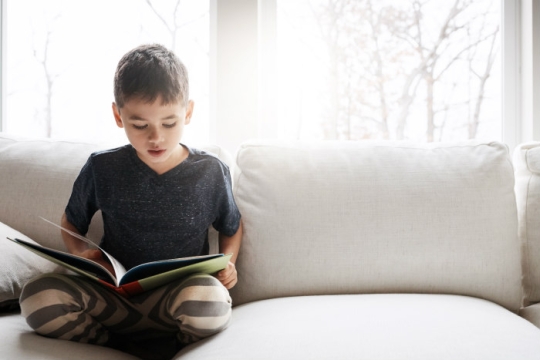 As the mother of a transgender child, Rabbi Ari Moffic knows that personal transformation is a key and beautiful part of who each of us is.
Image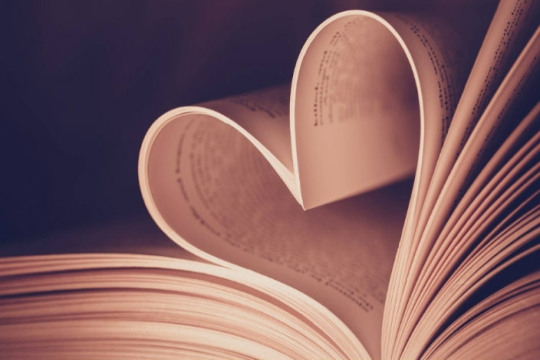 For Mother's Day this year, I'm revisiting memoirs that have provided comfort through their relatability over the years. My life isn't exactly like those of my beloved memoir writers, but so many details and stories ring true, almost bringing me back to being in close proximity to my mom.
Image
What are you reading this summer? Comment and let us know - and find more reads on our book reviews page.