Image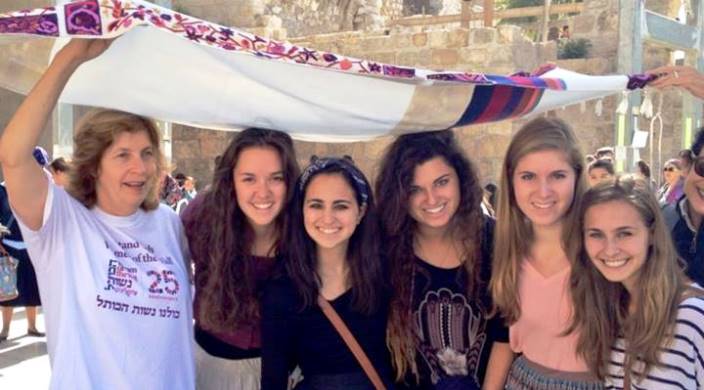 This past November, I traveled to Israel as part of a NFTY delegation team in honor of the 25th anniversary of the Women of the Wall. Today, nearly three months later, I still don't know how to describe the trip in a way that will do it justice. How can I talk about the most impactful week of my life in just five minutes or 500 words? Although I can't capture the whole trip in one sitting, I can describe the small but powerful moments that caused me to feel immense pride — and question my beliefs — in the hope that listeners will learn from my experiences and pass it on to educate others.
I felt extreme pride during Rosh Chodesh t'filah (prayer) at the Western Wall (Kotel). I was standing with hundreds of women, singing in unity, making a statement for equality through prayer, when I heard an uproar of protest from the Orthodox men on their side of the wall. I stood on tiptoe to see the Orthodox men who were attempting to push their way closer to the mechitzah (the wall separating the two sides of the Kotel). I noticed that other men, seemingly Reform and Conservative Jews, were forming a barrier to stop them. Seeing the men standing on chairs praying along with us from their side gave me a whole new perspective of the Wall. I realized that this issue resonates with more people than just the women who were around me, and that others — including men — also want to see gender equality at the Wall.
Later in the service, I experienced a moment that I vividly recall, including my exact thoughts and emotions at the time. This began when I looked at the Orthodox girls, who were called in to fill up the women's section, as a way to "protest the protest." I focused on them and noticed that they were praying silently at the Wall, as they always do. As I watched them pray, I started to feel badly and question what I was doing. As an American who had only been to the Kotel three times, who was I to protest the "authentic" way of prayer that Orthodox women are accustomed to? Many questions came to mind. Can prayer be authentic for all denominations of Judaism, just in different ways?
Of course I agree with what the Women of the Wall are fighting for, having been raised in a Reform Jewish community where I was allowed to pray standing between my brother and dad — and would love to see that freedom as an option for women at the Kotel. But there are people who have the exact opposite viewpoint, for they have grown up in Orthodox communities, and are accustomed to praying in a place where women and men are separated.
Why can't a solution be found so that everyone can have a meaningful prayer experience at the Kotel? I explored answers to these questions with the other three NFTY delegates. Talking with these incredible leaders was inspirational. We each had our own unique reaction to what we'd experienced at the Rosh Chodesh service, and sharing our feelings with each other enabled us to see multiple perspectives on the issue.
All of the delegates have returned with a strong passion for Israel and the conflicts we experienced firsthand. We hope that by educating our peers here in the United States that we can do our part in making a change. I am so grateful to have had this opportunity, and I know that my role doesn't end with my return home. I plan to continue to talk with others about my experiences in Israel with the hope that I will be successful in bringing Israeli dialogue back to my community in North America. This was an impactful trip, and I know I will remember the people I met and the powerful moments I experienced for the rest of my life.
Sarah Rosemont is a 16-year-old living in Seattle, WA. She is an active member of both her youth group at Temple De Hirsch Sinai and of her regional youth group, NFTY-Northwest. Sarah has attended URJ Camp Kalsman for six summers and spent a month last summer in Israel on a NFTY in Israel program.
Related Posts
Image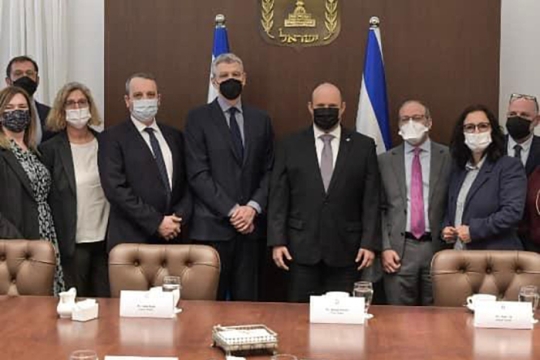 In meetings with the President of Israel, Isaac Herzog, Defense Minister Benny Gantz, Finance Minister Avigdor Lieberman, Transportation Minister Merav Michaeli, and Foreign Minister and Alternate Prime Minister Yair Lapid, we discussed the crisis in Ukraine, the future of the Kotel, ensuring more funding and rights for non-Orthodox Jews, combatting racism, and stopping extremist violence against Palestinians, in addition to other pressing issues.
Image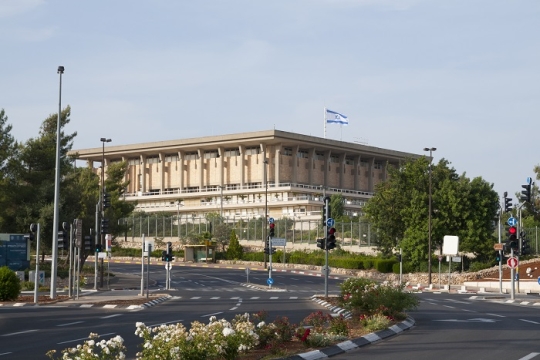 On Sunday, Israel's Knesset narrowly voted in Israel's 36th government with Naftali Bennett as the nation's 13th prime minister, unseating the incumbant Benjamin Netanyahu.
Image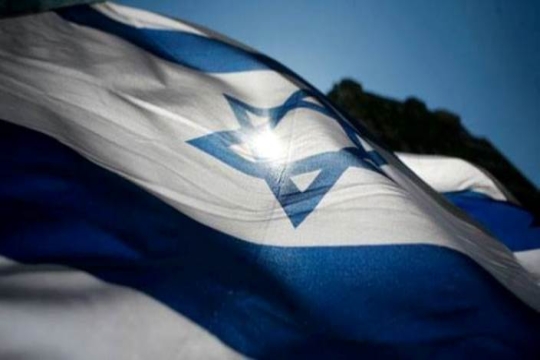 When the State of Israel was established in 1948, its secular founders envisioned a nation that would be both Jewish and attuned to the values of liberal democracy. They were confident that a country with an overwhelming Jewish majority could maintain a Jewish character and ensure civic equality for all its inhabitants.