A Reminder that We All Have the Power to Make a Difference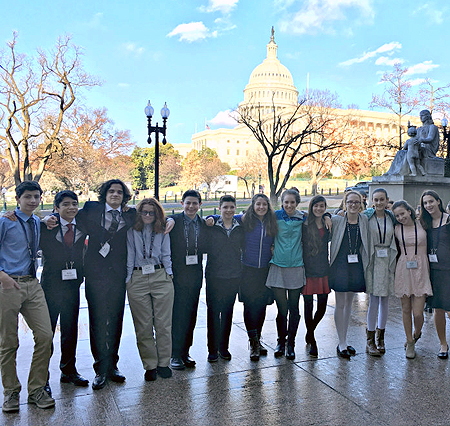 After an overcast, chilly morning of lobbying our members of Congress, 16 teenagers from Congregation Bet Ha'am in South Portland, ME – along with their youth advisor and me, their rabbi – emerged from one of the government office buildings on Capitol Hill to find the Capitol building showered in sunshine. After spending three days learning about some of the most pressing issues facing our nation and a day of speaking truth to power, it was a sign to me that our future, no matter how bleak it might seem at this moment, was indeed a bright one.
This trip to Washington, D.C., had been my sixth time participating in a L'Taken Social Justice Seminar hosted by the Religious Action Center of Reform Judaism, but it was my first time taking a group of teens from Congregation Bet Ha'am, the youngest group of participants I've yet brought to this phenomenal program. During the years that I've seen our Jewish teenagers in action, I've witnessed them teaching their elected officials about the genocide in Darfur, advancing hate crimes legislation, and advocating for refugees, the poor, and other marginalized members of our society.
This year, my teens lobbied their members of Congress on LGBTQ equality, comprehensive sexuality education, climate change, the minimum wage, refugee resettlement, and gun violence prevention, each student choosing an issue that was personally important to them.
In sharing their hopes and expectations with the offices of Senator Susan Collins and Senator Angus King, and our Congresswoman, Representative Chellie Pingree, my students shared the stories of their own ancestors' immigration to this country, their parents' experiences as the victims of gun violence, and their concern for their peers' access to scientifically and medically accurate comprehensive sexuality education. Each of their visits was different than the others. With three members of Congress who hold varying positions in the political spectrum, even the same topic had to be approached differently in each office. In one office, an elected official was one of our advocates on a certain issue; in the next office, the students found themselves trying to convince their senator to take a stance or even debating the counterarguments with which their lobbying presentations were met.
We found ourselves in Washington, D.C., in the middle of December, just as the 114th United States Congress was finishing its term and as the nation waited for the 115th United States Congress and a new president to be sworn into office. Our students and I had to wonder how much of an impact their lobbying could have.
While all of our members of Congress remain in the 115th Congress, none of the specific pieces of legislation that my students lobbied on do. What the students discovered – and of which I was reminded, as well – was that it wasn't just about the impact they had in that moment, but rather about the impact that that moment had on them. Sixteen teenagers from Southern Maine discovered that they each had a personal narrative to add to the political dialogue in our country. Sixteen Jewish teenagers learned that their Judaism has wisdom to share on the issues of our day and that they can be vehicles for sharing our tradition's prophetic message.
Having not been to a L'Taken Seminar in more than five years, I'd forgotten what happens when we engage our youth in social justice and social action on that kind of a scale. Do I believe that their lobbying had an impact in the offices of our members of Congress? Yes, I do. I know they were taken seriously, perhaps more seriously than they've been taken yet in their lives. But even more so, I believe that the experience of speaking truth to power impacted them even more greatly.
These 16 students now know that they possess the power to effect real change in our world, and it was in witnessing this realization in them that I was reminded that I, too – that all of us – possess that power, and that Judaism and our covenantal partnership with God demands that we use the power we've been given.
Learn more about Jewish social justicce issues by visiting the Religious Action Center of Reform Judaism.