Hineini: Making Your Workplace More Inclusive Starts with You
As the story in the Torah goes, before the sacrifice of his son Isaac, we hear Abraham tell God "Hineini," translated as "Here I am." We hear it again when Jacob reaches out to his father Isaac and in Moses's response at the burning bush. In all cases, they are present.
When it comes to disability advocacy, the significance of this three-word answer – "Here I am" –  is, to me, that in order to be a good advocate, you need to be there. Show that you are here, in the moment, present and ready.
Woody Allen once said that 80% of life is showing up. "Being there" is one of the most powerful ways to be a disability advocate. With a patient ear and an open heart, change can and will come.
So much of being a disability advocate is listening to individual needs and realizing that what's good for some is not necessarily right for others. The moniker of "disability" is not just a label that can be applied indiscriminately. To try to accommodate people with disabilities without giving deliberate thought to individuals' unique experiences and needs does a disservice both to individuals and to the community. Luckily, it's one that is shifting in the community and through greater society at large, as evidenced by the cartoon I have below. Sure, we want to make sure everyone receives equal treatment, but equality is very different than equity. Indeed, equal hiring is important, but sometimes we need to do more. That's equity.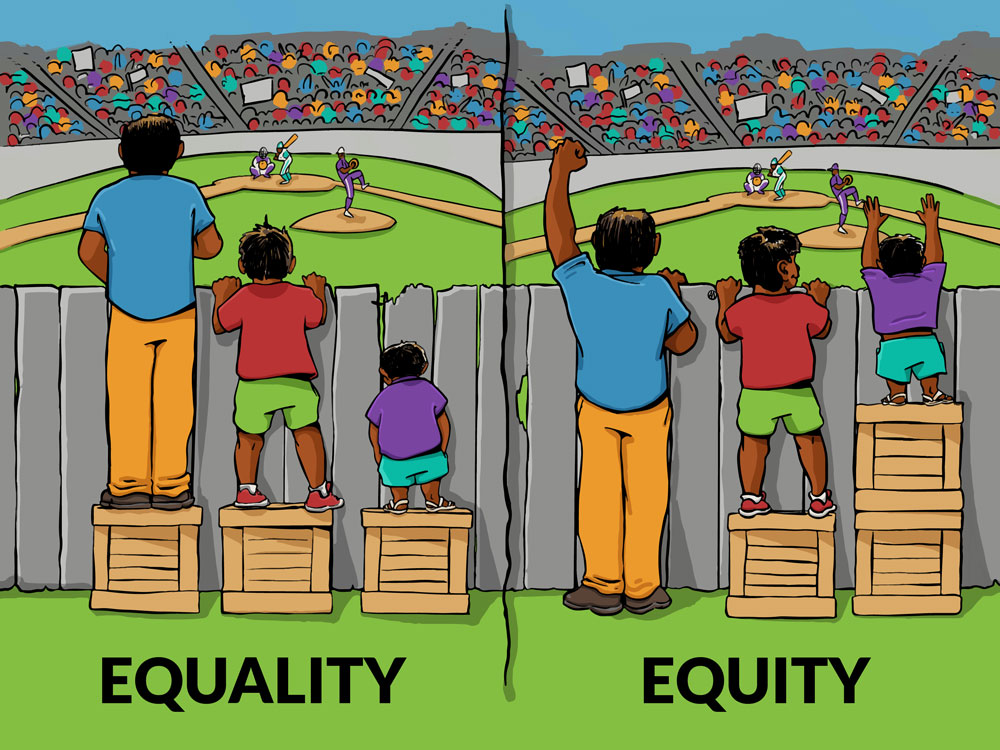 But why listen to me?
It's easy to say you want to hire someone with disabilities, but how do you go about it? For me, it's been trial and error rooted in the fundamental philosophy that the best way to accommodate someone with a disability is to listen to what they need, and not make any assumptions.
As the founder of Accessibility Partners, my company provides consulting services to government agencies and Fortune 500 businesses that want to make their technology accessible to people with disabilities. From our inception, we were composed of a staff of engineers, both with and without disabilities, who conduct auditing, testing, consulting, and training services around making technology (like websites and mobile apps) accessible and usable for people with disabilities.
It hasn't been easy. I don't have an HR degree, but now I know that so much can be learned on the job when you just listen. With that in mind, I implore managers to adopt an approachable management style. It's not just enough to hire someone with a disability; you also should take the time to get to know the people within the company and what they need. That could mean an alternative work schedule, an ergonomic chair, assistive technology, or a new office. While legally you can't ask someone about their disability, as per Americans with Disabilities Act regulations, you can be an inclusive employer.
While respecting personal boundaries, my strategy for promoting success is to foster open and honest communication. Perhaps send an email to staff indicating you'd be open to a dialogue on how to make their workplace more accommodating in order to increase comfort and productivity. This doesn't mean sacrificing profits, but rather putting a plan in place to guarantee that your workplace promotes retention and empathy. This is a way to revamp tikkun olam (repairing the world) by listening to its inhabitants. It makes good business sense and is a way to foster the leadership of people to become advocates for themselves, and then others.
Keep in mind that your staff might not know what they want, so managers may want to brush up on some workplace answers. Check out the Job Accommodation Network, a tremendous clearinghouse of disability experts and a list of resources broken down by disability type.
I can channel those who spoke "Hineini" in our biblical texts, but my favorite quote is a bit more contemporary. Lisa Friedman, a Jewish education and inclusive space leader, has this charge for all of us: "We do not 'do' inclusion 'for' people with disabilities. Rather, it is incumbent upon us to figure out how all the things we can do can be inclusive."
February is Jewish Disability Awareness and Inclusion Month (JDAIM), a unified initiative to raise disability awareness and support efforts to foster inclusion in Jewish communities worldwide. The Union for Reform Judaism is proud to partner with the Ruderman Family Foundation to ensure full inclusion and participation of people with disabilities and their families in every aspect of Reform Jewish life. Visit the Disabilities Inclusion Learning Center to learn more.