Why Religion Matters: A Conversation with Krista Tippett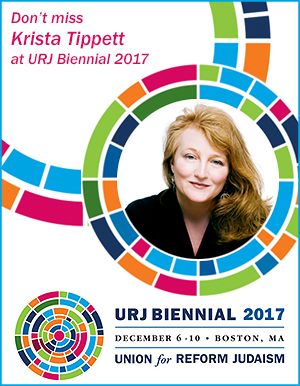 Krista Tippett, a Peabody Award-winning broadcaster and New York Times best-selling author, is the creator and host of the radio show and podcast On Being. In 2014, she received the National Humanities Medal at the White House for "thoughtfully delving into the mysteries of human existence. On the air and in print, Ms. Tippett avoids easy answers, embracing complexity and inviting people of ​every background to join her conversation about faith, ethics, and moral wisdom."
ReformJudaism.org: You always ask your guests about their religious upbringing. What can you tell us about yours?
Krista Tippett: Spiritually, religiously, I was a child of my time. I grew up in Oklahoma. Through my grandfather, a Southern Baptist preacher, I experienced the drama of faith. But my parents had turned their backs on his stern rules for a fallen creation and raised me to win, to perfect myself, and to do so in the American way of accomplishment and accumulation. I believed then that all the important and interesting problems in the world were political, and all the solutions too.
But I changed my mind.
What brought you back to a consideration of religion as a solution?
I realized that there are places in human experience that politics cannot analyze nor address. So, in the early 1990s, I studied theology to learn whether I could reconcile religious faith with my intelligence and world experience. I decided that I could.
To acknowledge the spiritual energy of our times is not to reject the rational disciplines – law, politics, economics, science – by which we've ordered our common life for many decades. It is, rather, a realization that these disciplines have a limited scope. They can't ask ultimate questions of morality and meaning. We can construct factual accounts and systems from DNA, gross national product, legal code, but they don't begin to tell us how to order our astonishments, what matters in a life, what matters in a death, how to love, how we can be of service to one another. These are the kinds of questions religion arose to address.
You've said that in the years you've been speaking publicly about faith in a new way, "the world has realigned itself once again." How so?
Religion has moved from the sidelines to the center of world affairs and American life. Western pundits have awakened to the fact that religion never went away. Indeed, it remains a force that animates lives and nations and history – for better or worse. Religious identities and spiritually-fueled passions are shaping this century as ideologies defined the last. And nothing could be more unrealistic – or more dangerous – than the prescription that reasonable people should abandon religion for its sins.
How do you respond to those who say that religion is a threat to democracy and civilization?
The great religious traditions have survived across millennia because they express insights that people have found to be true. But they are carried forward by human beings and therefore are prone to every passion and frailty of the human condition. Religions become entangled with human identity, and there is nothing more intimate and volatile than that.
I am drawn to what I call "the vast middle" between the poles of competing religious certainties that have hijacked our cultural discourse. In the vast middle, faith is as much about questions as it is about answers. It is possible to be a believer and a listener at the same time, to be both fervent and searching, to honor the truth of one's convictions and the mystery of the convictions of others.
The context of most religious virtue is relationship – practical love in families and communities, and care for the suffering and the stranger beyond the bounds of one's own identity. These qualities of religion should enlarge, not narrow, our public conversation about all the critical issues before us. They should reframe it.
You've said, to understand the nature of religion, we should think about truth and knowledge differently. How can we do that?
We can't compare faith flatly to reason and declare it intellectually inferior. Its territory is the drama of human life, where art is more precise than science, where ideas are lived and breathed. We apprehend religious mystery and truth in words and as often, perhaps, beyond them: in the presence of beauty, in acts of kindness, and in silence.
Krista Tippett will be a featured speaker at the Union for Reform Judaism's 2017 Biennial in Boston, December 6-10, 2017.