Fighting for Religious Pluralism in Israel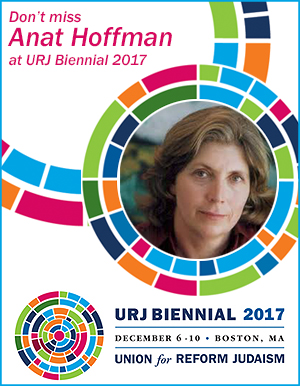 Anat Hoffman is executive director of the Israel Religious Action Center, the legal and advocacy arm of the Reform Movement in Israel and co-founder and chair of Women of the Wall, which has been advocating for women's rights at the Western Wall in Jerusalem since 1988. I caught up with Anat during one of her speaking tours in the U.S.
How did you become such a fighter for social justice?
My drive goes back to my childhood. When I was nine, a swimming team coach from Tel Aviv saw me performing a gymnastics routine at a Jerusalem community center and said, "Can you swim?" "Sure!" I said, and into the pool I went, kicking around in the water. I didn't know how to swim. "Do you want to be a champion?" he asked me. "Yes," I answered, and he said, "I'll teach you how to swim, and you'll become a champion." He did just that. In my teens, I became a champion swimmer, representing Israel in the Maccabiah Games. I held titles in nine events. The demands of swimming took a toll on my schooling, of course, but that didn't stop UCLA from recruiting me for its swim team.
Is that where you got involved in Jewish activism?
Yes. I organized the Israeli Student Organization in Southern California to do "Israeli things" together – Israeli folk dancing, song nights, movie nights. I was a totally secular Jew – the choice I'd seen in Israel was to be Orthodox or nothing – and there was a general agreement among us Israelis that we didn't do "Jewish stuff." But my attitude changed when my husband and I got involved with the Westwood Free Minyan, which met at UCLA Hillel. It opened our eyes to the fact that rabbis could be friendly and accepting. I also learned that there is more than one way to be a Jew, and returned to Israel with a compelling desire to be a religious pluralism activist.
What was the impetus for your first social action campaign in Israel?
I proposed to Rabbi Uri Regev, at the time the director of the Israel Religious Action Center (IRAC), that we open a complaint hotline. He loved the idea and soon complaints came pouring in from all over the country. Many of them concerned Israel's national telephone company, BEZEQ. Consumers weren't getting itemized bills and didn't know what they were paying for. So, we recruited the many callers into an association, organized conferences, and published a consumers' action guide about how to defeat BEZEQ in court. We won 43 out of 46 cases, the telephone monopoly was broken up, and people began getting itemized bills.
The realization that I could promote social change led me into politics. I won a seat on the Jerusalem City Council and for the next 14 years fought the policies of the city's right-wing and ultra-Orthodox administration.
What led you to leave your seat on the city council to become director of IRAC?
Ten years earlier, I had written an article demanding the resignation of a council member who had been on the job for 20 years. I accused him of being an ineffective has-been who didn't know when to move on. So, I took my own advice, resigned, and looked for another job – just as the position of IRAC director opened and I applied.
During the interview, I was asked how a maverick city council member could possibly work with six different Reform Jewish organizations. I assured the members of the search committee that it would be no problem. One of them said, almost as a dare, "Okay, then get us a reference from Mayor Ehud Olmert." As a councilwoman, I had initiated 30 court petitions and four police investigations against him. Yet the mayor wrote a letter of recommendation and even called some members of the search committee on my behalf. He told them how much he regretted that I was rarely on his side. I got the job.
What was it about the Israel Religious Action Center that appealed to you?
Advancing religious pluralism in Israel and fighting for social justice is what I wanted to do more than anything. What could be more satisfying than battling for these values in the courts, coming to the aid of olim (Jewish immigrants) who face discrimination by the Orthodox-controlled Ministry of Interior, or fighting to give women the right to pray and read from the Torah collectively and out loud at the Kotel, the Western Wall in Jerusalem?
What keeps you going in the face of so much resistance?
I believe if we keep up the pressure year after year, eventually we will win.
Categories:
Jewish Life, Social Justice, Advocacy, Civil Rights, Economic Justice, Religious Liberties, Israel, Living in Israel, Religious Pluralism in Israel, Reform Positions on Israel, Reform Judaism