Boston: A Jewish Success Story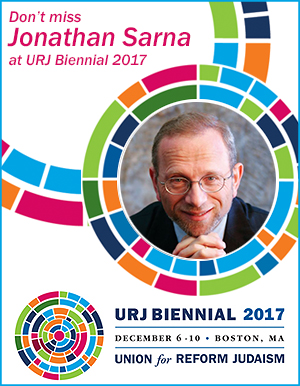 Jonathan D. Sarna is the Joseph H. & Belle R. Braun Professor of American Jewish history at Brandeis University and chair of the Hornstein Jewish Professional Leadership Program. He is the past president of the Association for Jewish Studies, chief historian of the National Museum of American Jewish History in Philadelphia, and author or editor of more than 30 books, including the National Jewish Book Award-winning American Judaism: A History.
ReformJudaism.org: When did Jews first appear in Boston?
Jonathan D. Sarna: The first was "Solomon Franco, the Jew," who accompanied a cargo vessel into Boston in 1649. For the next two centuries, however, only a handful of Jews settled in the city; the rest were transients.
The absence of an organized Jewish community in early Boston sets the city apart from the major American port cities, such as Savannah, Charleston, Philadelphia, New York, and Newport, where Sephardic Jews had settled in numbers. The first synagogue in Boston, Kahal Kadosh Ohabei Shalom (The Holy Community Lovers of Peace), was not formally organized intil 1843, making it the third synagogue in New England, following those in Newport and New Haven.
Ohabei Shalom followed Polish Jewish liturgical traditions. The minority of members who preferred the German rite seceded in 1853 and established Kahal Kadosh Adath Israel, today Temple Israel.
Why did early Jewish immigrants favor New York to Boston?
Jews preferred more open and cosmopolitan cities, where opportunities and foreign immigrants abounded. Boston, by contrast, held the dubious distinction of being America's most homogenous city. Until the coming of the Irish, most immigrants, and certainly most Jews, sought their fortunes elsewhere.
How did the massive East European immigration of the 1880s and 1890s impact Boston's Jewish community?
The city's Jewish population swelled from about 5,000 to 40,000, overwhelming the small established community. Putting aside their differences, Boston's German and Polish Jews came together to create a panoply of benevolent institutions to receive and assist the refugees. They established America's first federation, the Federation of Jewish Charities, in 1895.
How did old-line Boston families react to the infusion of so many refugees?
By the end of the 19th century, the mass immigration gradually undermined the confidence of some old-line families, who feared that their way of life was imperiled. They withdrew into themselves and kept immigrants out of their social institutions.
Future U.S. Supreme Court Justice Louis Brandeis, who was excluded from at least five clubs, complained some years later, "Anti-Semitism seems to have reached its American pinnacle here." More directly troubling to the masses of Jews in the immigrant neighborhoods was the hostility of their neighbors, particularly the Irish, and to a lesser extent the Italians.
Anti-Jewish violence peaked in Boston during the hard years of the Depression and World War II due to economic tensions and jealousies, as well as cultural and political differences between Catholics and Jews. Father Charles E. Coughlin, an anti-Semitic provacateur struck sympathetic chords in Catholic Boston.
Because Boston's politicians and Catholic church leaders took a hands-off approach, an epidemic of physical attacks against Jews continued into the early 1950s. A number of factors – the weakening of ethnic politics in Boston, the religious revolution wrought by Vatican II (1965), and burgeoning suburbanization – turned the tide, finally making Boston more hospitable to Jews.
How did Boston's Jews measure success in their struggle for acceptance?
In one word – Harvard. Shaped for 40 years (1869–1909) by its liberal, philosemitic president, Charles Eliot, Harvard became for Jews what it had long been for "Proper Bostonians" – a major part of their "total existence." To enter the hallowed halls of Harvard became a sacred rite of initiation for Jews, even if they remained social outcasts as students. That's why all of Boston Jewry felt the slap when Eliot's successor, the Judeophobic A. Lawrence Lowell, advocated a quota on Jewish admissions in 1922.
After World War II, when Harvard returned to merit-based admissions, more and more Jews were appointed to its faculty. Jewish studies courses were added, and Jews were invited to fill upper-level administrative positions. In 2001, the university selected its first Jewish president, Lawrence H. Summers.
How do Boston's Jews view themselves today?
Today, greater Boston is America's fourth largest Jewish community, home to 248,000 Jews. The community prides itself on its level of education with many Jewish college students, and its diversity, with significant numbers of Israelis, Russian-speaking Jews, and LGBTQ Jews. Many creative ideas for improving and strengthening Jewish life are being devised, tested, and incubated in the Boston area. Growing numbers of Jews are also involved in the city's rapidly expanding start-up culture.
In short, Boston's Jews consider themselves the vanguard of a vibrant 21st century American Judaism.
Professor Jonathan D. Sarna will be a featured speaker at the Union for Reform Judaism's 2017 Biennial in Boston, December 6-10, 2017.