Talking with America's First Ordained Female Rabbi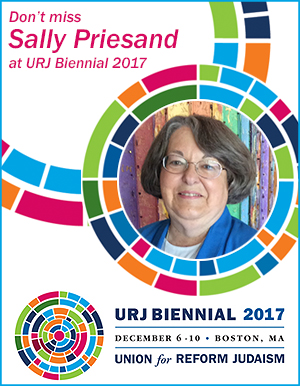 ReformJudaim.org: How different is the Jewish religious landscape today from the way it was in 1972, when you were ordained by Hebrew Union College-Jewish Institute of Religion? 
Rabbi Priesand: Welcoming women into the rabbinate provided an opportunity to rethink previous models of leadership. When I was growing up, rabbis were expected to be the ultimate authority, often maintaining complete control over the congregation and making whatever decisions needed to be made. Women rabbis made room for empowerment, networking, and partnership. As shown by psychologist Carol Gilligan, among others, women function best when creating relationships based on caring and concern. During my 25 years as rabbi of Monmouth Reform Temple in Tinton Falls, NJ, I worked together with congregants as partners in creating a temple family in which members were always there for each other. 
Female rabbis also influenced theology. I grew up with the image of God as King, omnipotent, and clearly male. Today's children understand that God embodies characteristics both masculine and feminine. For many years now, whenever new liturgy is created, its language is gender neutral.
Do female rabbis still face biases and inequities in progressive Judaism?
Yes. I was surprised to read in The Sacred Calling: Four Decades of Women in the Rabbinate that female rabbis were being paid less than male rabbis. This inequity, whether intentional or not, is morally indefensible. Women and men who serve the Jewish people as rabbis do the same work, fulfill the same responsibilities, and therefore deserve equal respect and compensation. 
How can we achieve a level playing field?
I share the hope of Rabbi Regina Jonas, the first woman rabbi, who was ordained in 1935 in Berlin and died as a hero in Auschwitz. She said:
I hope a time will come for all of us in which there will be no more questions on the subject of "woman": for as long as there are questions, something is wrong…. God has placed abilities and callings in our hearts, without regard to gender. Thus each of us has the duty, whether man or woman, to realize those gifts God has given. If you look at things this way, one takes woman and man for what they are: human beings. 
Do you also draw inspiration from women of the Bible?
Ever since entering rabbinic school, I have been inspired by the story of the daughters of Zelophechad in the Book of Numbers. Torah tells us that these women were not afraid to stand up and be heard, and demand that their father's land be given to them. We know that this is an important story because the daughters' names – Mahlah, Noa, Hoglah, Milcah, and Tirzah – are actually listed in the Torah text, something that rarely happens in the Bible in which women are often invisible characters, known by the relationship they have to their father or husband or brother.
Clearly these women understood that owning land was necessary for survival as well as a measure of self-worth. So, the daughters of Zelophechad stood up in front of the whole community and said: "This law is unfair and unjust. Give us our rightful inheritance." We learn from their strength, determination, fearlessness, and actions an important lesson about how to affect change in society. 
God agreed with the daughters of Zelophechad and as a result, the law was changed. God said: "If a man dies without leaving a son, you shall transfer his property to his daughter." It is comforting to know that God approves of correcting mistakes when there is a gap between the law, as stated in Torah. In the case of Zelophechad's daughters, the Torah does not hesitate to change the law for the sake of justice.
This story, then, is not just one in which feminists can rejoice, but also one in which we are reminded that if Torah itself is willing to adapt the law for the sake of fairness and equality, then how much more so should we, as a progressive religious community, be willing to alter and adjust our traditions as new and different circumstances arise.
The opportunities that exist for women today in Jewish communities around the world came about because in every generation there were women who were not afraid to stand up and demand their right to participate as equals.
When I was ordained, an Orthodox rabbi in Israel said that I would be little more than a footnote in history. Others said: "gam zeh ya-avor– this too shall pass." And still others warned that my ordination would mark the beginning of the end of the Jewish people.
Fortunately, none of these pronouncements came true.
Rabbi Sally J. Priesand will be a featured speaker at the Union for Reform Judaism's 2017 Biennial in Boston, December 6-10, 2017.
Photo: The Jacob Rader Marcus Center of the American Jewish Archives