Reform Jews Demand: #FamiliesBelongTogether!
"These children are God's children… and it is up to us to restore these children to their parents and to restore the soul of our country."
-Rabbi Jonah Dov Pesner
Families belong together, and we're not backing down until the Trump administration reunites separated families.
On Thursday, a group of 40 faith leaders – 10 each from the Jewish, Muslim, Catholic, and Protestant faith traditions – traveled to McAllen, TX, where they met with and bore witness to the families who have crossed the border in search of a better future. McAllen is home to the United States' largest border processing and detention center. Standing together, these interfaith leaders called on the administration to end this morally abhorrent practice.
McAllen has become ground zero for the Trump Administration's policy that, in a six-week period, has left approximately 2,300 children separated from their parents. In April 2018, Attorney General Jeff Sessions announced that the federal government would adopt a zero-tolerance policy of criminally prosecuting all migrants for unauthorized border crossings, including those legally seeking asylum. This led to the separation of families, with no clear plan to reunite these children with their parents, despite the executive order President Trump signed on Wednesday that will allow families to stay together, but for an "indefinite" period of time in detention while the parents are criminally prosecuted.
Says Rabbi Jonah Pesner, director of the Religious Action Center of Reform Judaism (the RAC):
"The separation of children from their families at the border is horrendously cruel. As people of faith, we traveled to McAllen, Texas, to bear witness to the suffering and pain of these immigrant families. Those at the highest levels of the Trump Administration are responsible for this moral travesty – and we must hold them accountable."
Here are a few scenes from on the ground in McAllen and beyond.
1. Reform clergy joined interfaith leaders in a press conference demanding swift action to restore family unity. 
In calling upon the administration to end this shameful zero-tolerance policy and take immediate action to reunite the 2,300 children who have already been separated from their families, the Reform Jewish community was represented by: the RAC's Rabbi Jonah Pesner; Barbara Weinstein, associate director; and Rabbi David Segal, Texas organizer; Rabbi David Stern, president of the Central Conference of American Rabbis; Rabbi Leora Kaye, director of program at the Union for Reform Judaism; Dallas-based Rabbi Nancy Kasten; and Cantor Jason Kaufman, representing the American Conference of Cantors.
Rabbi Jonah Pesner told the crowd, "We ask not only to restore these children to their parents, but to restore the soul of our country as well." Watch the livestream of the press conference on Facebook.
2. Our clergy visited and played with migrant kids in detention centers.
In sharing the photo below (in which the child's face has been blurred out), Cantor Jason Kaufman tweeted, "I played catch with a [stuffed toy] frog from Greene Family Camp [a Reform Jewish summer camp in Bruceville, TX] with a small boy who smiled and called my yarmulke a sombrero."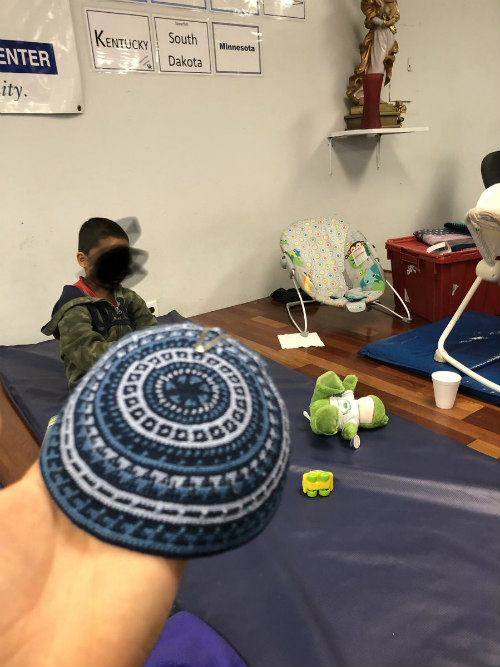 In this photo, shared by the Rev. Al Sharpton, the Christian leader kneels on the floor to play with immigrant children alongside Rabbi Leora Kaye. The faith leaders brought with them books to read to the children and cards to show their support. As BuzzFeed reported, Rabbi Kaye facilitated the creation of these bilingual cards at her children's Brooklyn elementary school before traveling to McAllen.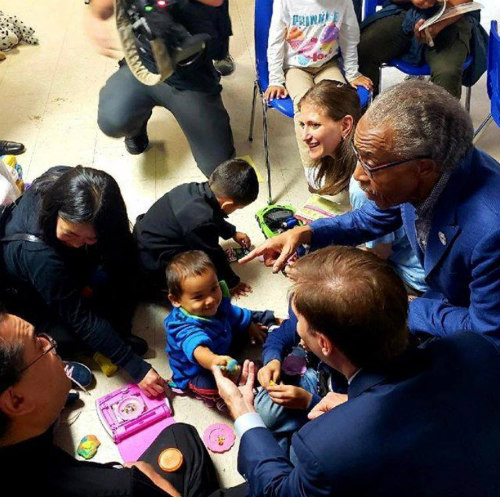 3. In McAllen and beyond, the fight continues. Here's how you can help.
Temple Emanuel, the Reform synagogue in McAllen, is collecting care packages to provide tangible support to detainees and separated families. Learn more about what items they need and where to send donations. 
If you're in the McAllen area or able to bring a delegation there, you, too, can visit theimmigration detention center. To do so, contact Rabbi Claudio Kogan of Temple Emanuel in McAllen, who is eager for visitors to see this border community firsthand.
Of course, you don't have to be on the ground in McAllen to help. Calls, texts, letters to Congress and the Trump Administration, and other actions are the best way to put pressure on the administration to end these harmful and heartbreaking  policiesfor good. Use our online action tool to send a letter demanding that Congress and the Administration act immediately to terminate the zero-tolerance policy and take swift action to reunite the 2,300 children who have already been separated from their families. Tell them the Reform Jewish community rejects this inhumane policy.
You can also check out these 8 ways to take Jewish action around family separation, which include attending rallies and raising awareness within your community.