Serving the Jewish People at This Moment of Challenge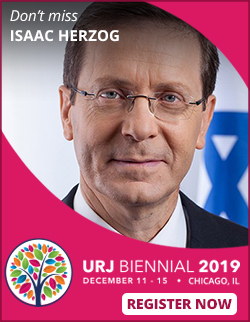 Isaac Herzog, chairman of the executive of The Jewish Agency for Israel (JAFI), is an attorney and a former member of the Knesset (Israeli parliament), where he served from 2003 until 2018. During his tenure, he chaired the Labor Party and held several ministerial posts, including Minister of Housing and Construction, Minister of Tourism, and Minister of Diaspora Affairs, among others.
I recently met with him to talk about his service to the Jewish people – in Israel and throughout the world.
Reform Judaism.org: What does it mean to you to lead The Jewish Agency for Israel? How is it a continuation of your lifelong career of service to Israel?
Isaac Herzog: Public service has always been at the core of my professional goals – it's what drives me.
One of the most, if not the most, important positions I've held in my public service career is chairman of the executive of The Jewish Agency. To serve the Jewish people at this moment, when we are faced with such significant challenges for us as a people – both around the world and in Israel – is a duty and an honor. To lead the largest Jewish organization at a time when we are fighting for the unity of the Jewish people, as well as fighting the rising tide of antisemitism, is an enormous responsibility – but one that I grabbed with both hands.
What has surprised you the most in spending time now with world Jewry?
I've been most surprised by how little I actually know about world Jewry, despite my upbringing in a home that embraced pluralistic Judaism and the formative time I spent in my childhood at the Ramaz School in New York. I've traveled extensively in the Jewish world this past year and have been constantly surprised by the variety of Jewish communities we have and by the richness of spirituality – of so many different expressions of Judaism.
What is your vision for the future of The Jewish Agency?
The Jewish Agency, as the Jewish organization with the most extensive global reach, must serve as a huge Jewish tent that invites and shelters all Jews. The Jewish Agency will focus on building connections between Jewish communities around the world, as well as magnifying the voice of global Jewry in Israel and within Israeli society. We will also ensure the continuity of Jewish communities and that every Jew, no matter where, can live Jewishly – without fear.
What do you want people to know about the importance of The Jewish Agency?
The Jewish Agency, the organization that established the State of Israel, brought more than 3.5 million olim (immigrants), and built hundreds of communities throughout the country, is currently addressing the greatest challenges facing our people today. Mi dor l'dor, in every generation, the Jewish people have faced challenges.
Since its founding 90 years ago, The Jewish Agency has always stood at the forefront of these challenges and, together with our partners throughout the world, will rise up to today's challenges – including antisemitism, preventing a rift among the Jewish people, and strengthening Jewish identity, among other challenges. We do this alongside our ongoing work promoting aliyah (moving to Israel) among those who choose to make their life in Israel, as well as providing a safe haven for Jews who must be rescued from compromised regions.
Yet what I truly want people to understand is that unity is the key to overcoming these challenges. We must come together as a people; we must look beyond politics and instead look at all we have in common and all that has bound us together for centuries. This is how we have overcome the many challenges we've faced and it is our way forward.
How do you see the current state of the relationship between Israel and the Diaspora?
It's no secret that we have a significant and growing rift between Israel and our sisters and brothers around the world. But I also know that at our core, we are one people, one family. We must create greater dialogue among all Jews, from every background and every affiliation, to mend this rift. It's odd how in the history of the Jewish people, when times are good – and we're currently in a relatively good time – at these moments, we tend to have conflict among us.
I believe that the moment the Israeli people better understand global Jewry and vice versa, we will see that there's more that unites us than divides us. We need to focus on the age-old tenet of ahavat Israel, the love for your fellow Jew.
Why should North American Jews be involved in the Israeli National Institutions (JAFI, WZO, KKL)?
These are organizations that also serve all the Jewish people, and the voice of the largest Jewish community needs to be heard loud and clear. Through these organizations, North American Jews enjoy a special legal and public status in Israel – among Israeli leaders, elected officials and policy makers.
These bodies are a key part of the global Jewish table, where the North American community clearly must have a place. Their involvement has a direct impact both on Israeli society and on connecting Jews worldwide to Israel.
What do you think Israelis need to know about the Diaspora?
The spiritual richness – Israelis aren't familiar with the depth and variety of Jewish expression that is thriving among global Jewry. This is a big part of what our returning shlichim (Israeli emissaries) bring back to Israel. When they finish their service bringing a taste of Israel to Jewish communities, they return to Israel as ambassadors for global Jewry.
I've heard countless stories from returning shlichim about the transformative experience they had while living in Jewish communities around the world. We are empowering them to play a larger role in bridging this gap for Israelis once they come home.
What is one thing you would want all North American Jews to understand about Israel today?
Israel isn't what you see in one media outlet or the other. Israel is a thriving, evolving country. Israel is a democracy in which the voices of all sectors are heard. Global Jewry needs to understand that the Israeli reality is much more complex than what is often presented.
I invite every one of you to come visit Israel, come build a personal relationship and form your own opinions. The extremist voices that receive attention in the media don't necessarily reflect the Israeli reality.
Isaac Herzog, chairman of the executive of The Jewish Agency for Israel, will be a featured speaker at the Union for Reform Judaism (URJ) Biennial, the largest Jewish gathering in North America, from December 11-15, 2019, in Chicago, IL. Register now or watch select sessions online to join thousands of Jews from around the world to learn, pray, share ideas, dance and sing, hear from inspiring speakers, reunite with old friends, create new connections, and more.