Image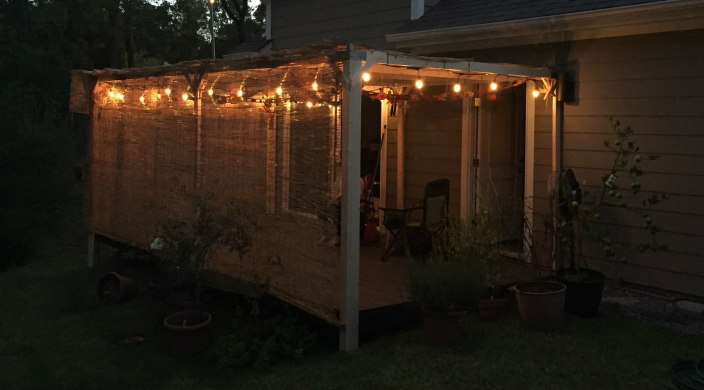 Maybe it was because my father was chair of the House and Grounds Committee at Temple Emanu-El in Sarasota, FL, or perhaps it was because he was ritual chair at Temple Sinai, also in Sarasota, but, I always felt like I was forced to go to the synagogue immediately after Yom Kippur to sweat in the hot Florida sun while we constructed the communal sukkah.
By the time I finished high school, I didn't need any supervision to erect the temporary booth in which we shake the lulav, eat meals with guests, and generally dwell while enjoying the outdoors. But once I left Sarasota, my sukkah-development skills lay dormant for about a decade. Although I helped construct a bird-hut in Israel and a bamboo booth in a buddy's backyard, I lived in tiny apartments that did not have outdoor space large enough for me to construct this religious structure for myself. Then, my wife and I moved to Mississippi, finally securing a yard in which we could erect our family's sukkah.
The first question that came to mind was this: "What kind of materials do I want to use to construct our sukkah?" There are certainly plenty of options – galvanized steel, aluminum, PVC pipe, Lego® bricks, and wood are all appropriate. There was also the question of walls and s'chah (covering materials). Growing up in Florida, it was easy to find palm leaves to create our roof; we were spoiled in that regard. Sheets of lattice adorned the exterior, so we could easily attach paper chains and cereal decorations. I did not have enough ambition to create an architectural masterpiece on my first solo attempt, so I went with a simple, "natural" look – 2" x 4" studs and rolls of bamboo.
While most of our holidays revolve around reading Torah, special foods, and going to synagogue, Sukkot lets us flex a different kind of religious muscle. Yes, the mitzvot (commandments) we fulfill related to this holiday are mainly to dwell in the sukkah and shake the lulav. But you can't do either of those things if you don't have a sukkah, necessitating a build.
Some folks like to stow their sukkah in storage, never having to redesign from year to year. However, I find it cathartic to acquire new materials and adjust our construction techniques each year, especially after days of deep soul-searching and sin-expiation.
Over the years, Sukkot – and the size of our sukkah – has grown into one of the holidays our family treasures the most. This year, our friends will enjoy southern squash casseroles under the stars (with fans to keep away the mosquitos!); coworkers will bond under the gourds and lights that adorn our exterior abode during Sukkot; and our neighbors will enjoy adult beverages while arguing over SEC football prowess and learning about our religious and cultural traditions. In fact, we always have trouble finding and arranging dates for our different ushpizin (guests) to enter and enjoy time in our sukkah.
In the Reform tradition, Sukkot is a seven-day adventure that, unlike some other Jewish holidays, our family never wants to end. As I think about it, when you add in the time needed for design, acquisition of materials, construction, and cleanup (the worst part), the holiday is longer than the seven days it is allotted on the calendar. For these extra pieces of the mitzvah of dwelling in the sukkah, I offer these blessings:
A Blessing for Designing the Sukkah
Baruch atah, Adonai eloheinu, melech ha-olam shemilei b'choch'mah, bit'vunah, uv'da-at, uv'chol mal'achah.
Blessed are You, Adonai our God, sovereign of the universe who filled with wisdom, with understanding, with knowledge, and with all manner of craftsmanship.
(Based on Exodus 35:31)
A Blessing for Purchasing Materials
Baruch atah, Adonai eloheinu, melech ha-olam shenatan kesef b'otz'rot beit adonai.
Blessed are You, Adonai our God, sovereign of the universe who put money in the treasuries of God's house.
(Based on I Kings 7:51)
A Blessing for Constructing the Sukkah
Baruch atah, Adonai eloheinu, melech ha-olam sheasah eit liv'not.
Blessed are You, Adonai our God, sovereign of the universe who created a time to build. (Based on Ecclesiastes 3:3)
A Blessing for Cleaning Up
Baruch atah, Adonai eloheinu, melech ha-olam sheyig'maleini k'bar yadai.
Blessed are You, Adonai our God, sovereign of the universe who rewarded me according to my clean hands. (Based on Psalms 18:21)
If you're not planning to build your own sukkah, but want to visit in one, find a congregation near you.
Rabbi Matt Dreffin, MAJE, is the director of education at the Goldring/Woldenberg Institute of Southern Jewish Life in Jackson, Mississippi. He works with a team to support, connect, and celebrate Jewish life in the South.
Related Posts
Image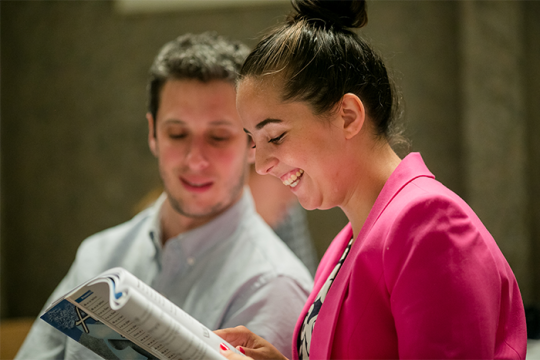 Lifelong learning, however, can be easier said than done. For many, as they enter adulthood, with its competing demands and obligations, setting aside time for learning – and especially for Jewish learning – can be challenging indeed.
Image
At 10, Jeff Erlanger appeared on "Mister Rogers' Neighborhood" in his wheelchair. I recently asked Jeff's parents about how they raised such a competent and loving son.
Image
When I became rabbi of Monmouth Reform Temple in Tinton Falls, NJ, I quickly discovered that some people in our community thought we were a church. Mail was addressed to "Monmouth Reformed Temple," and letters were addressed "Dear Pastor."