Image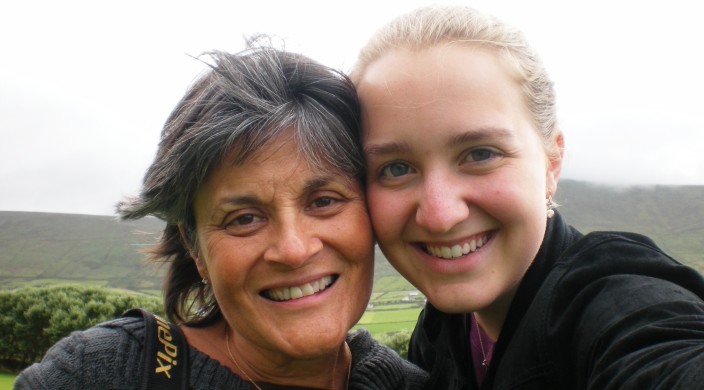 I place an unquantifiable value on the Jewish education I received growing up. I attended Hebrew school through the end of high school, was part of a strong Jewish community not unlike the community in Cheers (where everybody knew my name), and still consider Judaism to be an important part of my life.
Still, I cannot imagine having grown up without the duality of my interfaith family, of knowing some of the intricacies of what Christianity means to those who practice it. Through this lens, I learned about love and about respect for all people, regardless of their beliefs.
Here are the top four things I've learned from my background and from my mother's faith that have strengthened my own Judaism.
1. Different Ways to Pray
Prayer is, of course, an important element of Judaism, and I love many of the traditional prayers. They are open, loving appeals to God, full of meaning and emotion. Yet sometimes it seems as though Judaism shies away from the type of spontaneous prayer that is common in Christian circles – you know, the typical movie scenario in which a child kneels next to the bed and offers an honest supplication to the heavens, a la It's a Wonderful Life. It's touching – and decidedly not Jewish.

But how many times have we said the Sh'ma or any other important Jewish prayer from memory and neglected to really think about the words? When my mom comes to temple with our family, she reads the English while we murmur along in Hebrew. Following her example, I find myself increasingly looking to the English, as well, so I can understand what I'm reading and better put my whole heart into it. I also find myself increasingly searching to put my own words into my prayers, and so open myself up to God on a much more personal level as a result.
2. The Beauty in Other Religions
To be a strong person of faith, one must learn the value in other religions. It's not enough, in today's globalized, multicultural world, to stick to our small religious community and ignore the countless other ways in which people can live their lives. It's like raising a child as a vegetarian but never even explaining what meat is. How can you faithfully and honestly commit to a lifestyle, and love it completely, without understanding different paths?

To me, being a good Jew means being both learned in Torah and knowledgeable of and respectful towards those of other faiths (and for that matter, towards members of other parts of Judaism, as well). At an interfaith conference I attended in August, the recently-ordained Reform Rabbi Joshua Stanton adequately summed up this feeling when he said that to be a religious person today, one has a moral obligation to pursue greater interfaith understanding: "It's not an option, it's a responsibility."
3. The Strength in Symbolism
As humans, symbolism is important to us. We thrive on the idea that a rose given in love is not just a rose – that it represents something greater. Don't get me wrong: I'm not advocating idolatry. But Christian symbolism is strong and, from my perspective, amazingly well-done, if we look at it from a marketing perspective; you won't find a much simpler "logo" than two perpendicular lines.

While I don't advocate starting up a Jewish marketing campaign around the Star of David, per se, there is something to be said for building group identity. I often wear a simple Star of David necklace, and grasping it helps me remember to feel more connected to my religious community, to God, and to my mother (who clutches her cross when we are taking off on an airplane). I respect the unity that Christians have built up around the simple imagery of a cross.
4. An Appreciation for Beautiful Religious Buildings
After having gone to church on Easter with my mother for years to support her in her faith journey, I feel comfortable enough, as a proud Jewish individual, to enter a church without feeling like it threatens my faith. These days, because I study and sometimes live in Europe, I often find myself ducking into churches for a minute to sit, to think, to pray – and to look at a beautiful building that has been constructed for people to rest, quietly and safely, and to converse with their God. I am usually most comfortable praying in a simple, unadorned synagogue, but spending a few minutes in a quiet church can bring a lot of peace to my day.
I hope that individuals of all faiths begin to look outside of their own religious traditions to see the beauty in others and, ultimately, to find a way to work together to make the world a better place – for all people, regardless of their religion.
Related Posts
Image
While Juneteenth marks an incredibly important step in Black American rights, it was just that – one step. Juneteenth celebrated slavery becoming illegal, but it did not do away with racism; not even close. And yet, the history and spirit of Juneteenth make me hopeful.
Image
Eva needed to socially transition to live full-time as a girl. Our hope is that more and more people will join together to expand the network of supportive communities until transgender people are no longer shunned by society.
Image
The COVID-19 pandemic has shifted so much of how we engage Jewishly, but Shavuot is a fantastic holiday for families to celebrate from the safety of their homes. Here are a few ways you and your family can observe this rich, festive Jewish holiday this year.