Image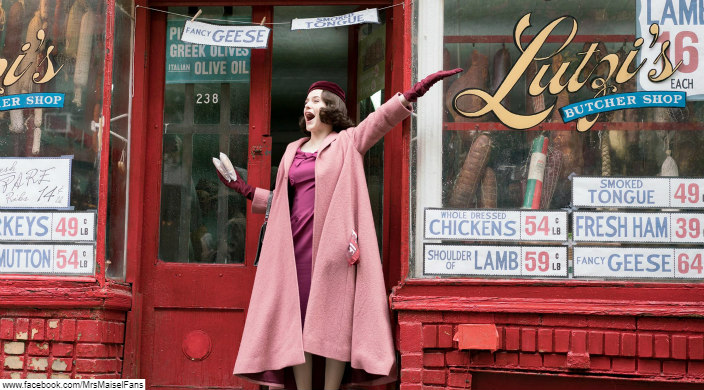 Every spring, Amazon releases the first episode or pilot of five TV series to gauge audience reaction and decide which warrant a full season pick-up. The Marvelous Mrs. Maisel, a funny and inspiring drama about an Upper West Side Jewish woman who learns she has a gift for stand-up comedy, received an overwhelmingly positive response from Amazon viewers and a two-season order.
Like AMC's hit series Mad Men, Mrs. Maisel is set in Manhattan during the patriarchal late-'50s/early '60s, but they have little else in common. Miriam Maisel is bubbly and indomitable when compared to Don Draper's self-absorbed antihero. The bright palette and warm close-ups of Mrs. Maisel contrast sharply with Matthew Weiner's cold and distant framing of Mad Men.
In a star-making performance by Rachel Brosnahan (Rachel Posner in Netflix's House of Cards), Miriam "Midge" Maisel is a woman so unfettered and free, so overflowing with positivity and unabashed confidence, she seems destined to be carried on Gossamer wings through a life of privilege. Her husband, Joel, in a nuanced portrayal by Michael Zegen, has a good job, and she has the support of her parents Abe and Rose Weissman, played by Tony Shalhoub and Marin Hinkle, who live right around the corner.
Miriam's discovery of the burgeoning West Village comedy scene, through her husband's attempts to moonlight as a stand-up, throws her ideal life awry. While there are more than a few twists and turns along the way, Miriam's eventual storming of the stage during open mic night is one of the treats of a nearly pitch-perfect opening foray into a collision between raunchy vaudevillian Jewish humor and the conservative values of the time.
The Jewish shtick is lathered on generously, but played endearingly by Brosnahan. Miriam finishes the toast at her wedding by announcing to the horror of some guests, "Yes, there's shrimp in the egg rolls." Her brisket is the currency she uses to get her husband a better time slot at the comedy club. Even her parents, when dealing with setbacks in her life, fly into hysterics, reminiscent of a Neil Simon play, as they go from room to room slamming doors and writhing on antique loveseats.
The show's Jewish creator, Amy Sherman-Palladino of Gilmore Girls fame, comes to the material naturally: She's the daughter of a stand-up comedian.
The Jewish influence on comedy in general and in this particular period can't be understated. Sherman-Palladino taps into actual historical comics as grist for the mill. Lenny Bruce, played by Luke Kirby, appears here on stage and in jail as a potential friend and mentor to Miriam at a time when obscenity laws prevented comics from uttering supposed vulgarities or acts deemed indecent. This seems to portend problems for the freewheeling Miriam.
The late Joan Rivers is clearly the template for Brosnahan's Miriam, who isn't afraid to speak her mind and shock people though one has to wonder how far the series will mimic Rivers' career, possibly taking Miriam all the way to Johnny Carson's late-night show.
To have a female creator and female lead in the era of peak TV is still a rarity. Across platforms, women comprised 42% of all speaking roles and 28% of all creators during the 2016-2017 season. With Sherman-Palladino at the helm and Brosnahan starring in a show about the rise of a female comedian in a male-dominated industry, one can't help but make comparisons to the current state of Hollywood as it reels from revelations of the sexual predation many female actors have faced in their careers.
It's hard to believe the series won't explore the subject matter in some way. Rivers herself, in addressing her feud with Carson when she left The Tonight Show to host her own late-night program, offered this explanation: "He was not angry at anybody else. I think he really felt because I was a woman that I just was his. He didn't like that, as a woman, I went up against him."
While Sherman-Palladino may not have planned for The Marvelous Mrs. Maisel to be a lightning rod for the times, it may nevertheless become one.
Mad Men reminded us of the inequality of the early '60s, but it also glamorized the lifestyle of the era. Mrs. Maisel's focus on a female trailblazer in a man's world makes this new Amazon series equally compelling – on its own terms.
For more Jewish content, subscribe to the Ten Minutes of Torah series.
Related Posts
Image
A camel carrying a load. A golden pair of balanced scales. An open heart and an open mind. These are three of more than two dozen artists' visions of justice and righteousness featured in the invitational exhibition, "Tzedek Boxes: Justice Shall You Pursue."
Image
As 2022 draws to a close, it's time to highlight some of the best Jewish content of the past year. Art, marriage, coming of age, healing, history, and antisemitism are all on display in a year that has had its fair share of public tumult.
Image
Two films from acclaimed Jewish filmmakers have debuted during award season this year, each taking semi-autobiographical looks at troubled childhoods. Each picture delivers award-worthy performances from many well-known actors, including Anthony Hopkins and Michelle Williams as sure bets to score Oscar nominations.