Image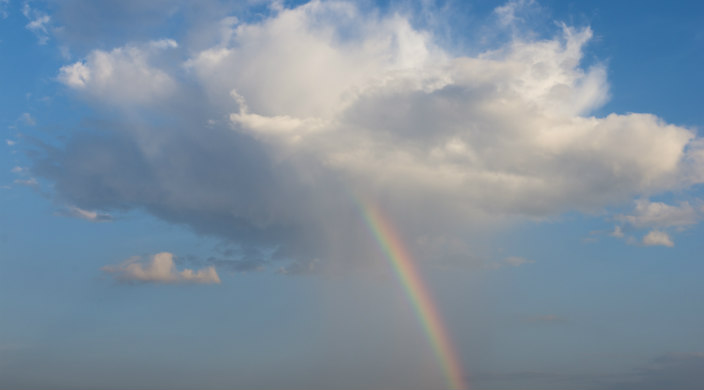 This week,
I tell a friend I'd love to chat
but actually I have to run
Yom Kippur services are starting soon
and I've got to repent for my sins
before the gates are closed.
She laughs.
"Well,
you're gay,
so you've definitely
got a lot of repenting to do."
It's a joke,
I know,
but I still tell her don't worry.
My God is compatible with
my queerness.
I tell her my love
is not my sin,
but my tongue stumbles on the words
because they ooze out
from the pit of my rotten belly.
Lies.
You see,
the only girl I've ever loved
boiled my God into mud
and told me it was medicine,
made mockery of my messiah,
minced myth into my meaning.
She strung lies between my teeth
until I could not see how to fit
queerness and holiness
into one fleshy body.
The roots that reach low
beneath my toenails say
it is impossible.
Sometimes,
my God is showing up to synagogue
with their hair shaved short and
the sweet old ladies who've known them
since they lay swaddled in
their mother's womb,
they tell them it's interesting...
different.
They speak in murmured hum,
voices dripping with the frantic panic of
old honey bees.
Sometimes,
on the bad days,
my God cries for something they can't put into words. 
Sometimes my God is avinu malkeinu,
is our father, our king,
male pronouns they never found a home in.
My God is told they
are man on the mountain sky God,
pillar of fire,
sea waters parting,
Sodom and Gomorrah and Noah's ark.
Anachnu korim;
my God is told they should
force their people on bended knee,
make them tremble at the sight of a power
they can only see the back of.
Sometimes,
my God buckles under the pressure of power.
Sometimes my God needs a day to sit with
the ones they love and laugh,
and be held,
and just be;
because sometimes my God says ehyeh asher ehyeh,
I will be what I will be.
Sometimes my God reads Leviticus 18:22,
reads "You shall not lie with a man
as with a woman;"
reads "it is an abomination"
and sometimes my God shies away from
those who believe in them.
They cannot see how
so much love
and so much hate
can be held in the same hand.
My God wipes their name from
cardboard picket signs
even though they know they'll just be
rewritten in the morning.
Sometimes my God is afraid of the morning.
Afraid of the dawn,
unruly,
explosive.
My God learned the hard way that
creation has a momentum
all of its own making.
But sometimes,
when the light comes through the blinds
just right
and dances waves across my God's body,
they look out at their creation
and see that it is good.
Because sometimes my God is two women
sitting in front of me in Yom Kippur services
One with a tallit pulled round her shoulders,
one without,
and when the Rabbi begins to talk
about the beauty of tzitzit,
my God is one woman wrapping her arm
around the shoulders of the other
until they are both curled in a blanket
of holy fabric queer love,
and beneath fringed corners
my God whispers to me,
"Don't you see?
Your queerness
has always been compatible with your holiness.
Your love was never your sin.
Listen!
V'ahavta -
your love is your mitzvah."
Related Posts
Image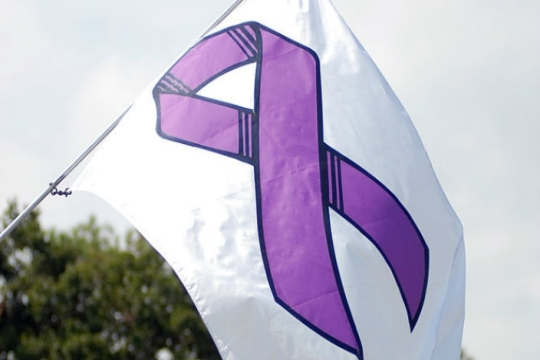 October is Domestic Violence Awareness Month (DVAM) in the U.S. This year, the National Network to End Domestic Violence (NNEDV) chose the theme of #Every1KnowsSome1 to highlight how common domestic violence is. Each of us may (or likely) knows someone, either in our Jewish community or our secular communities, who has been impacted by or is a survivor of domestic violence.
Image
in the beginning Oneness breathed us into life we are unity
Image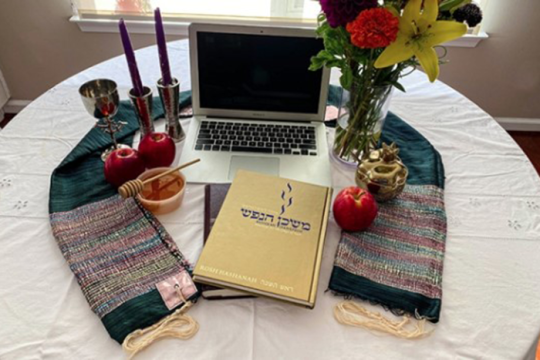 As I boarded the plane to Israel in the summer of 2002 for my first year of rabbinical school at HUC in Jerusalem, my mother said, "Please, just don't meet an Israeli." As soon as the plane touched down at Ben Gurion airport, I knew that I was home. A few months later, I met that Israeli. From our first conversation, he understood that I was studying to be a rabbi, and I understood that he wanted to live only in Israel.