Image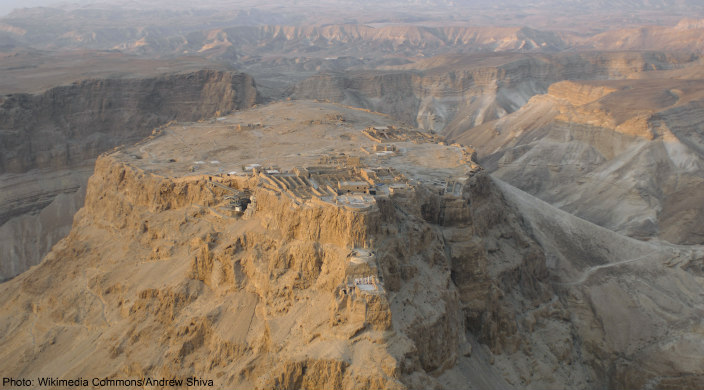 Aretha Franklin lays it all out on the greasy diner floor, truly giving us something to "Think" about as she attempts to keep her husband from running off with Jake and Elwood Blues. Freedom is the frame through which the song is remembered, just as freedom is the lens through which we see our past. Shared responsibility, communal memory, and the possibility of a strong future all emanate from the iconic Windy City Diva (provided her husband doesn't run off, that is).
Living in Israel for double chai (36) years, the seven I lived in Chicago still seem to play a role in my own view of the past. L'dor vador is not only something we carry from one generation to another, but within our own lives as well – past, present, and future. As a tour educator in Israel, I often find myself sharing this very formula, again and again, as it unveils itself at multiple sites around the country.
Masada is the ultimate story of freedom. Fear turns to fight, and fight turns to flight. We climb a mountain and make it our own, then and today. Travelers to this mountain stand in awe of the Zealots, again and again – both for the choices they faced and the decisions they made. As the Great Revolt rages in Jerusalem, the Zealots arrive on top of this fortress. They discover the best Rome had to offer and they deplore it. For years, it seems the Legion is the one under siege. I find myself repeating again and again, that this clarity of purpose becomes cloudy when the ramp climbs higher, like Jacob's ladder itself. What did they do? What were their options? What do we think of their actions? One outstretched finger pointed at the traveler allows for three, pointed right back at the guide.
One early sunrise after another, I grapple, just as I hope others do. Can we deplore their actions toward their fellow Jews and decide that their final choice would not have been ours? The great early Zionists harnessed this story of heroism to create a narrative that was necessary to move a generation, to change the Jewish world, and to save it. This narrative was based on fact and fiction, on "his-story" and "our-story." This narrative was based on fact and fiction, on his-story and our-story. "Masada shall not fall again" would have been etched on the souls of those who stood at Kibbutz Yad Mordechai in 1948, those who faced Tel Faher in 1967, and those who pushed beyond the Bar Lev Line in 1973 – and fueled their courage.
Does this mean we embrace the historic Zealot? What of their actions against those Jews who defied them? Those who didn't agree? Is this a message left for us to discard? We cannot ignore the fact that the context of their reality dictated that they indeed take a stand and decide. Armed with their undeniable truth and an ever-evolving narrative, these Zealots also understood the price of freedom.
With the scroll of Ezekiel, chapter 37 discovered buried just below the surface, a question that should plague visitors to this desert mountaintop deserves to be explored as well: Why am I here? Do I tackle the Snake Path for them and their actions? Josephus shares the words of Elazar ben Yair (or rather his words of Ben Yair) – that this freedom was a "glorious winding sheet." Freedom is indeed a wonderful thing. With a deep understanding of Jewish history, we also know that it had been an elusive element in the lives of the Jewish People for a very long time.
Despite this undeniable challenge that has faced the Jewish people over time, the Jewish people have evolved, just as the State of Israel has evolved. Perhaps we are at a place where questions, introspection, and challenge go hand-in-hand with courage, passion, and sacrifice.
We have the freedom today to argue with the Zealot's way of life and to draw a line in the sand stating that their actions against fellow Jews is not one we accept. Should we then pass over Masada, opting instead for more time floating in the Dead Sea? Should this not be a destination? Is this no longer our mountain?
We shouldn't, it should, and it is.
This mountain can be re-claimed, just as the early Zionists did. Perhaps this claim lies less in the actions of the Zealots, and more in the reasons for their action. It seems that they believed their actions and their final stand would ensure the continuity of Israel. So, as the cable car beckons and the air conditioning of the visitor center calls from below, we may stand in view of that fateful ramp and ask ourselves: What do we do to ensure the continuity of Israel – including her people, culture, religion, land, and state?
As we celebrate Passover, the Festival of Freedom, perhaps real freedom is discovered when we challenge ourselves, and place ourselves within the ever-evolving story of the Jewish People. With no offence to the Queen of Soul, maybe the question is less "What do I think?" and more "What do I do?"
Chag sameach.
Related Posts
Image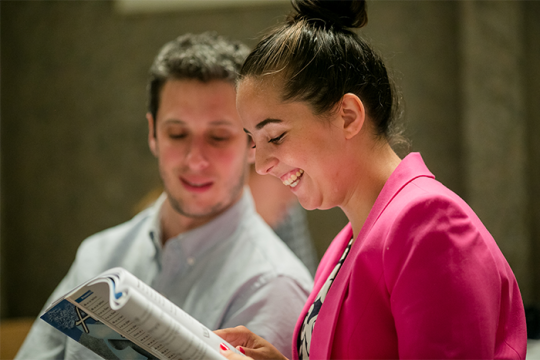 Lifelong learning, however, can be easier said than done. For many, as they enter adulthood, with its competing demands and obligations, setting aside time for learning – and especially for Jewish learning – can be challenging indeed.
Image
At 10, Jeff Erlanger appeared on "Mister Rogers' Neighborhood" in his wheelchair. I recently asked Jeff's parents about how they raised such a competent and loving son.
Image
When I became rabbi of Monmouth Reform Temple in Tinton Falls, NJ, I quickly discovered that some people in our community thought we were a church. Mail was addressed to "Monmouth Reformed Temple," and letters were addressed "Dear Pastor."