Image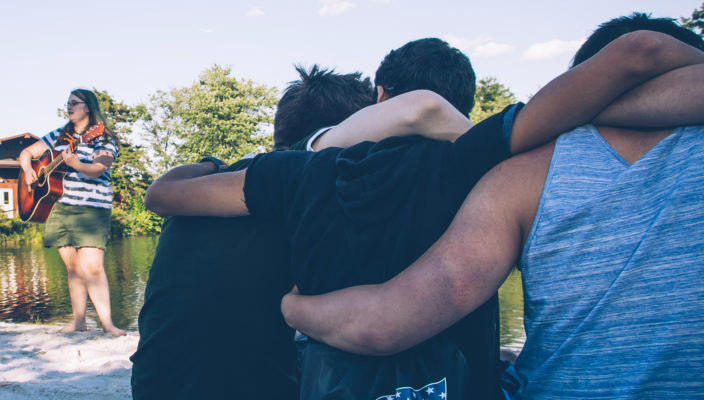 The best gift I ever received was not wrapped, it was not purchased, hidden in a closet until a special night, or even something I asked for. It was given to me before I can even remember. My gift of a lifetime was an intentional decision.
But it was a gift that changed my life.
My parents grew up across the street from one another in Elkins Park, PA. My Jewish mother and my Irish-Catholic father started dating in high school and have been together ever since. I remember hearing stories of my dad leaving school at Bishop McDevitt a few minutes early to make sure he was able to get across town to pick my mom up at Cheltenham High School. I envy some of the experiences they've had together, like living next door to their best friends before they were married, countless Flyers games, and the more-than-occasional Grateful Dead show. Many of these interests were passed down to me naturally, but one thing about my life was thought about, toiled with, and decided on very intentionally.
Fast forward to 1991: I was born. The high school sweethearts from Elkins Park became parents for the first time and were forced to make a decision about the spiritual upbringing they wanted me (and my future siblings) to have. From what I have gathered over the years, my dad – the Irish Catholic – made the final push to raise a Jewish family. After finding a Reform congregation they wanted to join, the rest, as they say, is history.
I cite my parents' decision to raise a Jewish family as my gift of a lifetime because of the astronomical impact it has had on my life thus far.
For many, Judaism is seen as a birthright. If one or both of your parents are Jewish, "Boom!" you're a Jew. That story has never really aligned with my truth, though, for I am certain the discussions my parents had, the outcomes they thought through, and the reasons they cited did not lead to a decision easily.
Because I see my Judaism as a gift, I have always seen my role in the Jewish world as something of a repayment. Think about it: When someone does you a really big favor, I mean, a really big favor, what do you do? You repay them. You express your appreciation in any way that you can. You try your best to show them how their influence on your life has changed it for the better. I wanted to do just that.
I pushed myself to really take in the bar mitzvah process, to learn and grow as a Jewish adult. I was less interested in the center pieces at my party and more interested in an article my mom found that offered a beautiful insight to my Torah portion. I don't remember much of wearing light bracelets or dancing the hora, but I do remember my rabbi at the time allowing my dad to hand the Torah to me on the bimah.
The next summer, I found URJ Camp Harlam. I was hooked - immediately. As a camper and then as a staff member, I experienced the magic of living in an immersive Jewish environment. 
I was not destined to be a member of this community. Neither of my parents went to camp, and without the generosity of others, I would have never made it there. Again, the idea of a gift was solidified.
Now, as an assistant director at Camp Harlam, I do not take this gift for granted. In fact, it is my desire to repay the gift of Jewish identity and the gift of Reform Jewish summer camp that has driven me to pursue this career. I want to do my part to give back to my Jewish community as a way to thank my mother and father for making the decisions they made to give me the greatest gift of all: a family that goes so far beyond the walls of our home, one that spreads across the globe.
My identity as a Jew who comes from an interfaith family has been strengthened by my time at camp. Harlam is a place where your "Jewishness" is not judged, the make-up of your family is not dissected, and you are free to find your place in Jewish history. And I hope that the small role I have played, play, and will play in the future will repay the gift of lifetime.
Related Posts
Image
While Juneteenth marks an incredibly important step in Black American rights, it was just that – one step. Juneteenth celebrated slavery becoming illegal, but it did not do away with racism; not even close. And yet, the history and spirit of Juneteenth make me hopeful.
Image
My father was a quiet man.
Image
Initially, there was a rush for people to be able to get the vaccine.