Image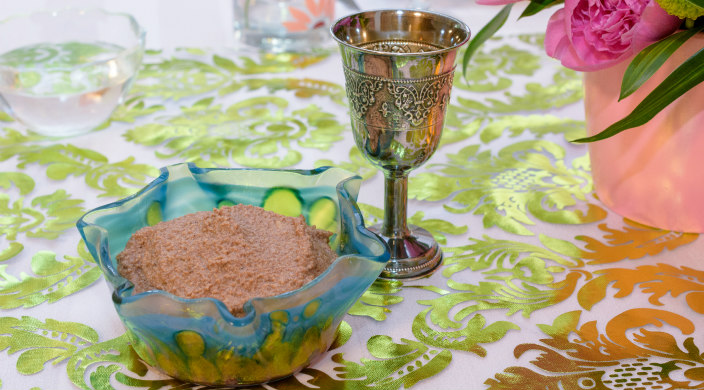 It may seem like a shande (scandal), but not all of my childhood Passover seders featured matzah ball soup and gefilte fish.
When we visited my father's parents, of blessed memory, our seders began with these stereotypical Passover appetizers. The gefilte fish, mixed with carrots and onions, was served cold while the matzah balls were the perfect consistency – not too hard, not too soft. I imagine that my great-great grandparents had similar seder meals in the old country of Russia, Hungary, and the Ukraine, where my family has roots.
At the seders hosted by my mother's side of the family, though, the highlight of the festive meal was stuffed grape leaves (yaprakas) and spinach and leek patties (keftes de prassa and keftes de espinaca). These were Nona's recipes. (Nona means "grandmother" in Ladino, which is also known as Judeo-Spanish). They were handed down to us from my great-grandmother and brought here from the Jewish community of Rhodes. My mother's family comes from Greece and Turkey, where the customs are quite different from those of my father's family from Eastern Europe.
Perhaps the most significant difference between the two seders was the charoset (a sweet mixture of fruits and nuts eaten as part of the seder meal). My paternal grandmother made charoset with chunky chopped apples and nuts, with each ingredient visible and recognizable. My maternal grandmother, on the other hand, made a thickly blended paste that included finely chopped nuts with the addition of dates, making  the mixture, which had the consistency of peanut butter, especially delicious. Although the two dishes looked different, they served the same purpose for the seder ritual.
The Talmud offers a description of what charoset should look like, but it doesn't specify the ingredients. As a result, different Jewish cultures have developed charoset recipes that relate to regional customs, tastes, and the type of produce that is most readily available. Persian charoset contains special spices like cardamom, while Italian charoset often includes pine nuts. The variety of charoset mixtures exemplifies the fact that the seder itself is a home ritual that incorporates traditions passed down amongst individual families.
Thanks to my parents and grandparents, I learned at an early age that the world's many different Jewish communities each have developed their own customs and not all Jewish observance looks the same. In our increasingly global society, our rituals will undoubtedly continue to integrate, evolve, and change, giving way to new traditions. Their greatest commonality will be that they will continue to be rooted deeply in family history and memory.
As the generations have shifted, my mother has assumed the role of Nona to my young son and nephew, and our seder now incorporates customs from both Ashkenazic and Sephardic traditions. For example, to accommodate the fact that Sephardim eat rice on Passover while Ashkenazim do not, my mom stuffs her grape leaves with matzah farfel instead of rice. I honor the heritage of each side of my family by refraining from rice for the first half of Passover and then eating it for the second half. This practice works out especially nicely as I get tired of matzah!
The Sephardic charoset has won over even my most traditional Ashkenazic relatives and is now served exclusively at our seder table. It also has found its way into my dad's newest hobby of making homemade ice cream. Dessert at our seder now includes delicious charoset sorbet – in addition to the macaroons and chocolate-covered matzah. The fact that my Ashkenazic father mixes Sephardic charoset into his sorbet is the ultimate – and literal – representation of blending tradition with change!
Related Posts
Image
These are Torah portion haikus.
Image
These Haikus focus on weekly Torah portions.
Image
These Haikus focus on weekly Torah portions.