Image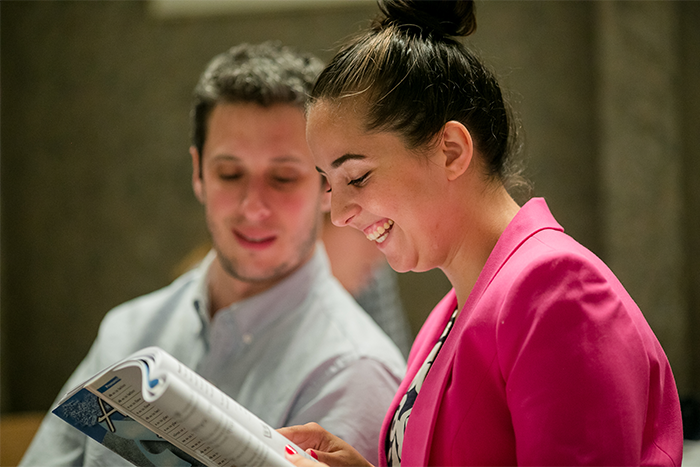 My parents instilled in my brothers and me the value of "lifelong learning" from a very young age. We knew it was an idea essential to our family, but we also understood, innately, that it was deeply tied to who we were as Jews.
Lifelong learning, however, can be easier said than done. For many, as they enter adulthood, with its competing demands and obligations, setting aside time for learning – especially Jewish learning – can be challenging indeed.
Some adults ardently support their children's Jewish education while suppressing their own curiosities. Some did not grow up Jewish and may be intimidated to seek out this type of learning for the first time. And some, perhaps, have negative associations with Jewish learning. But as a person who works in the world of adult Jewish learning, I can tell you that I see firsthand the blessings of embracing lifelong Jewish learning as an adult; many of these blessings are about far more than acquiring knowledge.
Here are just a few of the qualities I have seen our students gain on their adult Jewish learning journeys:
Confidence
In our Learn to Read Hebrew for Adults classes, students begin the study of Hebrew reading having, in many cases, never learned a Hebrew letter before. In the first of our 10 sessions together, we have students share how they are feeling. There is, every time, a mix of "excited," "SO nervous," and a number of other emotions. By the middle of our first class, these newcomers to Hebrew can already read the word Shabbat, and the glow on their faces is something to behold. Our students tell us time and time again that by the time they finish the course, they feel more confident not just in their Hebrew abilities, but in their feeling of belonging in Jewish life. Our student, Diana P., marveled: "I was never able to "get" [Hebrew] pronunciations [before]. In these first three lessons, I have more confidence [in my pronunciations] than I ever thought possible."
Some report that they then join in Shabbat services with renewed passion; others tell stories of learning to spell their Hebrew name at last; one student shared that after decades of involvement in Jewish life, she was finally able to recite KaddishKaddishקַדִּישׁAn Aramaic prayer recited in several iterations during a worship service. One iteration is Kaddish Yatom (Mourner's Kaddish), which is recited by mourners (immediate family members) during the mourning period immediately following death, and on the yahrzeit (anniversary of a death). for her loved ones by reading the text. Jim D. shared: "I'm 74, not really good at languages and I've learned how to read some Hebrew! Believe me, if I can do it, almost anyone can if they just don't give up. Identifying as Jewish since I was 13, this is the first time I've felt that I'm home and right where I should be. It's difficult to explain, but this has been a real blessing to me." Learning to read Hebrew, while it can be challenging, can be a doorway into confident engagement with Jewish life.
Community
Many adult learners who come to us online live in regions of the United States and Canada without a lot of other Jews around. It is so special to look around a Zoom room and see faces coming from every city, state, and time zone. Our virtual classrooms offer a diversity of people of all ages, races, gender identities, sexualities, and life stories. Students connect, not just with other like-minded individuals, but with others who share many of their identities. Cohorts of Introduction to Judaism Online will often continue to meet even after the class ends, sharing Shabbat dinners and holiday celebrations together from across the continent. Many students find "their people" and a sense of belonging in the context of an adult learning classroom. As Henry H. shared with us, "as a Jew by choice and a queer person of color, I feel alone sometimes. Lately, I have been contending with imposter syndrome. This class helped remind me I am part of a much larger Reform/URJ family, which feels nice!" In our Jewish & New-ish affinity space for recent converts, our participants report that the gatherings help them feel seen and less alone. When our students come together to learn, community blossoms.
Purpose
One of the most empowering things about pursuing Jewish education as an adult is finding Jewish language for the topics you are already knowledgeable or passionate about. Many of our students are deeply invested in creating a more just world, but maybe they've never had the language of tikkun olamtikkun olamתִּקּוּן עוֹלָם"Repair of the world;" Jewish concept that it is our responsibility to partner with God to improve the world. A mystical concept of restoration of God's holiest Name to itself and the repair of a shattered world. Often refers to social action and social justice. for that experience. Finding ways to bring their lives to bear on Judaism, and integrate Judaism into their lives, is an incredibly meaningful process. Many adult learners find that their time in the classroom spurs them toward greater involvement in the things that give their lives purpose: they become invested in the work of the RAC, they become leaders in their synagogue communities or among their friends, and they see a future for themselves in shaping what Judaism can be, and how it changes the world around them. Susan B., who took several classes with the URJ, checked in with us recently to share the impact of her time with us in adult education: "I think you'd be pleased to know what you've started. [Since starting Hebrew classes] I joined [the temple] and have been going to their services virtually. My husband and I have started attending their events. I've even had my cousin come out 50 miles to attend the most recent one!"
When teaching adults, we don't just help grow lifelong learners, we also grow lifelong leaders, and Judaism is better for it.
If you are curious about exploring adult learning at the URJ, or curious about learning opportunities in a community near you, check out our class listings, or be in touch with us at learning@urj.org.
Related Posts
Image
These are Torah portion haikus.
Image
These Haikus focus on weekly Torah portions.
Image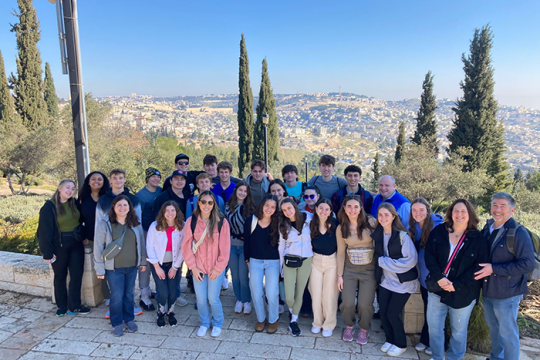 What happens when you take six Jewish teens and six Catholic teens to Israel? This was the very question that Roger Tilles and the late Fr. Tom Hartman hoped to answer in 1988 when they organized Project Understanding.