Image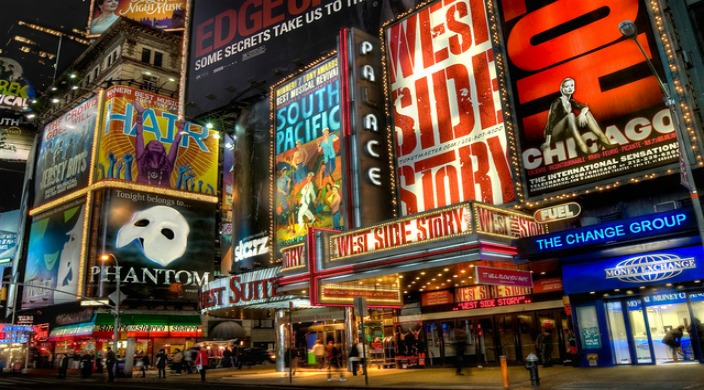 February 2009: While most of Israel was consumed by the election for a new Prime Minister, I was engaged in a very different political and dramatic pursuit: Touring the country in Israel Musical's production of 1776. From Jerusalem to Beit Shemesh to Ra'anana to Tel Aviv, our cast brought the story of American Independence to life before audiences of Israelis who could relate to the challenges involved in creating a unified government.
English-speaking theater companies have been gracing stages across the Holy Land for many years, presenting shows to sold-out audiences across all demographics. Among the oldest of these groups is JEST (Jerusalem English-Speaking Theatre). JEST was founded in 1985 as a means for bringing quality theater to people who had recently made aliyah from English-speaking countries and did not yet have the skills to fully understand shows performed completely in Hebrew.
According to Rafi Poch, who directs the J-Town Playhouse housed at the Association of Americans and Canadians in Israel ( AACI), the availability of English-speaking theater in Israel is particularly helpful for young children immigrating with their families. "They don't necessarily acclimatize so well to Israeli culture, they don't go into the Israeli youth groups so much," Poch told Ha'aretz. "These kids made aliyah when [they were] 10, 12, and they just never made the switch completely, and they needed a place to be accepted, and not just be accepted, but be given a project and given responsibility."
AACI's J-Town Playhouse, described online as "a creative home for performing artists in Jerusalem," is among the newer players on Jerusalem's thriving theater scene. It joins Encore Educational Theatre, which was founded in 2006 with a commitment to presenting musical theater classics as well as original and lesser-known works; Theater in the Rough, which produces an outdoor Shakespeare performance each summer; and Israel Musicals. In addition, Beit Hillel Theater Workshop at Hebrew University presents a musical in English each year. This past winter, it mounted the Israeli premier of Elton John and Tim Rice's Aida. There are also several theater groups geared especially for women, established so that women in the Orthodox community can sing without worrying about issues of Kol Isha[1]. Beyond Jerusalem, Light Opera Group of the Negev (LOGON) tours the country each year with a performance of a beloved musical.
Many of the classic Broadway musicals have themes that resonate strongly with Israeli audiences. Take Oklahoma!, for example, which Encore produced in 2009. As the title song declares, "We know we belong to the land, and the land we belong to is grand!" Many members of the cast and crew were born in countries like South Africa, Russia, France, England, Australia, Canada, and the United States. They came to Israel to fulfill their dream of living in the Jewish homeland, sharing a similar connection to the land. Others, like myself, were in Israel temporarily, also with strong ties to Eretz Yisrael and its history - in my case, taking part in Hebrew Union College-Jewish Institute of Religion's Year-in-Israel program.
"Both [Oklahoma and Israel] reflect a microcosm of conflicting interests, loyalties, sectors, and traditions joining together to form a new polity," wrote Robert Binder, the show's director and Encore's founder, in his program notes. "Oklahoma! succeeds, in my opinion, because it offers a sunny, optimistic, and extremely tuneful view of what a still nascent country ought to be: a beautiful mornin' dawning for all its inhabitants." Click here to see a clip from Encore's performance of Oklahoma! featuring Cantor Lauren Phillips as Ado Annie and Aviella Trapido as Laurey.
In Israel, Oklahoma! represented much more than the idea of the farmer and the cowman being friends; it was about different subsets of Israeli society working together to achieve a common goal. Secular Israelis performed alongside the Modern Orthodox, who would daven (pray) Minchah (afternoon prayers) before each show and Maariv (evening prayers) at intermission, dressed in full western regalia. Not everyone in the cast was Jewish, either. One actor had moved to Jerusalem to serve as the music director for the International Christian Embassy. Another was living there because her husband was stationed in Israel as a journalist. Many of these people would have never met had it not been for a common passion for theater.
The Encore community became my adopted family during my year in Israel. Many cast members welcomed me into their homes for Shabbat and the various holidays. From this, I learned about several customs that I would not have ordinarily been exposed to. I spent Rosh Hashanah with a French-Sephardic family who conducted a Rosh Hashanah seder with symbolic foods that are meant to serve as "omens" for the new year. They include dates, pomegranates, gourds, peas, leeks, beets, the head of a fish, and, of course, apples and honey. The foods were all baked into creative dishes, which were served in a circle around each of our plates -- kind of like a Passover seder plate. On a more serious note, Operation Cast Lead hit very close to home when we learned that one actor's 24-year old son was being called in as a tank commander. By developing close relationships with Israelis, I gained new perspective on the realities of day-to-day life in Eretz Yisrael and the strength that it takes to remain calm under constant uncertainty.
When the curtain rises for the various English-speaking theater productions in Israel, barriers break down. Encore has worked actively to promote this idea both on and offstage. Last year, they collaborated with the Malkat Shva Center for Ethiopian Culture in Jerusalem's Talpiyot neighborhood on a production of the musical Hairspray. The Ethiopian Israelis played most of the African-American characters, and the partnership enabled valuable cultural exchanges. "The Ethiopian members of the cast taught the others about Ethiopian culture, as they learned about 1960s USA and musical theater," reported The Jerusalem Post. Click here for Encore's promotional video for Hairspray.
This summer, Israeli theater embarked into new territory with familiar music as AACI's J-Town Playhouse presents Second Star to the Left. The play, which features an original script by Rafi Poch and Amanda Keehn, weaves together melodies from beloved animated movies. J-Town Playhouse was aiming to do a fun family show, explained Poch. The company felt that using familiar tunes was the best way to attract an audience of young theater-goers - thus perpetuating the tradition of English-speaking theater in Jerusalem from generation to generation - l'dor vador.
Cantor Lauren Phillips , a member of the American Conference of Cantors, was ordained from the Debbie Friedman School of Sacred Music at Hebrew Union College-Jewish Institute of Religion in 2013. Since then, she has served as cantor for Congregation Sinai in Milwaukee, WI. While studying in Israel in 2008-2009, Cantor Phillips performed with several English-speaking theater companies.
---
[1] Kol Isha , or "Voice of a Woman," refers to the prohibition of hearing a woman's voice in prayer, which is common in Orthodoxy. The prohibition has expanded over years, now usually encompassing all times a woman's singing voice might be heard, even when not engaged in prayer.
Related Posts
Image
These are Torah portion haikus.
Image
These Haikus focus on weekly Torah portions.
Image
These Haikus focus on weekly Torah portions.