Image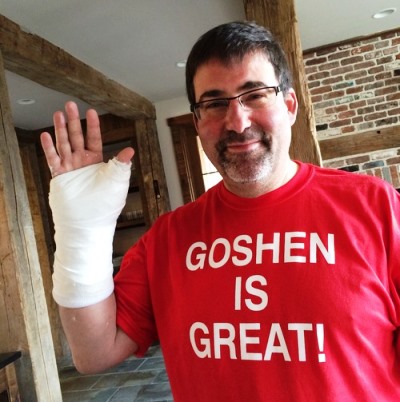 I broke my wrist. Bummer. Major bummer. I didn't do it with any kind of grace or with anything close to a great story attached to it. I tripped over a curb at the Mobile station. Great story. Did I mention I broke my right wrist, and that I am right-handed? Two casts, one surgery, one more cast, and six to eight more weeks to go for total of eight to 10 weeks without the use of my right hand. Just ducky! 
The first day I could take a shower after my initial cast was put on, I placed a New York Times plastic bag over my arm to keep it dry. Feeling sorry for myself and incredibly stupid and clumsy, I looked at my cast- and plastic-bag-covered right arm and realized that it looked like I didn't have a hand! I felt that way, too. Pitiful. 
It was then that something else occurred to me and made me feel a little ashamed. I live in Boston, where, on April 15 at 2:49 PM, two bombs went off at the finish line of the Boston Marathon. People were killed, hundreds wounded, and too many lost their limbs. We all lost something of our "Boston stands for freedom" innocence that day. I told myself, "Perspective, Wolfman! You still have your hand!" And for that, I am grateful. 
I recently returned from the URJ Biennial in San Diego, and exciting and uplifting of song, prayer, learning sessions, art, and more. As a rabbi, it's a homecoming of sorts, the perfect time and place to reunite with friends near and far, and there I was just days post-surgery in a cast and sling. "What happened to you?"  "Oy!"  "You must feel horrible!"  
I do feel horrible, and it sucks. But the truth of the matter is I do not need chemotherapy or anything of the sort for my wrist to heal. 
And that's how I choose to deal with this stupid broken wrist. Perspective. It's only a wrist (OK, my right wrist - but thank heavens for Siri, who typed this post for me!) I choose to celebrate that I have a wrist.
My colleagues' young son, Superman Sam, recently died. Denver is still reeling from gun violence, and there have been at least 27 school shootings since Newtown. The Middle East is in turmoil.
My wrist will be fine.
My wish for all of us as we begin the secular new year of 2014 is to keep things into perspective - to count and embrace our blessings, and to be grateful. Always be grateful.
Related Posts
Image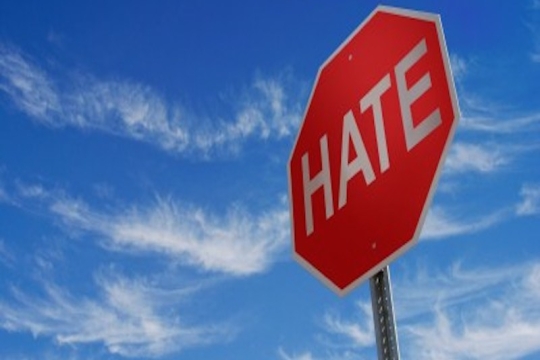 I read a quote today by Sy Smith that said, "Black people in the U.S. are expected to keep on keeping on, no matter what..."
Image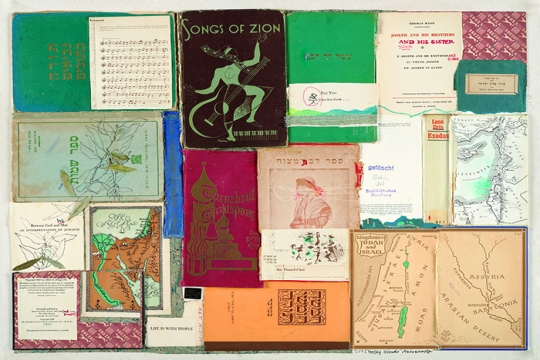 On June 3, 1972, Rabbi Sally Priesand was ordained by Hebrew Union College-Jewish Institute of Religion as the first woman rabbi in North America. To celebrate this milestone in Jewish and American history, HUC's Dr. Bernard Heller Museum in New York partnered with The Braid's Story Archive of Women Rabbis in Los Angeles to create the exhibition "Holy Sparks," presenting 24 ground-breaking women rabbis who were "firsts" in their time.
Image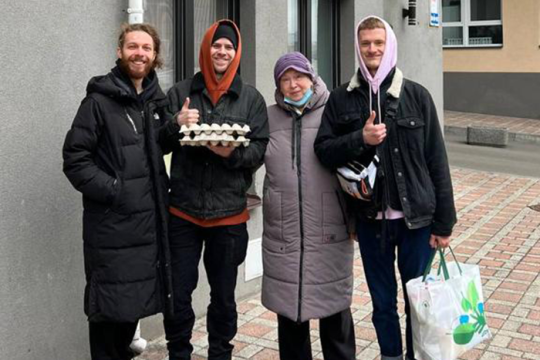 As many Ukrainian Jews know this year, Passover will be different in 2022. We sat down with Ukrainian Jewish community leader Andy (he/him), 27, to discuss what the community and holiday will look like in the context of current events.