Image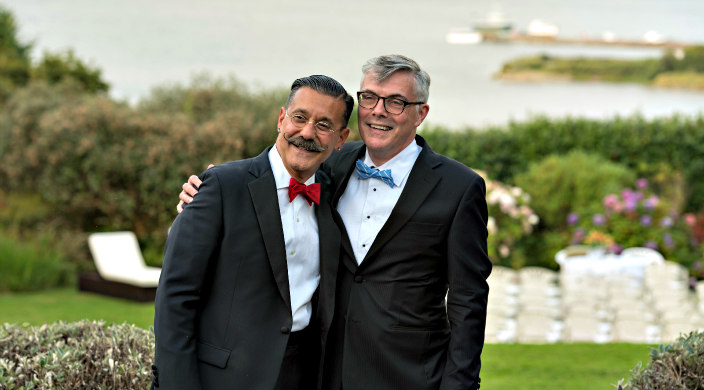 The inscription inside the kippot (head coverings) shared on my wedding day read, "September 2, 2016, Marriage of Michael and MacDara."
In May 2015, when Ireland became the first nation to approve same-sex marriage by a popular vote of almost a two thirds majority (62 percent for, and 38 percent against), this predominantly Roman Catholic country beat the United States and the rest of the world to the punch. In reporting the story, The New York Times wrote, "Not long ago, the vote would have been unthinkable…placing the country at the vanguard of social change."
It was a milestone to celebrate, a resounding victory that felt extremely close and personal for me but especially for my partner of 20 years, Dara, who is Irish.
When Dara and I met in 1997, the idea of marriage equality was more like fantastic thinking than reality. Same-sex marriage, if anyone even thought of it, would have been considered ridiculous. When gay marriage became an option in the U.S., first in just a handful of states, we knew that we wanted to exercise that right. We joked, why shouldn't we, as a gay couple, be as miserable as our straight married friends?! After all, marriage affords us benefits and protections under the law, advantages we would not have if we remained unmarried. And of course, there is also that other issue – love.
Years ago, both my mom and dad had the chance to meet and grow to love Dara. Sometimes I even thought my mother liked him more than she liked me! I know that had my parents lived to see us get married, they would have been thrilled, and an added bonus for them would have been seeing our Jewish wedding ceremony.
My parents taught me to respect and honor my Jewish heritage. For them – and now for me – it was important that I hold on to my Jewish identity. I wanted our wedding ceremony to have components of Judaism that represent the Jewish tradition in an uplifting, inspiring, yet educational way. I always joke that before Dara met me, the only Jewish person his family ever saw was while watching Fiddler on the Roof – and to a great extent, that's pretty close to the truth. Needless to say, there aren't a lot of Jews in Ireland, and I wanted to take the opportunity to make our ceremony a teaching moment, showing them the beauty and wisdom of Jewish faith and tradition.
Dara, who came to the United States for post graduate education and work, made a life here and became a citizen. Most of his large and wonderful family live in Ireland though, and his network of longstanding and dear friends live and work in Ireland and the U.K. When Ireland became the first and only country to approve same sex marriage by referendum, coupled with the logistics of the guest list, we knew that it was where we wanted to tie the knot.
Without a rabbi in the remote Irish town of Letterfrack – or most anywhere in Ireland – I reached out to an American Reform rabbi who is a friend of my cousin. He was wonderfully generous, providing us with an outline of a contemporary, gender-neutral Jewish wedding ceremony which helped to organize our thoughts and gave us the direction we needed to craft our ceremony.
And so it was that in the late and rainy afternoon of September 2, 2016, the skies miraculously cleared to bright sunshine! At the 19th-century Rosleague Manor in Letterfrack, 105 guests – family and friends from as far away as Los Angeles, Connecticut, North Carolina, the Middle East, and Australia – gathered for our wedding. All of the men, Jewish or not, clipped on the traditional kippot (head coverings). Because there isn't a chuppah (wedding canopy) to be found anywhere in the west of Ireland, Dara and I draped the tallit (prayer shawl) from my bar mitzvah over both our shoulders as we stood together, side by side in the glorious Connemara sunshine.
We invited relatives and friends to read the Seven Blessings in both English and Hebrew, and we incorporated Dara's heritage into our ceremony with a beautiful poem recited in his family's native Irish language.
When it came time to break the glass, my cousin Debby stepped up and explained to our guests the symbolism of this traditional act: It is a symbolic way to demonstrate that, like the shattering of glass, the covenant of marriage is permanent and irrevocable.
Related Posts
Image
I'm grateful for Carter's trust in me. What started as a teacher-student relationship (I was his theatre teacher at CAA) slowly morphed into a mentor-mentee relationship with post-camp questions about Judaism, acting, and being a young trans person in this world.
Image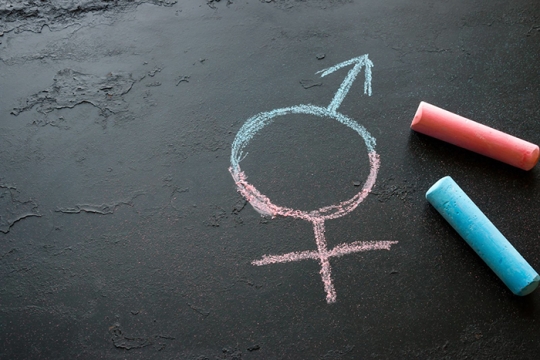 The Union for Reform Judaism, Jewish Grandparents Network, and Keshet are collaborating on a series of conversations to support grandparents and other loving adults who are interested in providing affirming spaces for gender expansive, non-binary, and transgender young people. These sessions provide grandparents with foundational knowledge, shared language, and inclusive practices.
Image
This Pride Month, NFTY North American Board members Daniella Abbott and Cameron Samuels joined HUC rabbinical student Kelly Whitehead to discuss how their trans and non-binary identities have influenced their attitude toward systems of oppressions in the wake of new legislation aimed at attacking queer identities.