Image
Life and death I have set before you, the blessing and the curse. And so choose life so that you and your seed may live!
-- Deuteronomy 30:19
It's both wonderful and deep that on Yom Kippur, the section of the Torah read in many Reform congregations commands us to choose life.
The first time I read the long confessional prayers for Yom Kippur recited by Sephardi (Jews from the Iberian Peninsula), with 20-plus sins for every letter of the alphabet, two confessions under the Hebrew letter bet astounded me. One was "I did not check vegetables for bugs." You might think I objected to something that petty, but I was overjoyed to discover that as a vegetarian, there was something special I could do to make my diet kosher (conforming to Jewish dietary laws). The second confession was "I did not choose life." How does one choose life? Even today, 25 years later, I feel only a little closer to knowing how to do that.
This year, as I contemplated the challenge to choose life, I noticed something extraordinary in the verse that is easy to overlook: the Torah doesn't tell us, "Choose your own life" or "choose your people's life." Rather, it says, choose life itself, hachayyim – the principle of life, the value of all life.
If we are going to choose life itself, could this mean choosing life for all living creatures, not just for ourselves? Doesn't ecology also teach us that caring for all the species in an ecosystem is the way "you and your seed will live?"
That idea fits well with earlier advice in the Torah about how to increase our lives: "When a bird's nest is met before you in the way, in the tree or on the earth, chicks or eggs, with the mother crouching over, you may not take the mother on top of the children. You must send away the mother, and the children you can take, so that it will be well for you, and you will make your days long." (Deut. 22:6-7)
In Torah terms, the bond of life – especially between a parent and child, in the species where this bond is strong (i.e., most mammals and birds) – has a measure of sacredness. Other commandments give witness to this sacredness by admonishing us not to sacrifice parent and child in one day; not to separate the suckling from its mother for seven days; and to separate the flesh (death) and milk (life) of any mammal.
It feels right to respect that bond and to believe we choose life when we do, but like most things Jewish, the question of what this bond truly means has led to widely varying interpretations.
Maimonides thought sending away the nesting bird was a way to protect from pain the animal mother that loves its child. In his Guide for the Perplexed, he says there is "no difference regarding this pain between humankind and the other animals." Nachmanides, known as Ramban, had a different explanation:
Scripture does not permit any slaughter that would uproot a species, even though it permits slaughtering a particular species; and behold, someone who kills mother and children in one day…is like someone who cuts off that very species.
Ramban's comment is surprising because taking a single bird and its offspring would almost never cause extinction. Only by repeatedly and continually taking the reproducing generation along with its offspring could a species become extinct. His comment is even more surprising because at that time people believed that God watched over each species to keep it in existence. Nonetheless, he asserted that any action that could cause extinction must be prohibited, even though he did not imagine extinction was possible.
This thinking aligns with sustainability. In a 1948 essay, Aldo Leopold, a founder of deep ecology, defined what we now call sustainability this way: "A thing is right when it tends to preserve the integrity, stability, and beauty of the biotic community. It is wrong when it tends otherwise."
If we used these principles to measure human endeavor, if we chose not to take any action that could, if extrapolated, cause ecosystem death or species extinction, how would we choose differently?
Here are two examples:
Single-use, forever-loose plastic probably would never have been manufactured. Would anyone ever dream making a product for one-time use from material that can never decay or join in the cycle of life?
Likewise, would anyone consider clearcutting a forest, which entails killing the parents and offspring of all generations of hundreds of species at one time?
These principles would transform our policy-making, our personal choices, and our entire civilization. When we hear "Choose life!" let's remember that every action we take that affects other creatures can be a way to do so – maybe including checking for bugs!
Our ancestors were well-practiced at what we seem to have forgotten: we cannot choose life without choosing to act on behalf of all life, in harmony with the land upon which we are sojourners, and with concern for all species. Choosing more life for the world is the best way, the only way, to find more life for ourselves, our children, our people, our species. L'chaim!
Adapted from an essay in Earth Etudes for Elul: Spiritual Reflections for the Season.
Related Posts
Image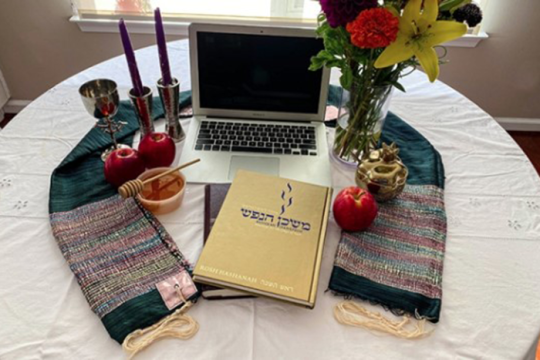 As I boarded the plane to Israel in the summer of 2002 for my first year of rabbinical school at HUC in Jerusalem, my mother said, "Please, just don't meet an Israeli." As soon as the plane touched down at Ben Gurion airport, I knew that I was home. A few months later, I met that Israeli. From our first conversation, he understood that I was studying to be a rabbi, and I understood that he wanted to live only in Israel.
Image
I am vegan because I am Jewish. Everything that led me to a vegan practice came from my childhood where I kept kosher, learned by asking thoughtful questions, and practiced daily rituals like hand washing and reciting brachot that brought intention to aspects of daily life.
Image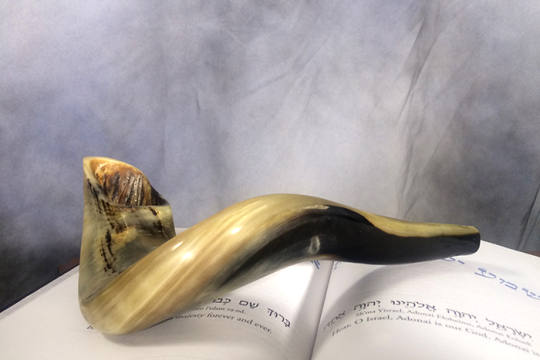 The month before the High Holidays, Elul, is a time of spiritual preparation and t'shuvah. This year, as we conclude a Shmita, or sabbatical year, after focusing on taking time to pause, rest and reflect, I feel a sense of urgency and the need to act.