Image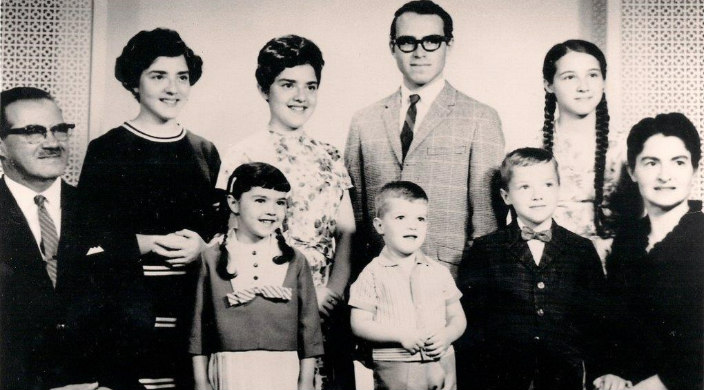 I have four names: Frances Rose Mary Sheridan. I was born in 1961, baptized, confirmed and given First Communion. I grew up in Ottawa, Canada, the kind of neighborhood where the mothers kept their children on leashes when they took them for a walk so that they wouldn't run off and trample a neighbor's flowerbed. Instead, they grew up to be adults with severe abandonment issues.
Starting when I was 9, my father began telling me bedtime stories about his narrow escape from the Nazis in Vienna, his entire family murdered – how my maternal grandmother was assassinated in my mother's childhood home in Bremen, Germany, on Kristallnacht and how, by a miracle, my mother survived.
My father told me that he and my mother had been Orthodox Jews when they married, when his last name was still Sigal. The first medical practice he was offered was in a small town called Morse, Saskatchewan. But one day in 1951, a jealous doctor and his wife attacked him, covering his walls with anti-Semitic graffiti and beating him unconscious. The court fined the condemned couple a paltry $30.
My father decided that losing yet another family was not worth the cost of maintaining his Judaism. He knew he was turning his back on his culture and on his grandfather, who had been a Chassidic Rabbi. And yet, by 1953, he had Anglicized our family name from Sigal to Sheridan, cut off ties with our extended relatives, relocated, and had the whole family baptized.
Decades later, I wrote a comedy bit about how ridiculous it was to pretend to be somebody you're not. I impersonated my Jewish father walking down the aisle to get communion at church, exaggerated a la Jackie Mason. "Hello, Father O'Malley! So good to be in choich!"
The priest says, "Nice to see you, Dr. Sheridan. Body of Christ?"
My father answers, "Uh, no tanks. I'm a vegetarian."
The more the audience laughed, the more I was blanketed by shame.
A producer emboldened me to write a solo show about my family story, but when I shared my intention with my 86-year old father, he threatened me with legal action, as did some other family members. Still, I felt compelled to transform my family story into a play, called The Waltonsteins.
On opening night, fraught with nausea and crippled with the symptoms of inherited PTSD, I fought the belief that an anti-Semite in the audience might shoot me. Moments before coming onstage, I had the strange feeling that my maternal grandmother's' light surrounded me.
International reviews reconnected my family to those extended relatives my father had cut off 45 years earlier. My father wrote me a letter, which said, "Your courage in writing the play has given me strength to reclaim my Jewish roots. I went to the Jewish Community Center in Vienna and publicly re-declared myself a Jew, which I had never stopped being in my heart."
Today, my father, Dr. Bernie Sigal, is buried in the Jewish section of the Central cemetery in Vienna. His funeral was attended by the Viennese Chassidic community, of which his beloved grandfather, the Rabbi Izi Hirsch Beutel, was an honored member. His grandfather is buried nearby, in the only marked grave of a relative.
Today, my husband and I love celebrating the Jewish holidays together. As I light the candles, I feel so incredibly lucky to have the freedom to do what so many, in so many places, could not.
Frannie Sheridan is currently completing her memoir, I Tried To Be Normal But It Was Taken! She has been performing, speaking, and leading workshops internationally for more than 20 years. Learn more at www.franniesheridan.com.
Related Posts
Image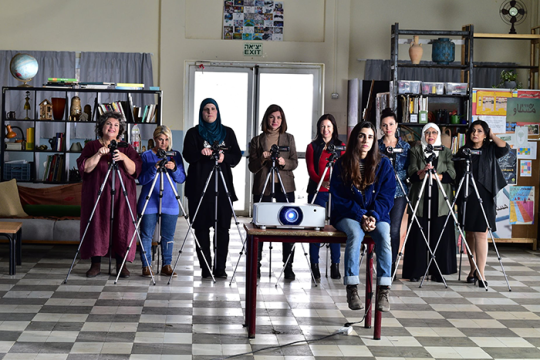 Both Arab and Jewish, young and old, the women of "Cinema Sabaya" learn about much more than filmmaking during the class; they discover that their differences are far outweighed by their bonds as women making their way in a patriarchal world.
Image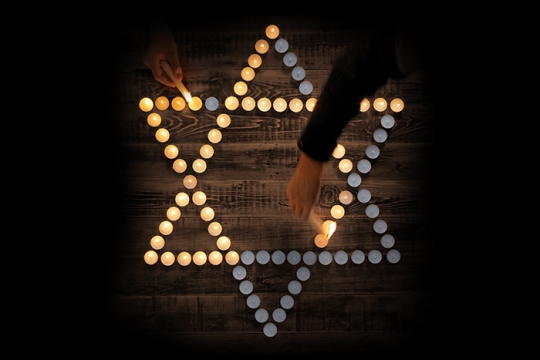 What does it mean to remember? It is to live in more than one world, to prevent the past from fading, and to call upon the future to illuminate it.
Image
A camel carrying a load. A golden pair of balanced scales. An open heart and an open mind. These are three of more than two dozen artists' visions of justice and righteousness featured in the invitational exhibition, "Tzedek Boxes: Justice Shall You Pursue."