Image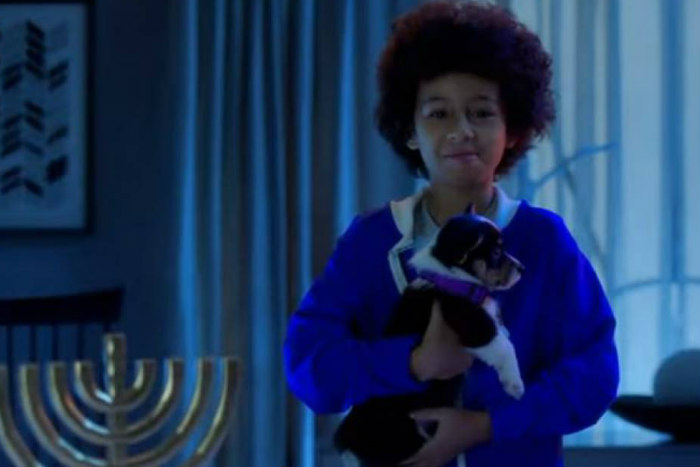 "Imma get what I wannakah
Imma get a puppy for Hanukkah..."
There are plenty of Hanukkah songs out there, but when a great new one comes out, it truly feels like cause for celebration.
Start celebrating, because Hamilton star Daveed Diggs has dropped the best and cutest new Hanukkah song of the year with "Puppy for Hanukkah," released this week by Disney Records just in time for the holiday. And yes, he does refer to the Hanukkah blessing as "a bop." 
Diggs, who was raised Jewish, won a 2016 Tony Award for Best Featured Actor in a Musical for his roles as Thomas Jefferson and Marquis de Lafayette in Lin-Manuel Miranda's smash hit musical Hamilton. He's also known for his recurring role on the TV show Black-ish. 
In 2015, Diggs told Broadway.com, "I went to Hebrew school, but opted out of a bar mitzvah. My mom is a white Jewish lady and my dad is Black. The cultures never seemed separate; I had a lot of mixed friends. When I was young, I identified with being Jewish, but I embraced my dad's side too." His video, which features Jewish kids of Color eating latkes, spinning dreidels, and hoping for puppies, is a beautiful, authentic representation of the diversity of our Jewish community. 
Long story short, we love Daveed Diggs, and this adorable new Hanukkah jam, replete with rapping kids, a little bit of klezmer music, and (spoiler!) gift-wrapped puppies at the end is exactly what we needed to bring a little bit of much-needed light and levity to a heavy year. 
For more Hanukkah tunes to keep you rockin' throughout the holiday, check out our Spotify playlists. 
Related Posts
Image
A camel carrying a load. A golden pair of balanced scales. An open heart and an open mind. These are three of more than two dozen artists' visions of justice and righteousness featured in the invitational exhibition, "Tzedek Boxes: Justice Shall You Pursue."
Image
As 2022 draws to a close, it's time to highlight some of the best Jewish content of the past year. Art, marriage, coming of age, healing, history, and antisemitism are all on display in a year that has had its fair share of public tumult.
Image
Two films from acclaimed Jewish filmmakers have debuted during award season this year, each taking semi-autobiographical looks at troubled childhoods. Each picture delivers award-worthy performances from many well-known actors, including Anthony Hopkins and Michelle Williams as sure bets to score Oscar nominations.